Free throws lift Centennial boys past Cimarron
January 8, 2014 - 11:30 pm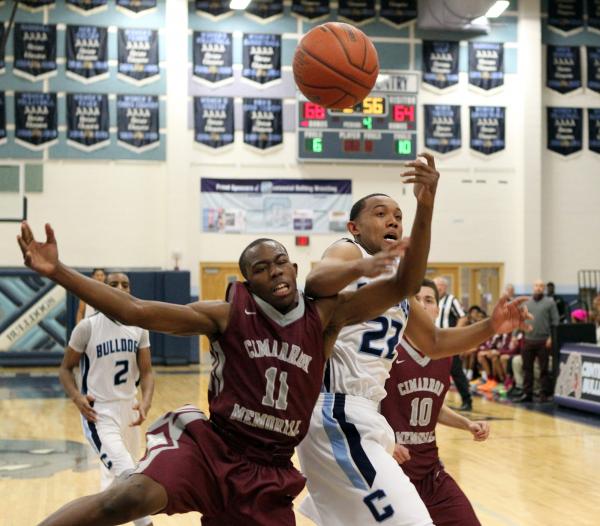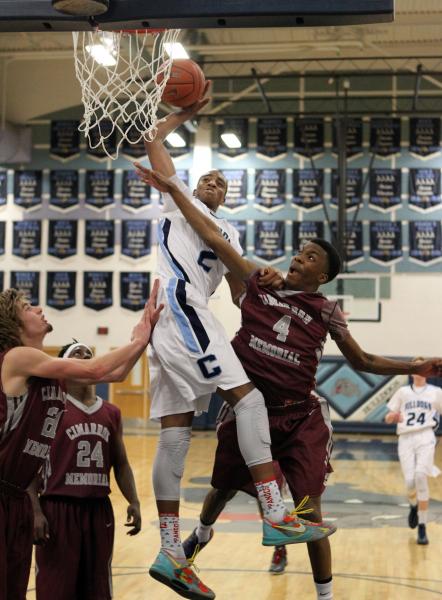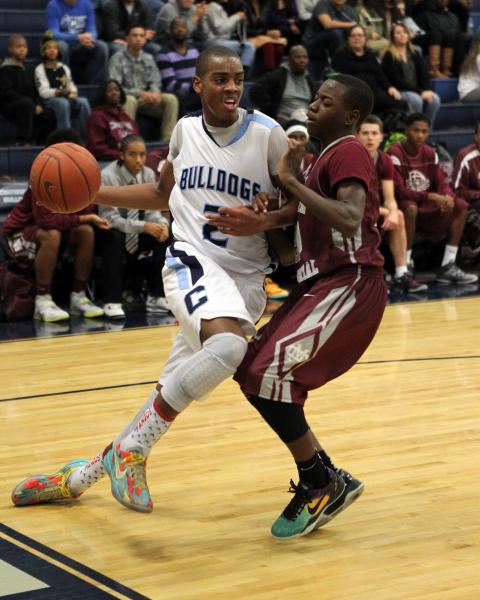 Centennial boys basketball coach Todd Allen was hoping the Bulldogs would put away Cimarron-Memorial when they had the chance with about three minutes remaining in regulation.
But Allen didn't mind waiting a couple of extra minutes for it to happen.
The seventh-ranked Bulldogs made eight of 10 from the free-throw line in the final 1 minute, 18 seconds and held off Cimarron 76-70 on Wednesday in the Southwest League opener for both teams.
"We knew it was going to be a dogfight," Allen said. "I'm proud of our senior leadership down the stretch. That really helped us out."
Freshman Troy Brown led Centennial (14-1, 1-0 Southwest) with 24 points, 14 rebounds, eight assists, four steals and three blocked shots. Junior Garrett Scheer had 13 of his 21 points in the second half to go with eight rebounds.
Scheer had seven points in the third quarter, including a three-point play after a fast-break dunk, to put the Bulldogs ahead 50-36 midway through the third.
"Garrett is a big piece to our team, and I told him that at the beginning of the season," Allen said. "A lot of times, he does the little things that might not show up in the box score. Tonight, we got some offense that we needed."
The Bulldogs led 64-62 when Brown and Cimarron's Cameron McKissic got tied up during a timeout with 3:26 to play. Brown was given a technical foul, while McKissic received two technicals and was ejected.
Khalil Thompson (12 points) made both of the foul shots after McKissic's technicals, and Aaron Turner went 1-for-2 from the line on the ensuing possession to put Centennial ahead by five. Brown grabbed the offensive rebound after Turner's miss, but he went 0-for-2 at the line to keep the Bulldogs' lead at 67-62.
"When the 'T' happened and we had two shots and the ball, I thought that was a chance for us to put points on the board," Allen said. "Give Cimarron credit. They kept fighting. It's a conference game, and that's what these are all about."
Tony Harrison scored off an inbounds play to bring the Spartans (8-9, 0-1) as close as 68-66 with 1:38 left before Centennial iced the game at the free-throw line. The Bulldogs were 12-for-19 from the line in the fourth quarter and 22-for-32 overall.
Harrison finished with 22 points, 12 in the fourth quarter, and seven rebounds for Cimarron. McKissic scored 16 second-half points, and Amani Gill had 13 points and five rebounds.
Box score:
Centennial 76, Cimarron-Memorial 70