Freshman Cort Ballinger helps Bishop Manogue shut down Kevin Legardy, Canyon Springs
February 22, 2018 - 9:53 pm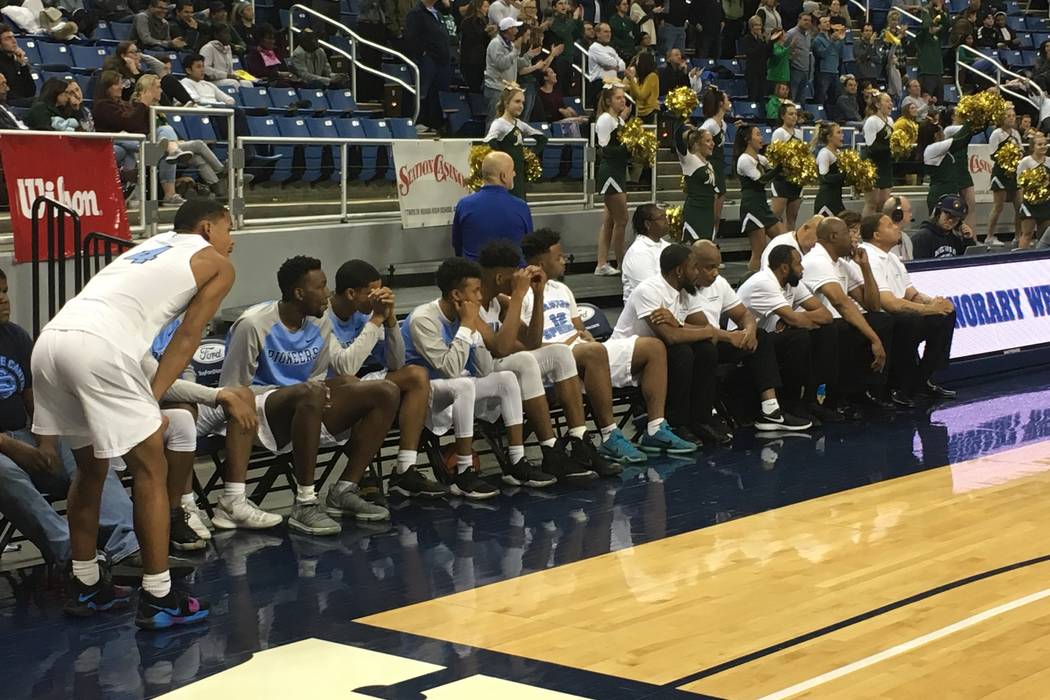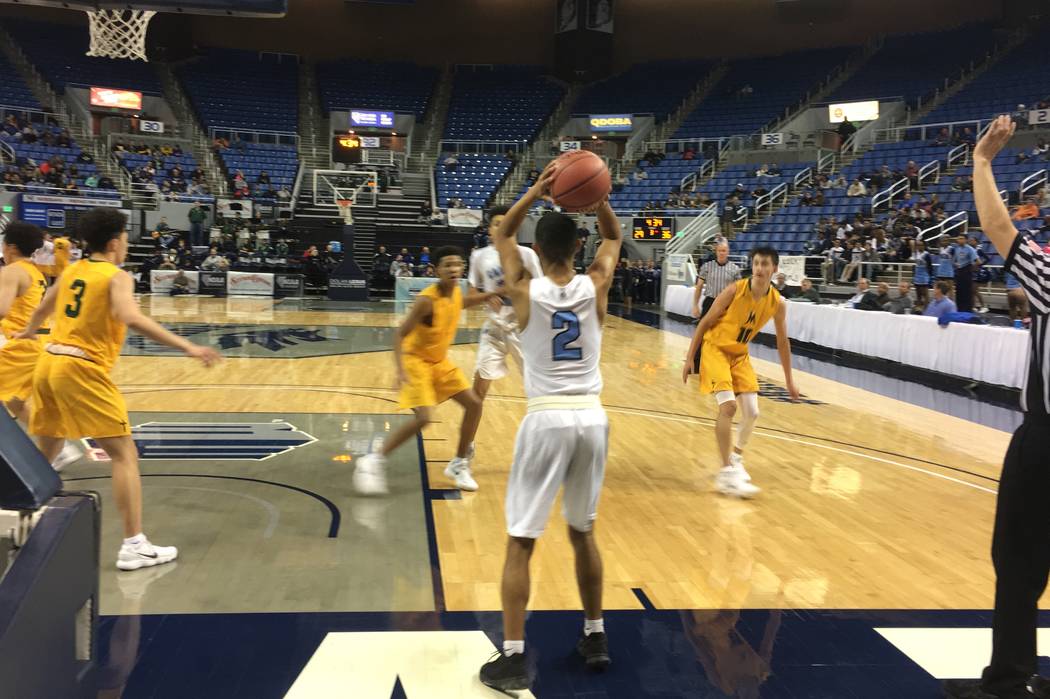 RENO — On paper, it was a matchup that should have gone Canyon Springs' way.
On the court, it was Bishop Manogue freshman Cort Ballinger who came out ahead against high-scoring Pioneers senior Kevin Legardy.
Ballinger and the Miners held Legardy to just nine points, and Manogue came away with a 64-58 win over Canyon Springs on Thursday in the Class 4A boys state basketball semifinals at UNR's Lawlor Events Center.
"As far as Kevin Legardy, at the next level if you're not on, you're not going to get off that bench," Canyon Springs coach Freddie Banks said. "You let a freshman take you out of your game. A freshman. He's only a freshman. You let him take you out of your game. So he's got to mature."
Manogue (24-5) will play Bishop Gorman (28-4) at 8:10 p.m. on Friday at Lawlor for the championship.
Legardy, who entered the game averaging 25.2 points, was just 4-for-20 from the field. Banks, who clearly was frustrated with the officiating, said the physical nature of the game may have thrown Legardy off.
"It was a lot of bumping," Banks said. "We bumped, they bumped. They got calls, we don't get calls. We tried to do our best to do what we had to do, but it just didn't work out tonight."
Though Banks thought the officiating played a role, the foul and free-throw situations were nearly even. Canyon Springs (24-3) was whistled for 21 fouls, Manogue 19. The Pioneers shot 19 free throws while the Miners went to the line 16 times.
But Manogue was able to take advantage of 11 first-half turnovers, then took control with 13 second-chance points in the second half.
The Miners held a 22-17 advantage on the boards after halftime.
Still, Canyon Springs had its chances. The Pioneers got as close as four points several times down the stretch, but couldn't complete the comeback.
The Pioneers had a chance to cut the lead to two points with 2:17 to go, but De'Shawn Keperling missed a pair of free throws, and Gabriel Bansuelo made a driving layup on the other end to push the lead back to 58-52.
Sophomore Alexander Spaight had 20 points, and junior Mervin Soares came off the bench to provide 16 points and four rebounds for the Pioneers, who graduated 11 seniors from last season's 21-3 team.
"I didn't expect this type of team," Banks said. "I just thought I was going to be under .500, because when you lose 10-12 (seniors) last year and only three returning (players), two that started or played, then you've got to start a whole new process. I never thought it was going to be this way. I'm proud of my kids. Very proud of them."
Kolton Frugoli led Manogue with 19 points and 11 rebounds, and Joshua Rolling added 16 points, 10 rebounds and five steals.
Box score:
Bishop Manogue 64, Canyon Springs 58