Gorman's Zimmerman continues to shine in college coaches' spotlight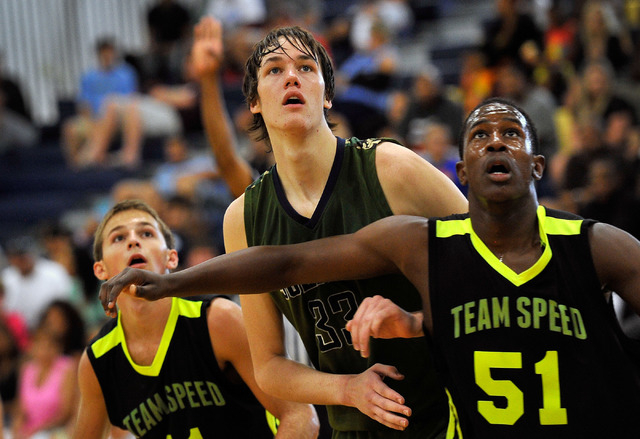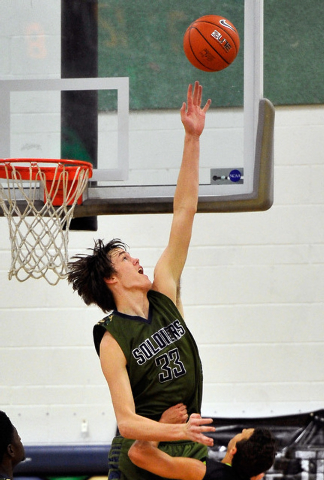 In a matter of five seconds, Stephen Zimmerman showed why he received his first scholarship offer in eighth grade.
That offer came from UNLV. It was followed by one from UCLA. By his freshman year, there were more offers than he could count.
He went up to snare a rebound, dribbled through defenders from one rim to the other and was fouled on a dunk attempt. And then he stepped to the free-throw line and smoothly hit both shots.
"It's kind of different for a center," said the 7-foot Zimmerman. "I feel I can do everything. I can dribble, shoot and get in the post and all that."
Zimmerman, ranked the No. 7 player in his class by Rivals.com, has spent all of his high school years in the spotlight, and he heads into his senior year at Bishop Gorman with a big decision looming.
One of seven colleges will get him. Kansas, Kentucky, North Carolina, UNLV, UCLA, Arizona and Indiana are the finalists.
His list included eight schools before Louisville recently dropped out of contention. After the Cardinals got a commitment from another top big man, Zimmerman said coach Rick Pitino called to say "it was a pleasure" recruiting him.
Zimmerman scored eight points Friday to help Oakland Soldiers Elite blow out Team Speed (N.J.) 76-44 in the Las Vegas Classic at Spring Valley High School. The game was so lopsided, he didn't need to score much, and unselfishness is another aspect to his game.
"He's a team guy," Soldiers coach Mark Olivier said. "He's just a great kid. He's got a great personality. I see nothing but big things for Stephen."
Olivier is a friend of the Zimmerman family. After playing for Dream Vision, an adidas-affiliated team, in past summers, Zimmerman switched to the Soldiers, a Nike team, this summer.
The Soldiers are winding down after a long summer on the AAU basketball circuit that included stops in Sacramento, Minneapolis, Dallas, Virginia, Augusta, Ga., and Atlanta before arriving in Las Vegas.
The recruiting process can put stress on teenage prospects, especially kids such as Zimmerman who never escape the spotlight.
"I just want the kids to have a great experience. Once you leave this and go to college, it's a big business," Olivier said. "At the end of the day, it's a hard decision for the parents. But those are good problems, right? If you look at all those schools, you can't really make a bad decision."
Zimmerman plans to start taking official visits in October and then huddle with his parents to pick the program that gives him the best shot to be successful. As of now, he said, he has no idea when he might reach a decision or where he might go.
"It's been a pretty cool experience, but I can't say that I want it to go on for much longer," Zimmerman said. "I could commit tomorrow. But I don't think I plan on committing anytime soon. Whenever it feels comfortable."
Zimmerman said he listens to the coaches who come calling, but doesn't believe everything he hears. He is wise enough to know reality is different from a recruiting pitch.
"Dave Rice texts me all the time," he said of the Rebels coach, the older brother of his Bishop Gorman coach, Grant Rice.
Zimmerman has attended several UNLV games, and he watches other teams play to see how the coaches utilize their centers. He wants to play inside and out, but not be chained to the low post.
"UNLV has always been in the picture as a hometown school," he said. "It would be great to go there and be the hometown hero."
That is not a hint that he's leaning toward staying home. He knows the decision looming will be difficult.
"I'm just happy to be in the predicament I'm in," he said. "It's a good one. It's a privilege for sure."