Gray, Legacy get defensive
January 19, 2013 - 12:46 am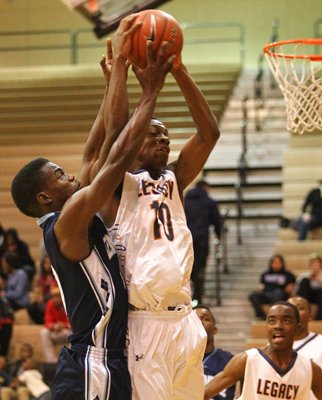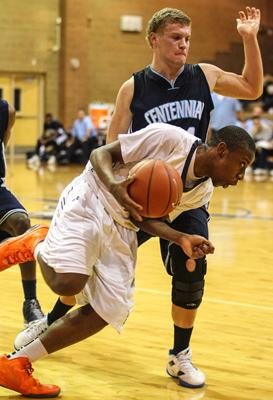 With a 10-day layoff, all Donavon Gray could think about during exam week was getting back on the basketball court.
Stewing over the images of Legacy's last game, a 10-point loss to Cimarron-Memorial on Jan. 8 in which the Longhorns blew a 10-point overtime lead, the senior sought redemption.
On Friday, Gray and the Longhorns got exactly what they asked for.
The Legacy guard scored 11 points and played a pivotal role in slowing No. 5-ranked Centennial's dynamic duo in the host Longhorns' come-from-behind 64-60 Southwest League victory.
"Sometimes when you get a 10-day layoff, it's tough to get back," Legacy coach Jack Tarango said. "Our kids worked hard in practice. We had a day or two off where we just gave them some time. Tonight we struggled at times, but we were resilient in fighting back."
The 10th-ranked Longhorns (14-6, 2-2) held Marcus and Malcolm Allen, two of Southern Nevada's top three scorers, to 32 points and rallied from a seven-point deficit in the fourth quarter en route to snapping a three-game losing streak.
"Marcus is a great player, probably the best in Nevada," Gray said. "But this shows that we can lock in. We focus on defense. Our focus isn't the offense. We let the defense do the scoring."
Implementing a tenacious trap on the Stanford-bound seniors, Legacy forced 25 turnovers. Marcus Allen, who had averaged 29.2 points, was held to 21, and Malcolm Allen (24.2 average) scored 11.
"I think we played a great help defense," Tarango said. "Obviously on-ball had to be great, and sometimes they got by. But we played great team basketball."
The Longhorns rallied with a 19-5 spurt in the fourth quarter. Khari Sloane's bucket in the paint with 1:51 left gave Legacy its first lead, 56-54, and Gray's two free throws put the Longhorns up 61-54 with 37.2 second to go. Sloane scored eight of his 12 points in the final period.
Marcus Allen connected on a deep 3-pointer from the right wing with 6.2 seconds left to pull the Bulldogs within 62-60. But two free throws from Javon Peterson sealed Legacy's win.
Centennial (15-6, 3-1), which had averaged 76.4 points per game, jumped to a 15-2 lead and led 37-28 at the half despite shooting 2-for-13 from 3-point range.