Hard work makes Eldorado's Clark one of area's top scoring threats
January 7, 2009 - 8:10 pm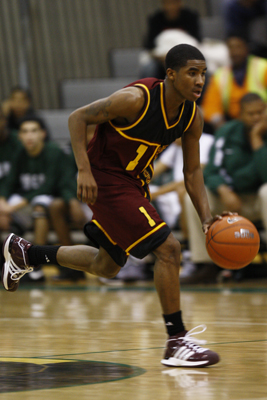 Effortlessly knocking down long jumper after long jumper, Eldorado's Mitrell Clark makes it look as if the skill comes naturally to him.
But it's not natural ability that makes the senior guard such a deadly shooter, Sundevils coach Michael Uzan said.
"Of all the kids we've had here, he's probably one of the top hardest-working kids," Uzan said. "Coming in and shooting at 6 in the morning, that's the kind of kid he is. He doesn't mind coming in and playing, that's for sure."
That love of the game has helped Clark hone his skills to become one of the area's top scoring threats. He averages 23.8 points for Eldorado, which improved to 12-4 with a 73-69 win over Rancho on Tuesday night.
The Sundevils are tied with Desert Pines atop the Northeast League at 2-0.
Clark averaged 15.3 points last year for Eldorado but has picked up his production this season.
Last season, Clark spent most of his time at shooting guard with Mike Elliott running the point. But this season, Clark has emerged as the team's primary point guard, a role he enjoys.
"I'm a general," Clark said. "I can see the court."
That's helped Clark average 4.6 assists as he uses his ability to penetrate to get shots for himself or teammates.
"With him, he can create," Uzan said. "He can create his own shot, he can create for other guys. It makes it a whole lot easier to coach, I can tell you that."
Uzan said Clark has adapted well to the new role of playing the point full time and also has adjusted to the variety of gimmick defenses he faces.
"His IQ for the game has gotten a lot better," Uzan said. "He's facing a lot of box-and-one and that kind of thing, and he's learning to turn his frustration into positive energy where he can be effective on the court. He's a really good player."
Clark's early-season success also has translated to early victories for an inexperienced Eldorado team. Only Clark, Marcus Moreland and Charles White played significant minutes last season.
Uzan said Clark's leadership has helped the younger players.
"He's a hard-working kid, and he does a great job of just being patient with the young ones," Uzan said. "The younger programs feed off him, especially in the summertime. The younger programs, like our JV kids, they really learned a lot from him."
Clark said the team has come together quickly and team chemistry is good this season.
"Right now we're still in that stage where we have to develop, but we're getting there pretty fast this year," Clark said.
Uzan said White and Moreland have helped take pressure off Clark and forced teams to play more honest defense.
"Charles White and Marcus Moreland, they've really caused him to open up a lot more, too, because they're very aggressive with the basketball," Uzan said. "Charles can get to the basket at any time, and Marcus is very aggressive and strong down low, and he gets all the rebounds for us."
Uzan said the 5-foot-10-inch Clark is starting to get the attention of some colleges, and the coach thinks his star can excel at the college level.
"He can be a great point guard at the next level," Uzan said. "He can shoot. He can flat-out shoot. When you have a threat on the ball like that, it just makes the defense a lot more honest and makes everybody play basketball."
No matter where Clark ends up next season, Uzan said his presence will be missed at Eldorado.
"He's a great kid. There's no doubt about it," Uzan said. "We're going to miss him, that's for sure. He's a pleasure to have, he's a comedian, he's funny. When it comes down to basketball, he knows what he wants to do and where he wants to go."