In first season in Class 2A, Adelson School boys eye state title
February 23, 2017 - 9:03 pm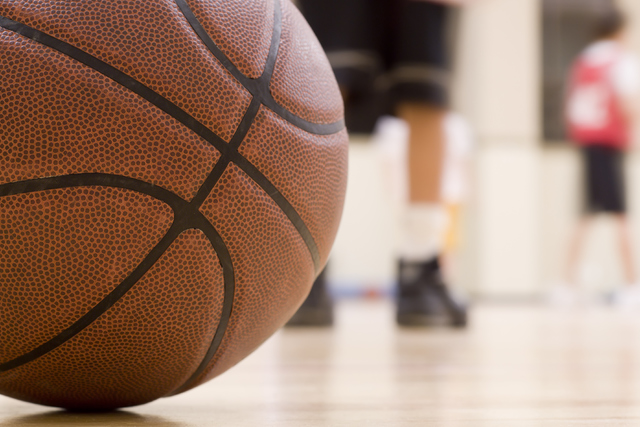 Before Kurt McGinnis started his first year as the Adelson School boys basketball coach, his expectations were not set on making the state tournament.
"Very honestly, I didn't think so," he said. "I knew we were moving up in league (and) didn't know a whole lot about all the opponents we'd be playing. But you just never know."
The Lions, to the delight of their coach, made it all possible after defeating The Meadows and Agassi Prep by a combined four points in the Class 2A Southern Region tournament last week to earn a state berth.
Adelson School (20-4) will meet West Wendover (19-8) in a state semifinal at 3 p.m. Friday at Del Sol High.
Now the Lions don't appear ready to call it a successful first season in Class 2A. At least not yet.
"They don't look satisfied at all," McGinnis said. "They showed a tremendous amount of pride and enthusiasm after winning the tournament on Saturday, but the way they've been working in practice this week, it seems like they know they can do even bigger and better things."
That could mean winning the school's first boys state title this weekend. Adelson School lost to Whittell in the Division IV — now Class 1A — state semifinals last season.
McGinnis, who has coached some of his players for years as an assistant, said it was important for him to instill the importance of working as a team and making sure no one player is bigger than the whole early on this season. And, he believes, it has paid off down the stretch.
"It's important to really feel that team atmosphere and embodying the whole definition of being a team," he said. "Offensively, you have to share the ball and be unselfish. We run a system that is not geared toward one player."
That system of unselfishness was on display in the region tournament. Jake Buchman led the way with 16 points in the opener against The Meadows, and Miles Hagan took his turn in the final. The junior had 14 points, and teammate Jacob Elharrar scored 13 in a win over perennial power Agassi Prep.
"We've had seven different players score over 15 points in a game this season," McGinnis said. "So it's not like we have just one or two guys who average 20 points and you just have to shut them down. I think that's what makes us tough."
McGinnis does have some knowledge of his opponent Friday. The Lions saw West Wendover play a pair of games in the Lake Mead Holiday Classic in December.
"That was way back at the start of the season though," he said. "We're a different team from December and I'm sure they are, too. They have a lot of seniors like we do, and from what I've seen, they play hard."
At this point in the season, McGinnis knows every team expects to win the next game. But he also knows there's something special with his group of players.
"I know from everything I've seen from West Wendover, it's going to be tough," McGinnis said. "They have tough senior leaders, they're very disciplined and fundamentally sound. I don't see them turning the ball over much. Just knowing my boys this year, though, I know they're going to compete every second."
Contact reporter Bill Slane at bslane@reviewjournal.com or 702-380-4559. Follow @bill_slane on Twitter.
Class 2A Boys State Tournament
Friday's Games
At Del Sol
West Wendover (19-8) vs. Adelson School (20-4), 3 p.m.
Agassi Prep (19-4) vs. Pershing County (27-2), 6:30 p.m.
Saturday's Game
At Cox Pavilion
Championship, 4:30 p.m.
Class 2A Girls State Tournament
Friday's Games
At Del Sol
Needles (23-5) vs. Pershing County (23-6), 4:45 p.m.
White Pine (21-6) vs. Agassi Prep (20-3), 8:15 p.m.
Saturday's Game
At Cox Pavilion
Championship, 2:40 p.m.