LEGACY TIP-OFF CLASSIC: Centennial overwhelms Silverado with second-quarter surge
December 2, 2016 - 10:26 pm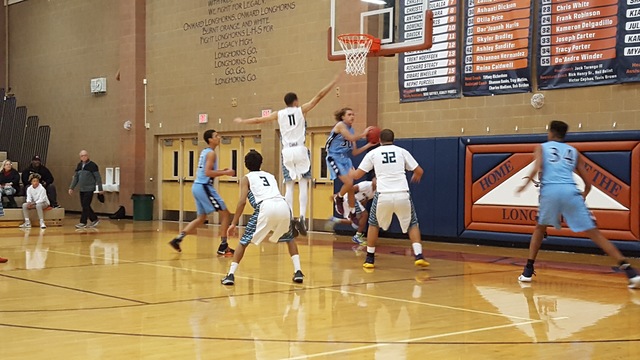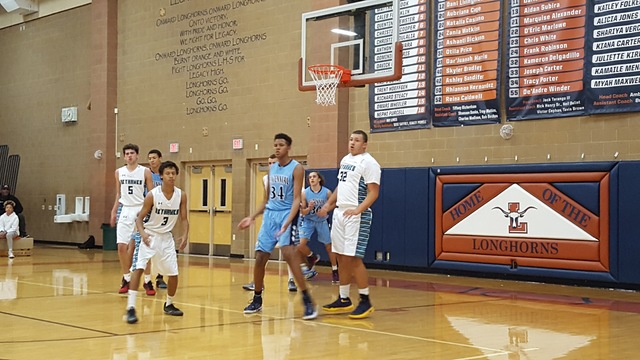 Through the first 12-plus minutes of game action Friday, Centennial's boys basketball team scored 23 points.
The Bulldogs more than doubled their offensive output over the remainder of the first half.
Centennial closed the second quarter on a 26-2 run and sprinted past Silverado 60-22 in the quarterfinals of the Legacy Tip-Off Classic.
Centennial plays Knight (California), a 48-40 winner over Clovis East (California), in the semifinals at 12:50 p.m. Saturday at Legacy. The title game is scheduled for 6:30 p.m.
"I thought we did a good job tonight, getting in the passing lanes, rotating over," Bulldogs coach Noah Hartsock said. "Especially with the length and athleticism we have, that's one of our strengths is getting our hands on a few balls and getting out and going and scoring. I think that's the best way we score, is in our transition offense."
Troy Brown Jr. paced the Bulldogs (3-0) with 18 points, five rebounds, three assists and two steals.
Isaiah Banks had 10 points and four steals, and Ishon Hardin added 10 points and four rebounds for Centennial, which shot 52.1 percent from the floor (25-for-48).
The second half was played with a running clock.
"There were a couple times we were a little stagnant, one dribble we'd come off a shot or one-pass shot," Hartsock said. "We're just trying to get better at movement offensively and run our stuff and execute it. For the most part in the first half they did a great job of doing that."
Centennial led 23-9 after Silverado's Caden Farley nailed a corner jumper, but the Bulldogs responded with the next 24 points.
Two steals by Banks led to easy buckets for Hardin, and Brown made two 3-pointers during the scoring spurt.
Brown's tip-in at the buzzer gave the Bulldogs a 49-11 lead.
"If we can get a couple hands on the ball going out and really just feeding it ahead, that leads into a lot of things we do," Hartsock said. "Getting a 6-0 run, an 8-0 run, getting a couple of those a game really help us."
Silverado (1-2) committed 14 turnovers in the first half and shot 19 percent from the floor (8-for-42) overall. The Skyhawks were 1-for-19 from 3-point range.
Devin Ross led Silverado with nine points and four rebounds.
Lutheran (Colorado) 74, Legacy 71 — Quentin Brewster led four players in double figures with 17 points, but the Longhorns fell in double overtime to the Lions in the quarterfinals.
D'Eric Marlowe had 15 points, Tyrell Nolen had 14 points, and Chris White scored 13 for Legacy.
Nolen scored with 22 seconds remaining in regulation to tie the score at 60. In the first overtime, Lutheran led 65-62 before Marlowe drained a 3-pointer with 32 seconds left, and Nolen swatted Tyler Essegian's short jumper at the buzzer to keep the score tied.
Marlowe's basket with 2:38 left in the second overtime gave the Longhorns a 69-67 lead, but Lutheran responded with a 6-0 spurt to pull away.
Austin Anguilm's fast-break basket put the Lions on top 71-69 with 1:05 to play, and after a Legacy turnover, Essegian scored off a feed from Kole Brandon to give Lutheran a four-point lead with 25 seconds remaining.
Essegian led Lutheran with 16 points. Will Willis had 13 points, and Anguilm and Matthew Thompson each scored 10 for Lutheran, which meets Clark in the semifinals.
Shadow Ridge 78, Valley 59 — Isaiah Williams scored 20 points to lead five Mustangs in double figures in a victory over the Vikings in the consolation bracket.
James Fuller had 15 points, and Amir King scored 12 of his 14 in the second half to help Shadow Ridge extend a 43-31 halftime lead.
Obi Okafor finished with 11 points, all in the first half, and Bricin Ford added 10 points for the Mustangs.
John King led Valley with 19 points, and teammate Oscar Burns scored 18.
Canyon View (Utah) 59, Mojave 49 — Jonathan Rodriguez and Tyrique Watson each had 13 points in the Rattlers loss to the Falcons in the consolation bracket.
Rodriguez, who had 10 points in the second half, scored on a layup at the third-quarter buzzer to cut Canyon View's lead to 44-40.
Rodriguez's putback basket with 3:11 remaining brought Mojave as close as 54-49 before he fouled out 12 seconds later.
Mojave did not score the rest of the way.
Brantzen Blackner had a game-high 22 points to lead Canyon View, and Abe Huxford added 15 points.
Green Valley 73, Coral Academy 51 — Matthew Tuttle finished with 25 points, and Canyon Lewis had 10 of his 18 points in the second half to help the Gators pull away from the Falcons in the consolation bracket.
Cooper Burgess added 12 points for Green Valley, which led 36-33 at halftime.
Tuttle had nine points, including two of his three 3-pointers, in the third quarter when the Gators outscored Coral Academy, 22-9.
Ryan Djino led Coral Academy with 19 points, and teammate Isaiah Spears scored 12.
Clark 87, Robert Bateman (Canada) 32 — Ian Alexander had 17 points, and James Bridges added 15 points as the Chargers overwhelmed the Timberwolves.
Trey Woodbury had 11 points and Tanevin Goldner finished with 10 points for Clark, which had 11 of its 12 players score.
The Chargers led 36-8 after the first quarter.
Nate Friesen scored a game-high 19 points to lead Robert Bateman.
Box scores:
Green Valley 73, Coral Academy 51
Canyon View (Utah) 59, Mojave 49
Clark 87, Robert Bateman (Canada) 32
Lutheran (Colorado) 74, Legacy 71, 2OT