Legacy Tip-Off: Defense lifts Democracy Prep past Cimarron-Memorial
November 30, 2018 - 10:41 pm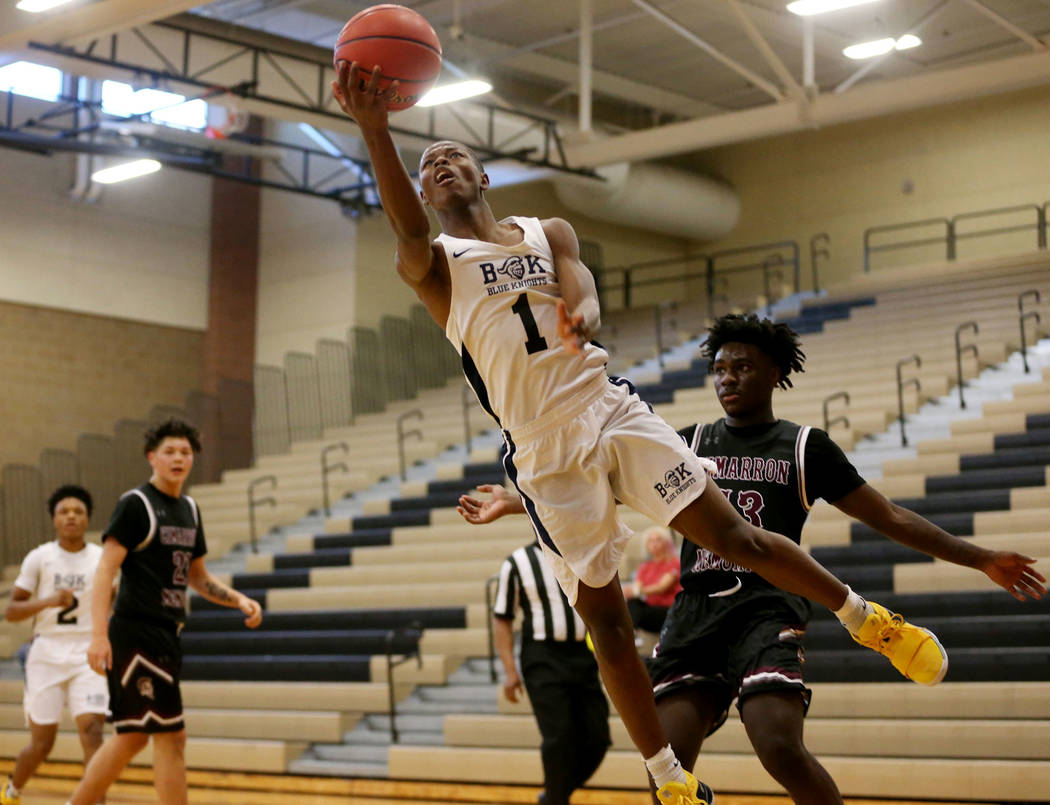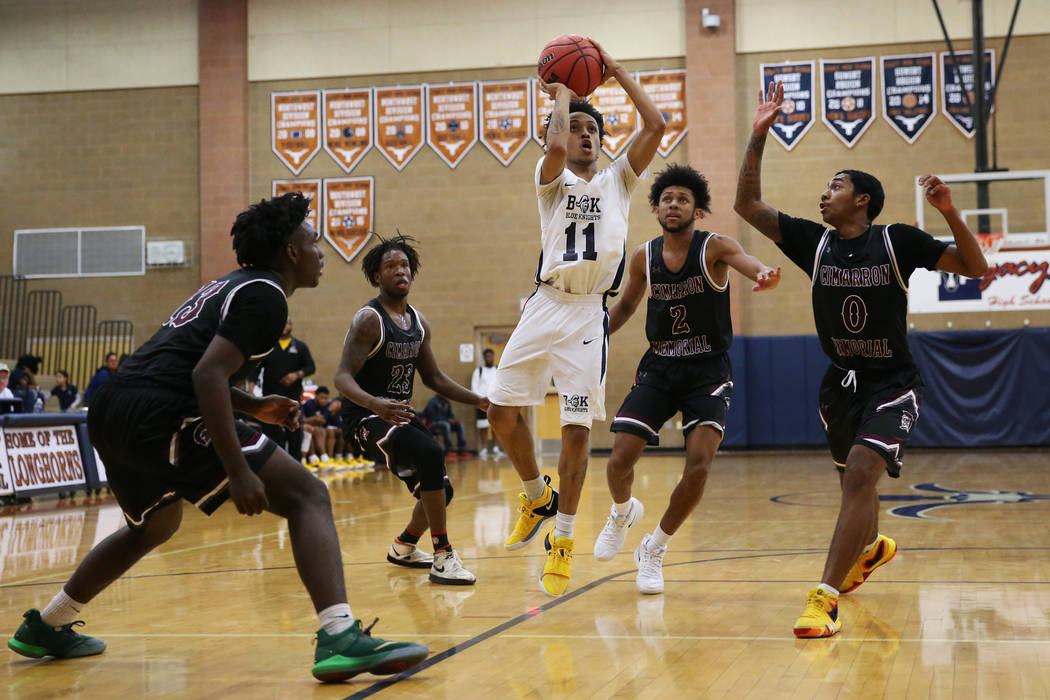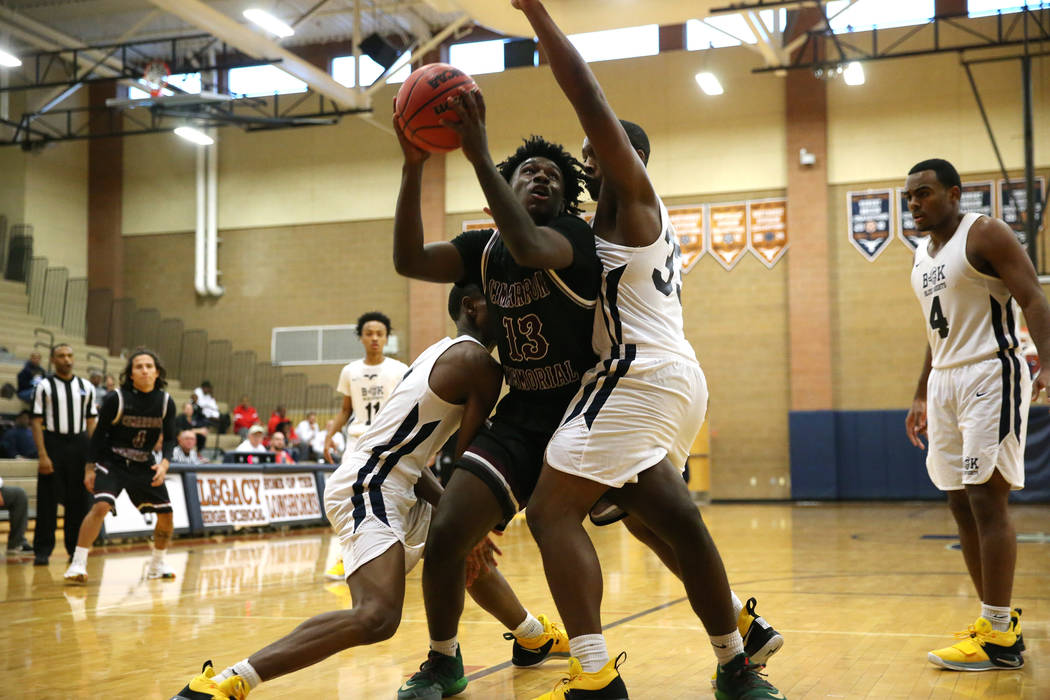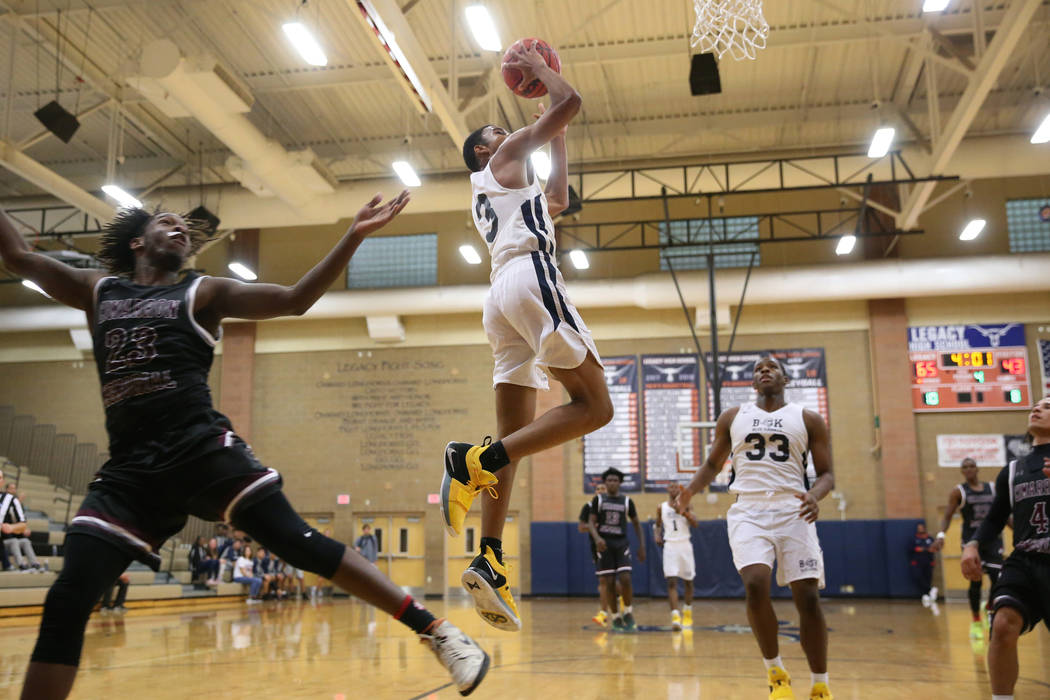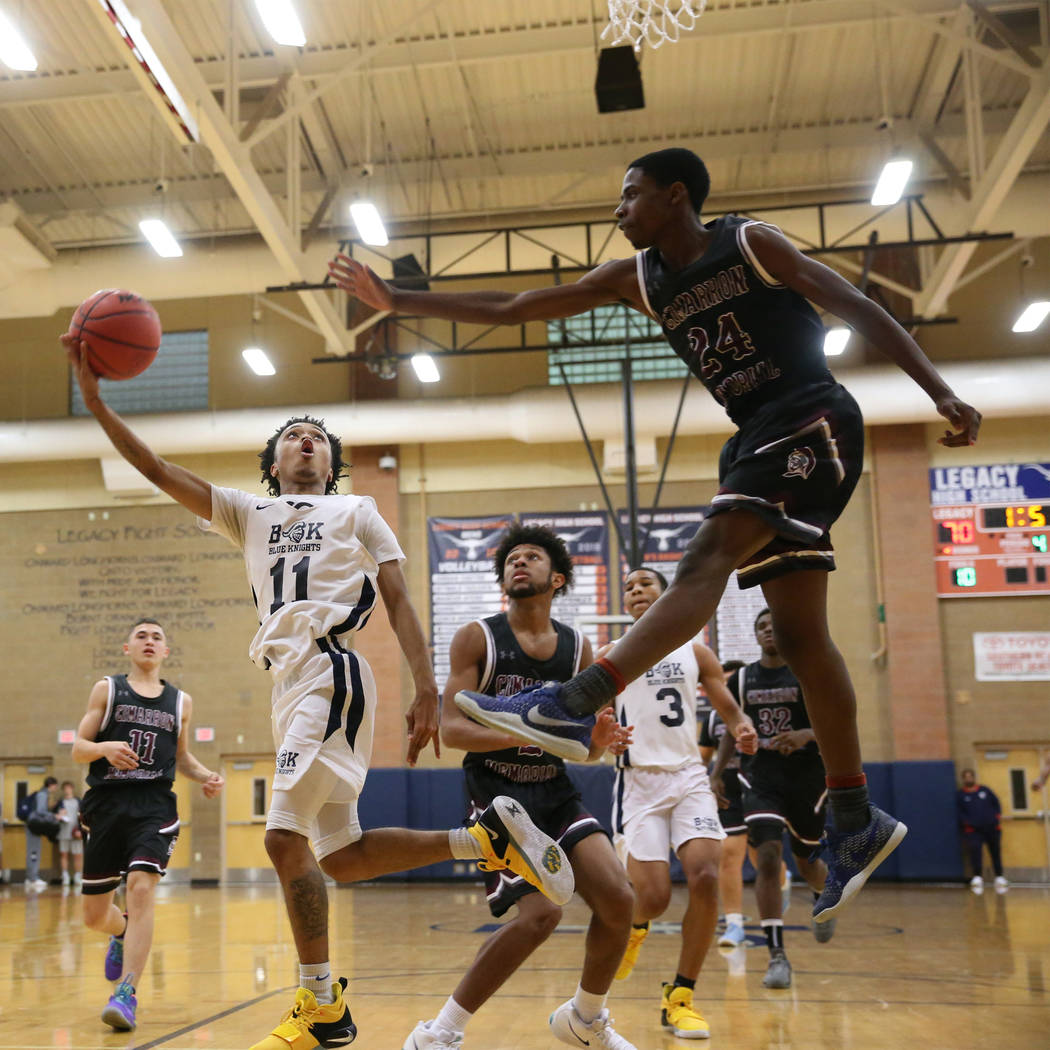 Democracy Prep's boys basketball players don't just play a brand of stifling, pressure man-to-man defense.
They enjoy playing said brand of stifling, pressure man-to-man defense.
The Blue Knights overwhelmed Cimarron-Memorial on Friday to record a 72-46 victory in Legacy Tip-Off Classic quarterfinal play. They will meet Arbor View at 10:25 a.m. Saturday in the semifinals.
Championship play is Saturday night, and Democracy Prep coach Trevor Diggs said the event is a good barometer for his program, which is in its first year at the Class 3A level.
"I've got three new starters. We're just trying to keep them composed and play hard all the time," said Diggs, who led the Blue Knights to Class 2A state titles in four of the past five seasons. "That's why we play in these tournaments with high-caliber teams … bigger schools so we can get that kind of feel."
Democracy Prep senior point guard Najeeb Muhammad had 18 of his 20 points in the first half, and wings Daniel Plumer and Chancellor Johnson scored 16 apiece.
The three helped the Blue Knights contest shots, secure defensive rebounds and score in transition and the half court, resulting in a 39-22halftime lead.
"We had a couple of good stops," Muhammad said. "We came down, ran the offense, good shots. Our coach tells us that we're trying to play like the San Antonio Spurs. We make the extra pass. Give up the good shot for the great shot."
Diggs demanded an equally intensive effort from his players in the second half despite a double-figure lead. They responded by defending some more.
Winning is enjoyable for the Blue Knights (1-1). So is playing defense.
"I'm the leader," said Muhammad, who has multiple Division I scholarship offers. "They follow me, so if I play defense, they'll play defense."
Makhi Walker led the Spartans (1-3) with 23 points.
Legacy 74, Eldorado 57 — Andrew Garcia scored 13 points, and Shamir Chambers added 10 points to help the Longhorns beat the Sundevils.
Sunrise Mountain was Eldorado's original opponent, and withdrew from the tournament — thus, the game did not count toward bracket play.
LeLenn Ross led Eldorado with 16 points.
Arbor View 91, Clovis East (Calif.) 77 — Donovan Yap had 23 points, and Ziyon White scored 19 to help the Aggies dispel the Timberwolves.
Larry Holmes had 18 points, and Tyre Williams scored 17 for Arbor View, which led 50-41 at the half.
Shawno Roberts led Clovis East with 19 points.
Centennial 73, Cheyenne 65 — Chris Comanche scored 26 points to help the Bulldogs stave off the Desert Shields.
Savio Rivera and Austin Anderson each had 10 points for Centennial.
Glenn Taylor had 23 points for Cheyenne.
Tamanawis (Canada) 71, Rancho 64 — James Brown had 21 points, and Fredy Vargas scored 15, but the Rams were outscored by 10 points in the fourth quarter en route to a loss.
Jeevan Sidhu led Tamanawis with 35 points.
Legacy 74, Palo Verde 65 — Shamir Chambers had 14 points and Rayshon Funches scored 13 to lift the Longhorns by the Panthers.
Drew Warnick led Palo Verde with 20 points.