Liberty blows out Gorman in state title rematch — PHOTOS
Updated January 25, 2023 - 10:49 pm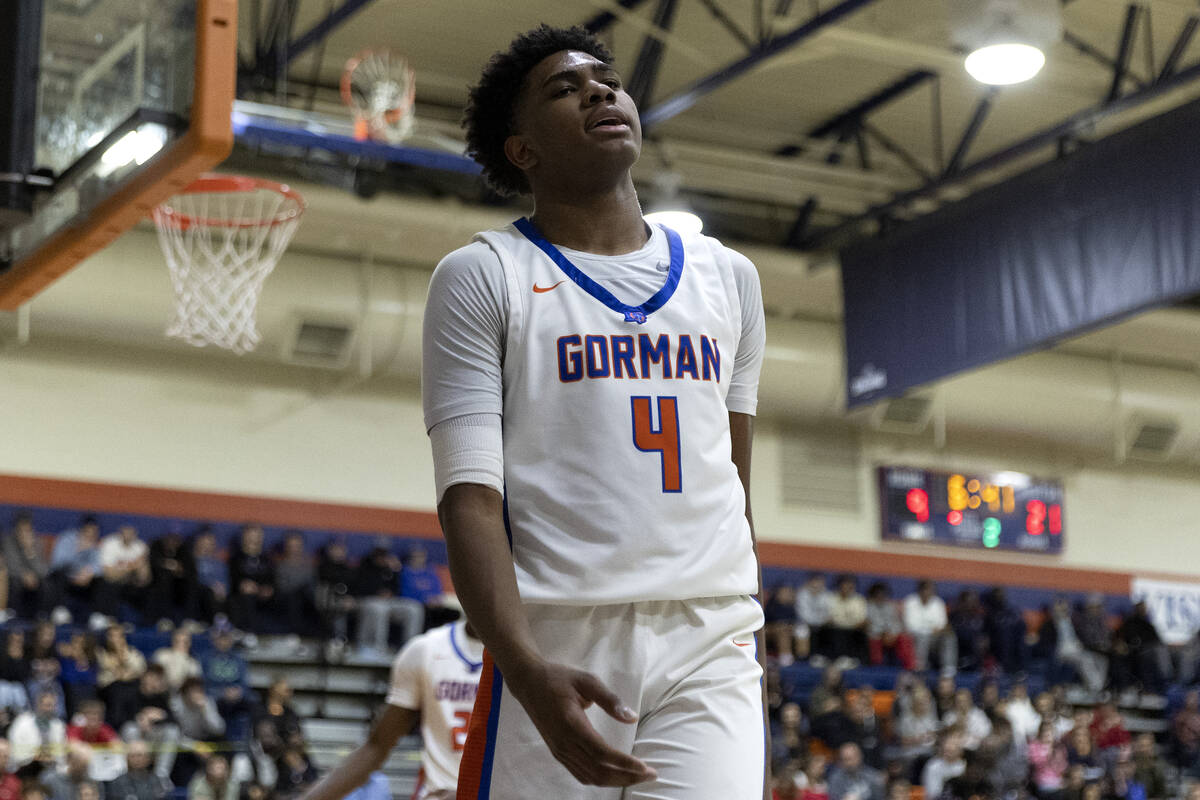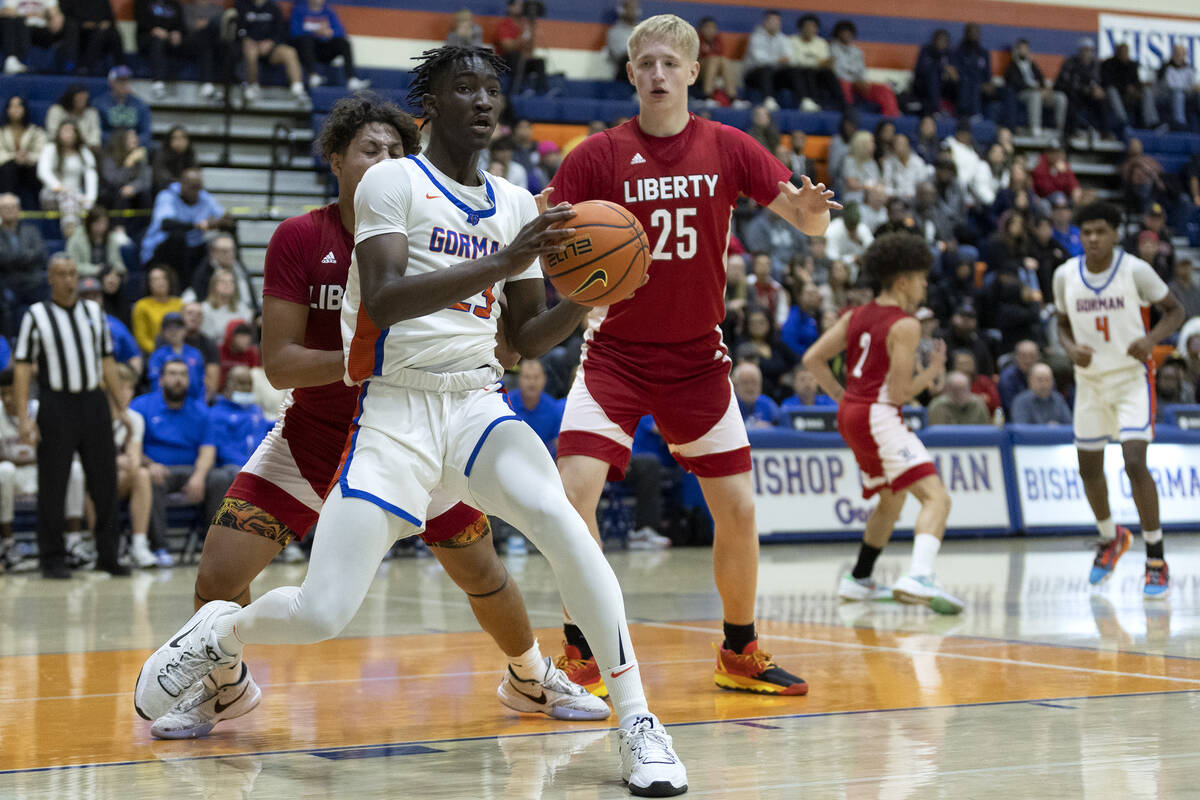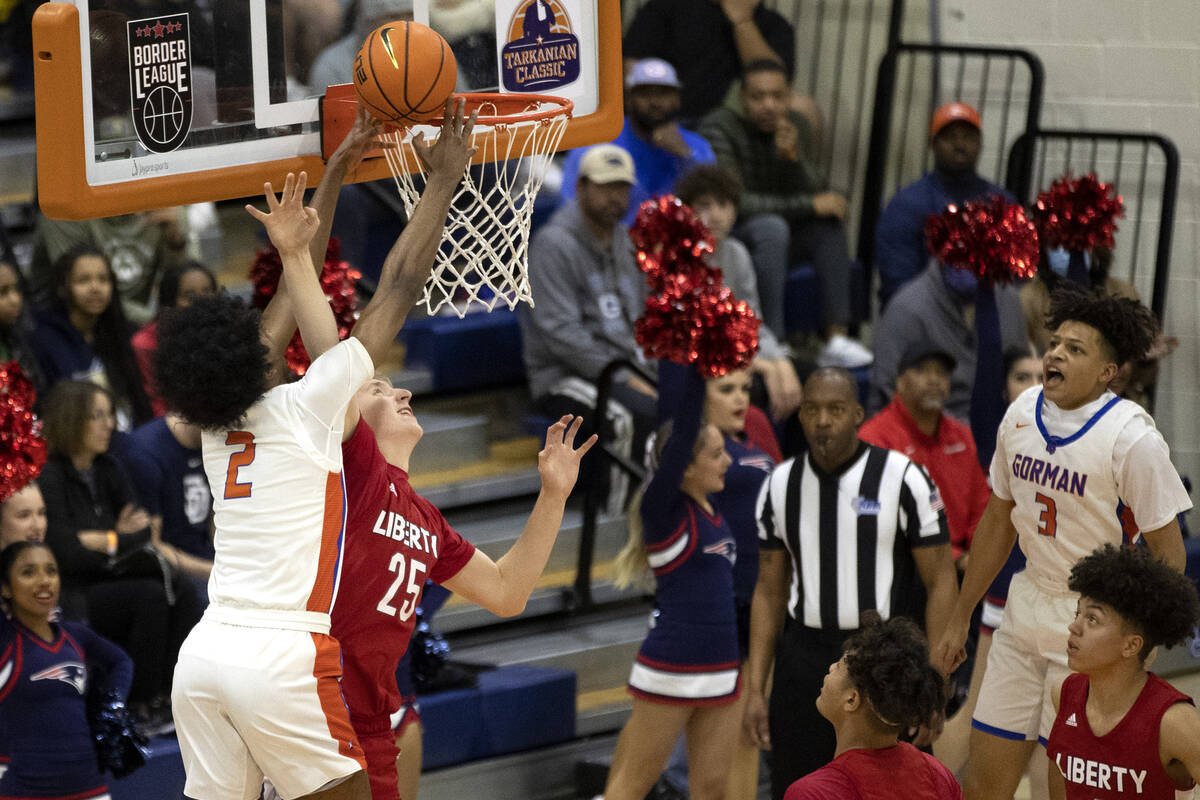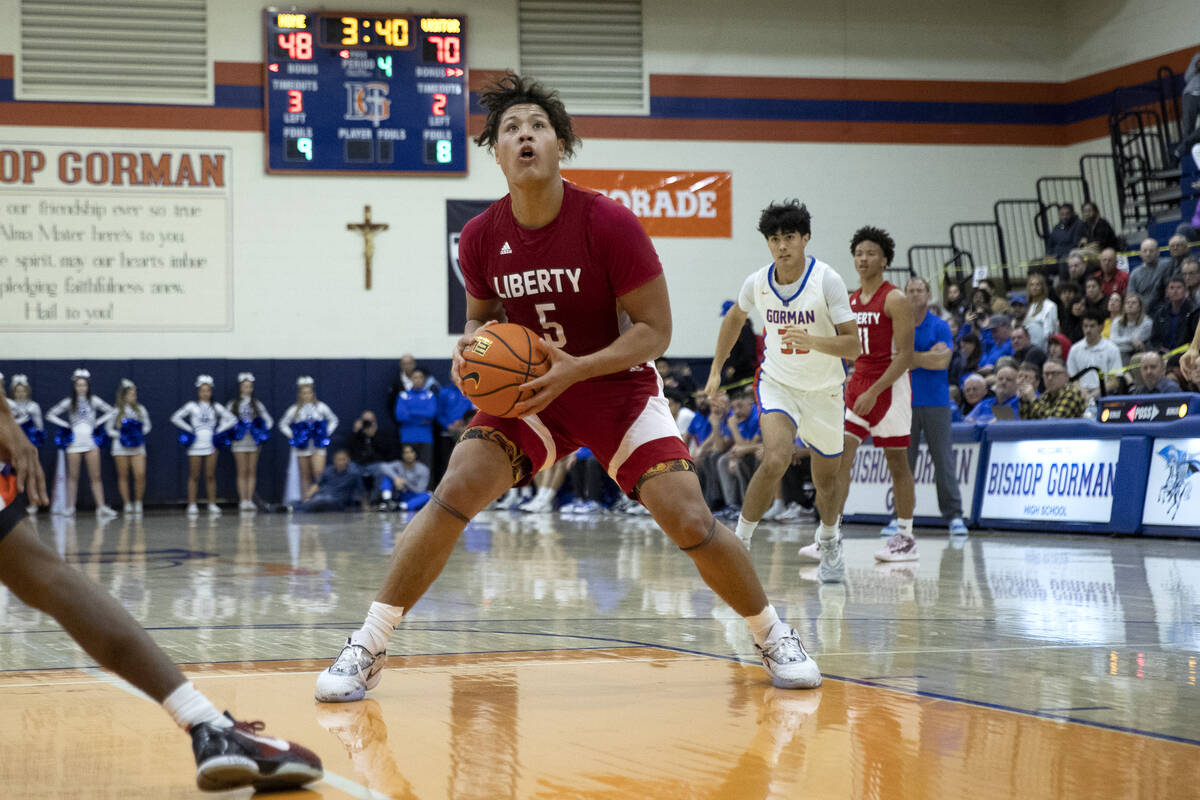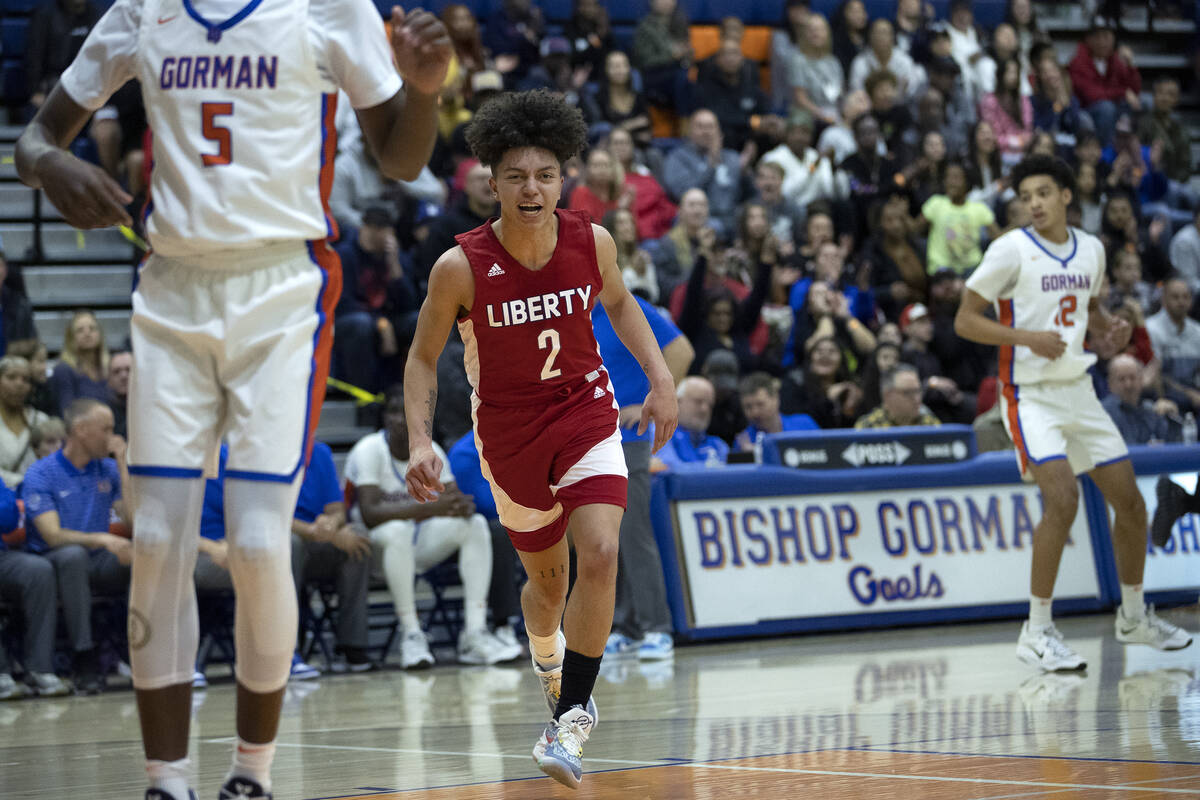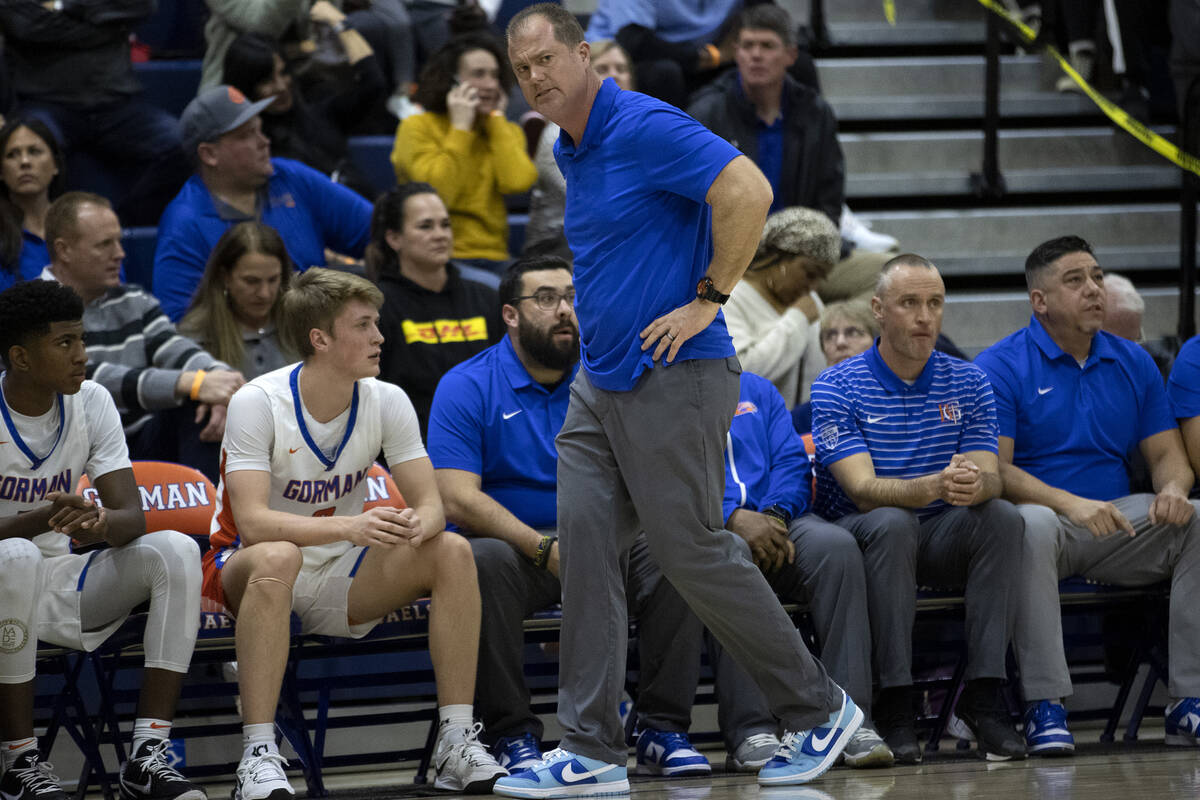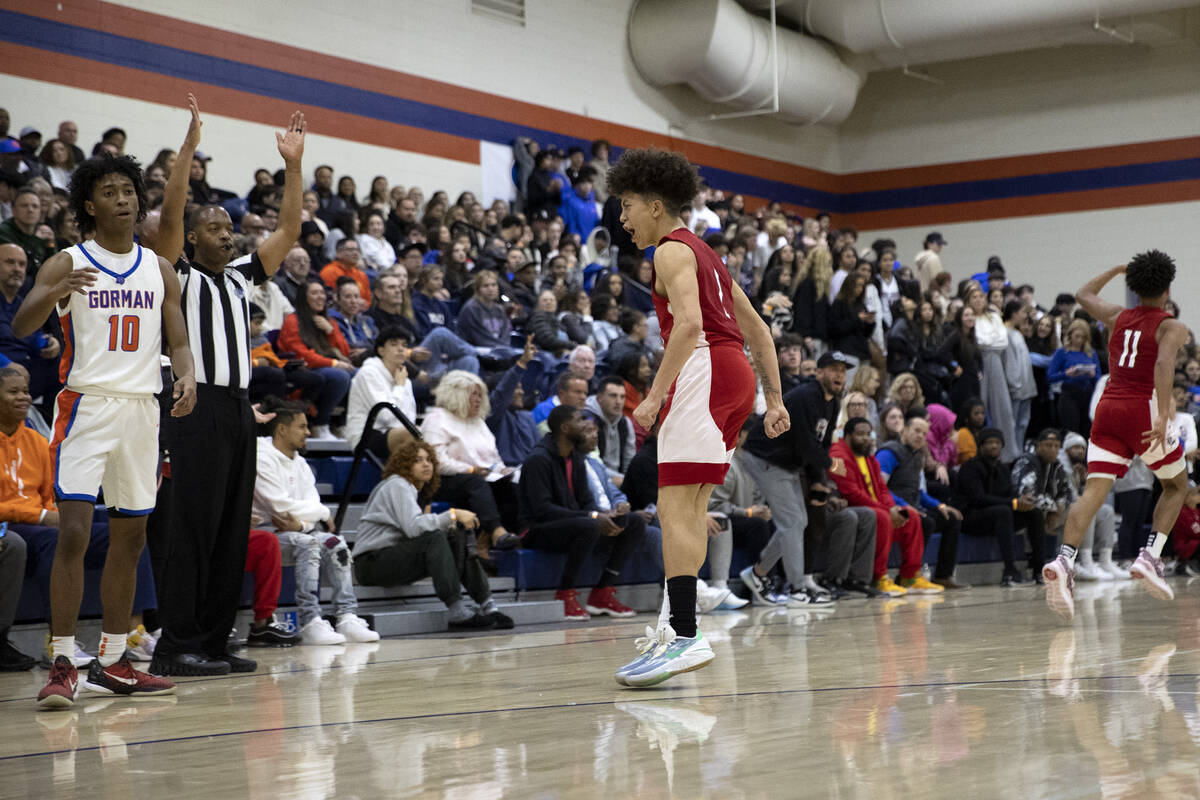 Last year's Class 5A boys basketball state championship game between Bishop Gorman and Liberty went down to the wire.
The Patriots needed overtime and for a last-second prayer shot to miss to claim the title and end the Gaels' streak of nine straight state titles.
In the highly anticipated rematch between two of the favorites in 5A, overtime wasn't needed. In fact, the game was well in hand before halftime.
Behind 26 points from junior point guard Dedan Thomas Jr., the Patriots rolled to a 78-55 win over the Gaels on Wednesday night in front of a full Bishop Gorman gym.
It's Gorman's first loss in its home gym to a local opponent in league play since it lost to Clark 68-62 on Jan. 31, 2017.
Senior guard Angelo Kambala scored 20 points, and junior forward Andre Porter added 15 for Liberty (13-7, 5-1 Class 5A Southern League).
"It says that we're good enough to repeat as state champs," Liberty coach Kevin Soares said of the statement that this win makes.
"Nobody's going to give it to us. We have to go out and play like we did tonight in order to have that opportunity. This is good. This gives us an idea of where we are and what we're capable of doing. Now, we just have to build on it."
Gorman (14-6, 5-1) fell behind early. Junior guard John Mobley hit a 3-pointer with 2:17 left in the first quarter to cut the Liberty advantage to 10-9. But Mobley's shot, his only points through three quarters, represented Gorman's last points for the next 5:36.
The Patriots went on a 19-0 run during that stretch and led by 20 points midway through the second quarter.
Liberty's defense kept Gorman in check, as the Gaels only made three field goals after Mobley's 3-pointer. Porter scored 11 points in the first half, and the Patriots led 39-20 at the break.
"We were trying to keep (Gorman's guards) in front," Soares said. "Make shots tough for them. … We tried to play them straight up, keep them in front and limit them to one shot. And get the ball out and try and get some points in transition."
Gorman came out with a spark in the third quarter. Sophomore forward Chris Nwuli threw down a putback dunk, and junior guard Jase Richardson knocked down a pair of 3-pointers that cut the deficit to 13 point and pumped energy into a lifeless Gorman crowd.
But that's the closest the Gaels got the rest of the way. Liberty quickly answered with a pair of layups from Kambala, and Thomas scored Liberty's final eight points of the quarter to lead 60-37.
While Gorman scored four quick points to start the fourth, it had no answers for Thomas, who cut through the Gaels' defense and scored at will. Thomas scored 18 points in the second half.
"Coming into this game, we knew we were going to win this game," Thomas said. "We just had that confidence. … This was a really big win for us to make a statement to the city."
Senior wing Keenan Bey led Gorman with 13 points. Mobley was limited in the second half as he picked up his fourth foul late in the third quarter. Richardson left early in the fourth quarter, as he appeared to reinjure his ankle after initially injuring it Saturday against Coronado.
After a tough loss Saturday to Durango, Soares said getting a league win on the road is crucial to keep Liberty alive for one of the top two seeds in the playoffs.
"This helps us forget about (the loss to Durango)," Soares said. "It helps put us in a position to get one of those two top seeds and try and get as many home games as we can for the playoffs."
Contact Alex Wright at awright@reviewjournal.com. Follow @AlexWright1028 on Twitter.