Liberty rolls over Green Valley, 70-46
January 30, 2017 - 10:37 pm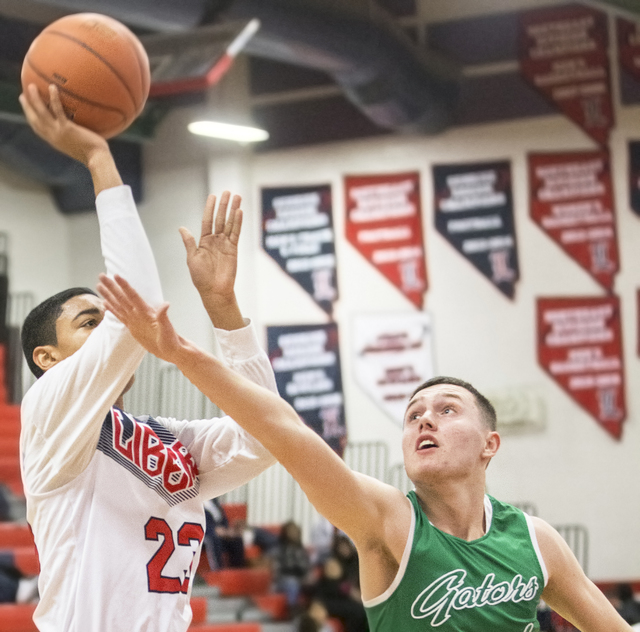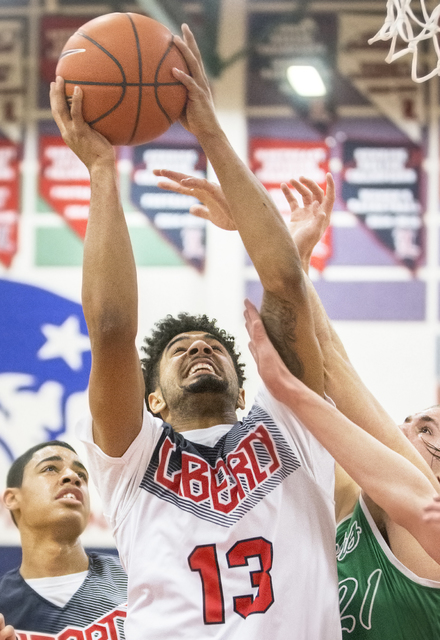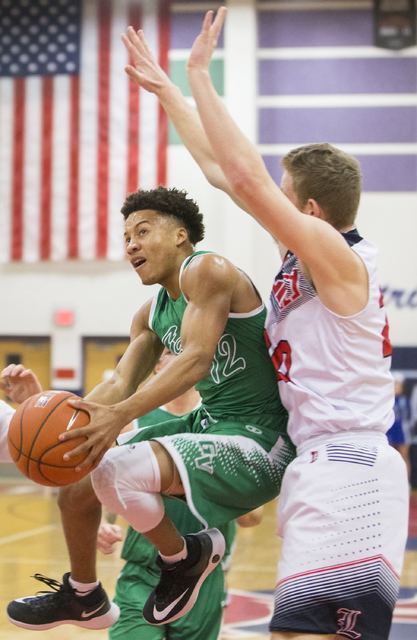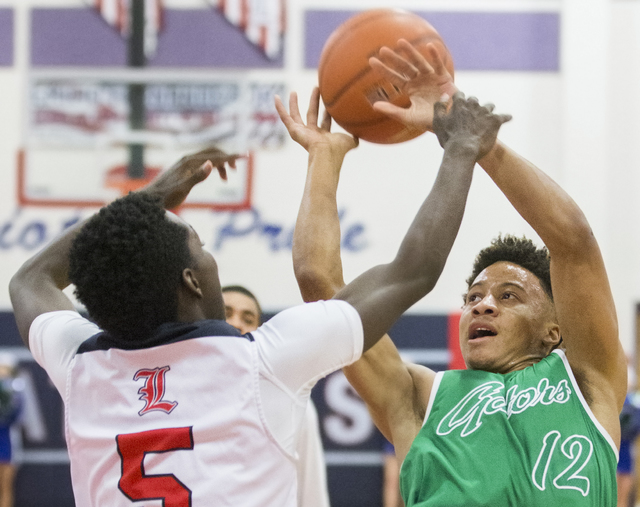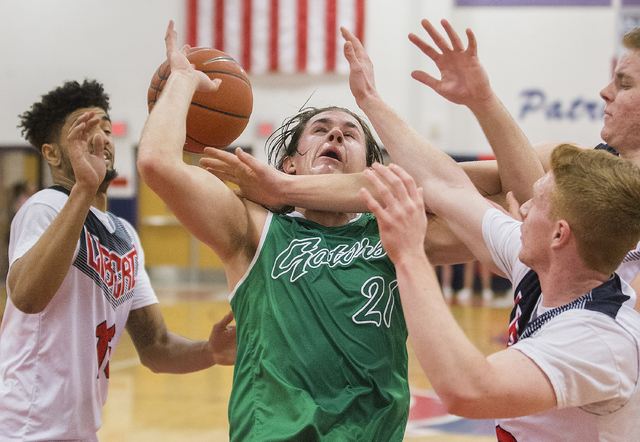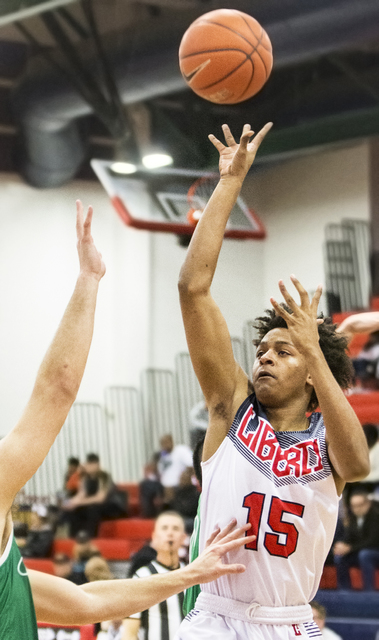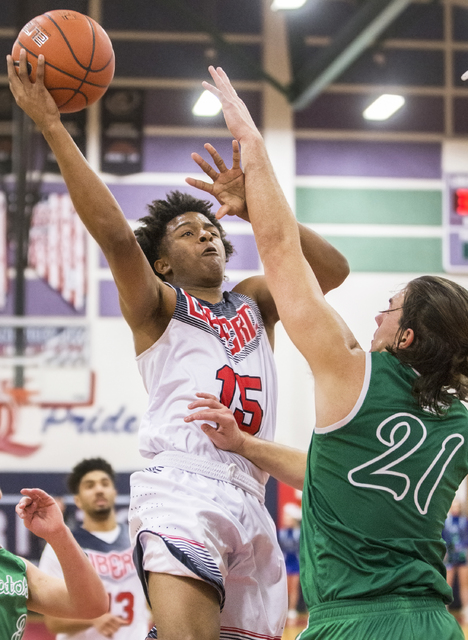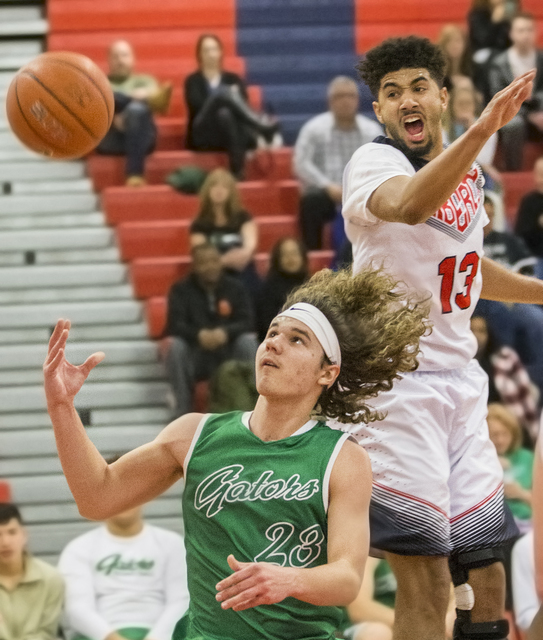 There was still 5:46 left on the clock Monday night, but everyone in the Liberty gym knew it was over.
Liberty's Dyllan Robinson swung the pass from the top of the key to Davion Ware in the corner, and the Patriots' bench got to its feet before Ware even started his wide-open shot. When he drained it, the home crowd erupted as Green Valley coach Lorenzo Jarvis called a timeout with a dejected look on his face.
Ware's 3-pointer early in the fourth quarter put the Patriots' boys basketball team up by 18, to that point its biggest lead in a game it would go on to win 70-46.
"That three gave us a good boost and gave us a great lead," Ware said. "Once we hit the three we had the game in control and we just had to maintain."
Ware's shot was the culmination of a nearly perfect second half for the Patriots (10-13, 3-4 Southeast League). Leading by just four at halftime, they outscored the Gators 40-20 in the third and fourth quarters. Liberty's Braden Cain hit two 3-pointers to open the half and seize momentum, then Liberty's defense only allowed nine field goals in the second half and was only charged with one foul that led to free throws.
"Everything contributed to that run right there," Liberty coach Stefan Berg said.
Then came free throws. After last Thursday's game in which Liberty lost by one point and shot 19 of 38 from the line, Berg hammered into his squad the necessity of making them. On Monday the Patriots were 17 of 21, including 7-for-7 in the third quarter to help pull away.
"The last week I've put an emphasis on free throws so today every kid had to make 25 free throws before the game," Berg said. "I've told them that we're going to be in close games and we're going to knock down free throws."
Robinson finished with a game-high 18 points. Cameron Burist scored 17 for the Patriots, and Julian Strawther had seven points and 12 rebounds. Ware finished with seven points.
Green Valley's Eric Johnson had a team-high 14 points, and Canyon Lewis and Matthew Tuttle each scored 12 for the Gators (9-14, 2-5).
Liberty's win over Green Valley, coupled with a Silverado loss to Foothill on Monday, helped the Patriots break a three-way tie and claim sole possession of third place in the Southeast League. With only three league games remaining before the end of the season and the four teams making the playoffs, Monday's win was a big step in helping the Patriots return to the postseason after winning their division last year.
"It was a must-win for us," Ware said. "Earlier in the season we lost a close game to Green Valley. We had to come back and get this win."
"The morale of the team is high now."
Contact Justin Emerson at jemerson@reviewjournal.com or (702) 387-2944. Follow @J15Emerson on Twitter.
Box score: