Looking ahead at the week in high school sports
November 27, 2016 - 11:40 pm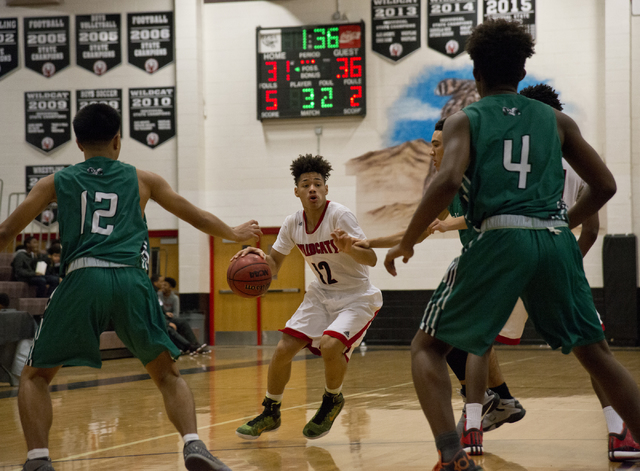 Here is a look at some of this week's top high school sports events.
FOOTBALL
Saturday — Class 4A state championship game at Sam Boyd Stadium, 12:10 p.m.
Bishop Gorman (14-0) will go for an eighth consecutive state title against Liberty (12-1). Gorman won 63-21 when the teams met in last season's title game.
BOYS BASKETBALL
Tuesday — Faith Lutheran at Sierra Vista, 6:30 p.m.
This game features two teams moving up in class from Division I-A (now Class 3A) to Class 4A. Junior guard Maka Ellis averaged 21.0 points, 5.0 rebounds and 2.3 assists for the Mountain Lions last season. The Crusaders will be looking for big things from junior point guard Jaylen Fox (4.2 assists) and junior forward Elijah Kothe (9.2 points, 7.8 rebounds).
Thursday — Las Vegas at Durango, 6:30 p.m.
Senior point guard Demetrius Valdez (12.4 points, 5.2 assists) will lead the Trailblazers against a Las Vegas team looking to make big improvements this season. Forward Marquise Raybon (14.1 points, 9.0 rebounds) showed star potential last season for the Wildcats, who also return guards Donovan Joyner (12.5 points) and Deondre Northey (12.2 points).
Thursday-Saturday — Legacy Tip-Off Classic
The sixth Tip-Off Classic will be a 14-team event, featuring nine local schools. Play begins at 4 p.m. on Thursday at Legacy. Clark and Centennial highlight the local teams in the field. Clark won the last three Division I-A state titles. Centennial, led by guard Troy Brown, finished second in the Tip-Off Classic last season. Saturday's championship game is scheduled for 6:30 p.m.
Thursday-Saturday — Lake Mead Holiday Classic
This small school tournament tips off at 12:30 p.m. on Thursday at Lake Mead. Games run from 9:30 a.m. to 8 p.m. on Friday, and start again at 8 a.m. on Saturday. The championship game is scheduled for 6:30 p.m. on Saturday.
GIRLS BASKETBALL
Tuesday — Foothill at Palo Verde, 5 p.m.
The Falcons return nine letter winners from last year's team that advanced to the Sunrise Region title game and will get an early test from Palo Verde, which is rebuilding after losing its top five scorers and rebounders from last season's playoff team.
Saturday — Centennial at Paul VI (Virginia), 4 p.m.
The Bulldogs' national championship aspirations will be put to the test right out of the chute as they take on the consensus preseason No. 1 team in the country in the Art Turner Memorial Showcase. Paul VI went 33-1 last season and features 6-foot-4-inch senior center Mikayla Vaughn, a Notre Dame signee, and junior guard Honesty Grayson-Scott, a member of the 2015 U16 National Team.
WRESTLING
Tuesday — Mojave, Shadow Ridge, Foothill at Las Vegas, 4 p.m.
Some of the area's top teams will be on display in this quad meet. Shadow Ridge was second in the Sunset Region meet and fourth at state last season. Las Vegas was second in the sunrise Region meet and 12th at state. Mojave won the Division I-A (now Class 3A) Southern Region meet last season.
Friday-Saturday — Vigil Memorial Invitational at Arbor View
Arbor View, which was third at last year's Division I (now Class 4A) state meet, will host a two-day invitational beginning at 3 p.m. on Friday. Wrestling continues on Saturday at 9 a.m.
Friday-Saturday — Green Valley Duals
The Gators have won five consecutive state titles, and will host a two-day dual tournament. Wrestling begins at 3 p.m. on Friday, and continues at 9 a.m. on Saturday.
FLAG FOOTBALL
Tuesday — Palo Verde at Valley, 4:30 p.m.
The Panthers finished as the Sunset Region runner-ups last season, while Valley fell in the Sunrise semifinals. Both teams will be looking to make a return trip to the playoffs this season.
Thursday — Centennial at Las Vegas, 4:30 p.m.
The defending Clark County School District champions will meet the defending Northeast League champions. Centennial's Aliyah Wyrick (2,895 total yards, 46 TDs) could be the sport's best player. Las Vegas' Sabrina Saldate (2,767 passing yards, 48 TD passes) is one of the area's top quarterbacks.
Friday-Saturday — Lady Bulldog Invitational
Centennial defeated Foothill, 26-7 in the tournament final last season. The game turned out to be a preview of the Division I CCSD championship game. Will this year's tournament prove to be as prophetic?