LV Prep: Trinity wears down Foothill, moves into tournament final
December 28, 2018 - 8:34 pm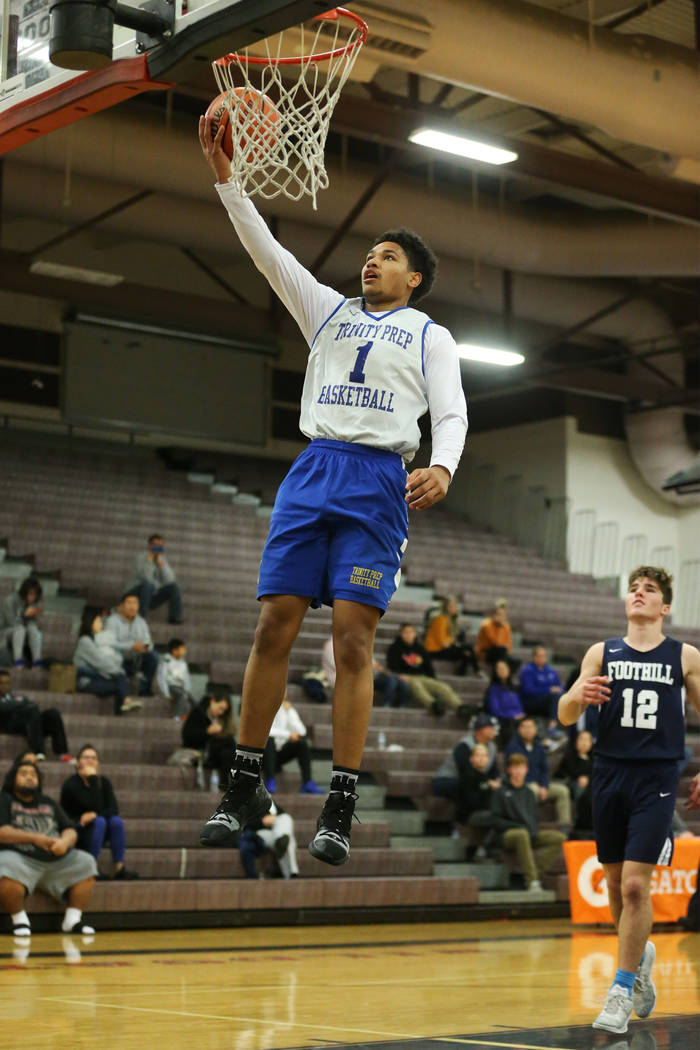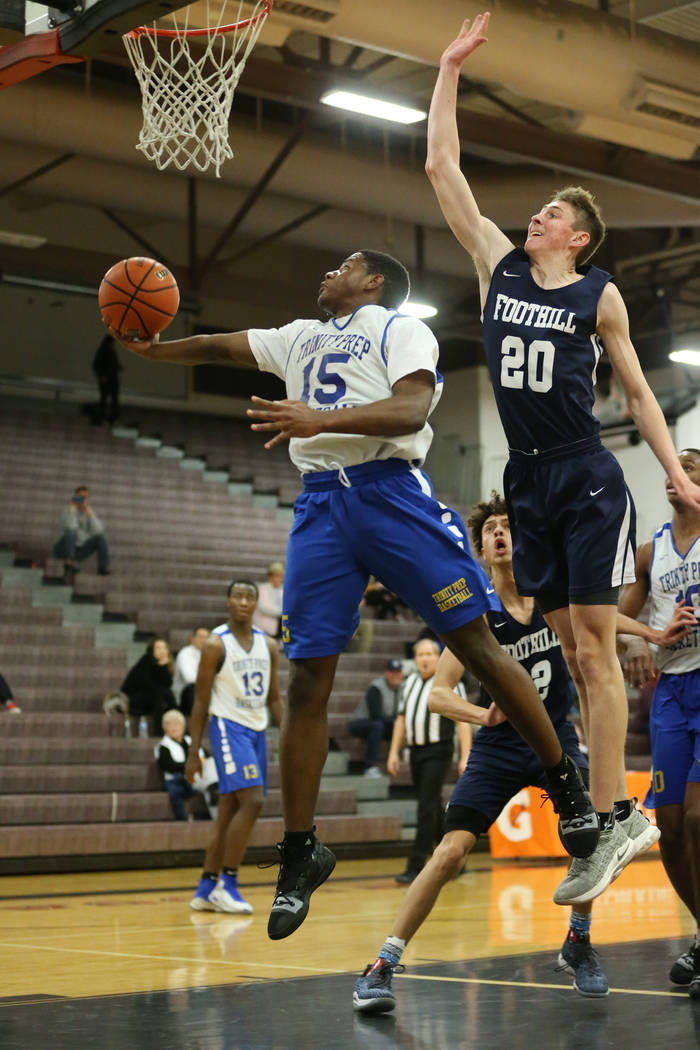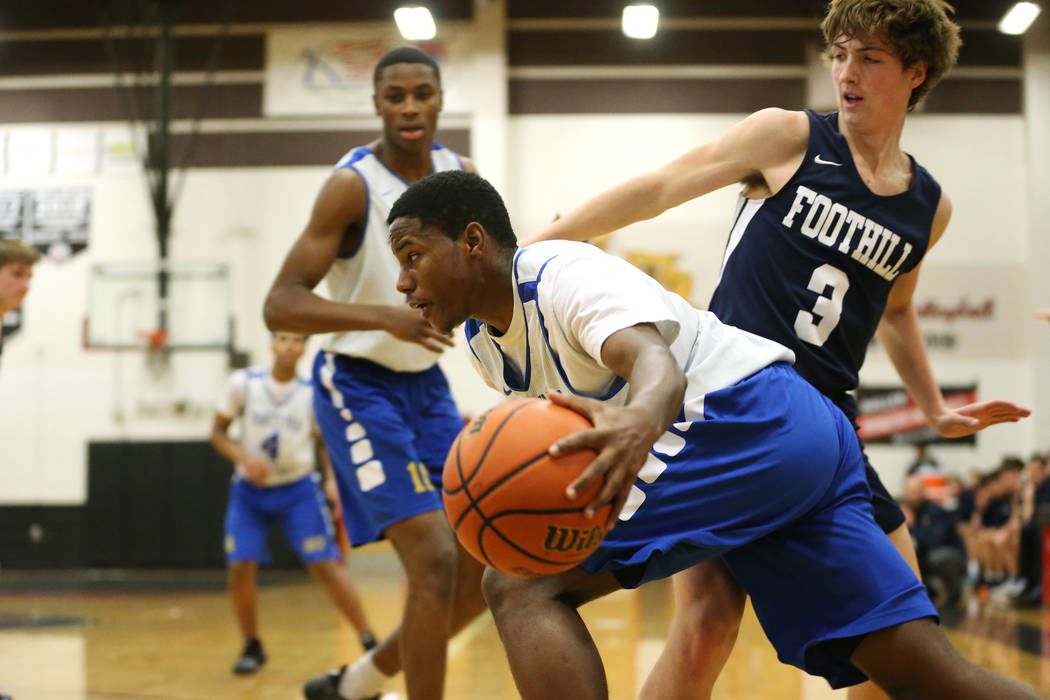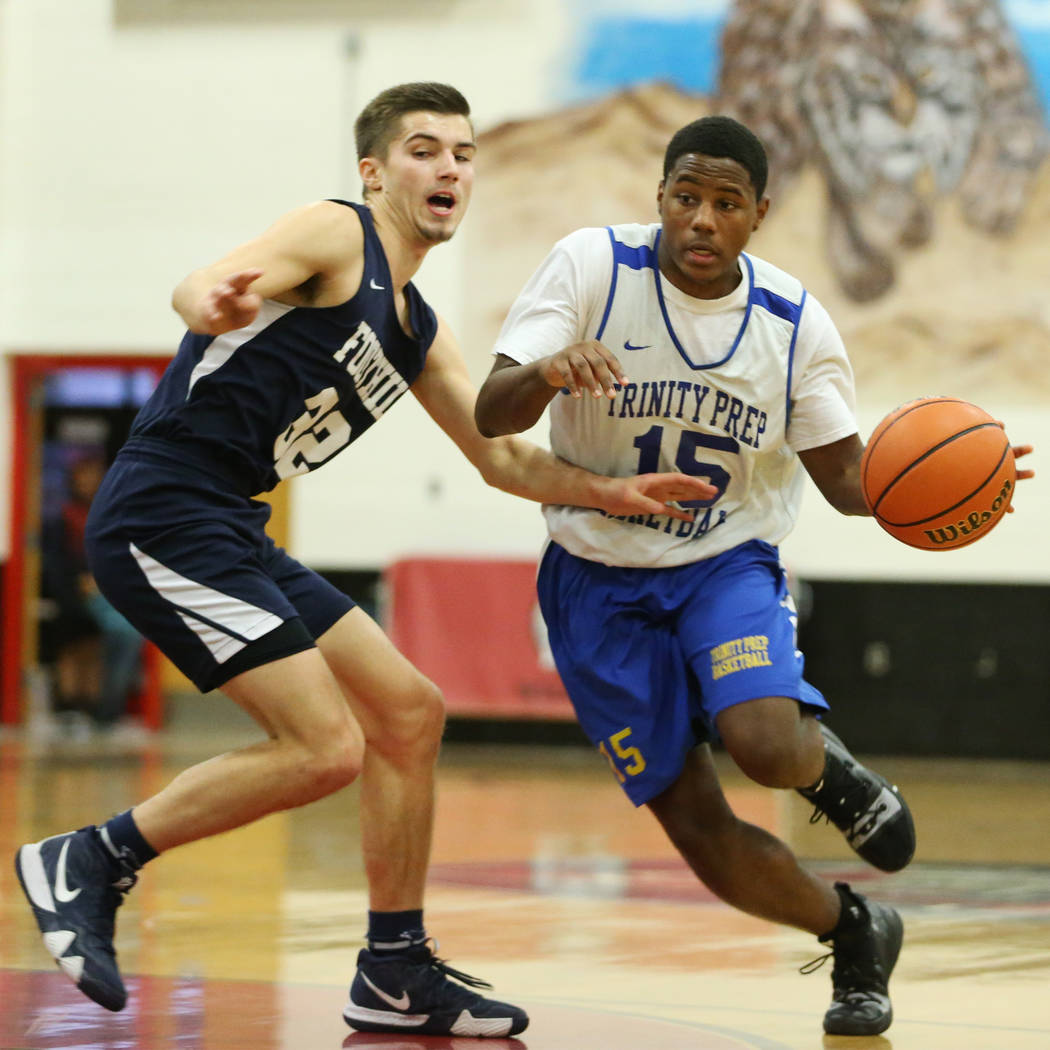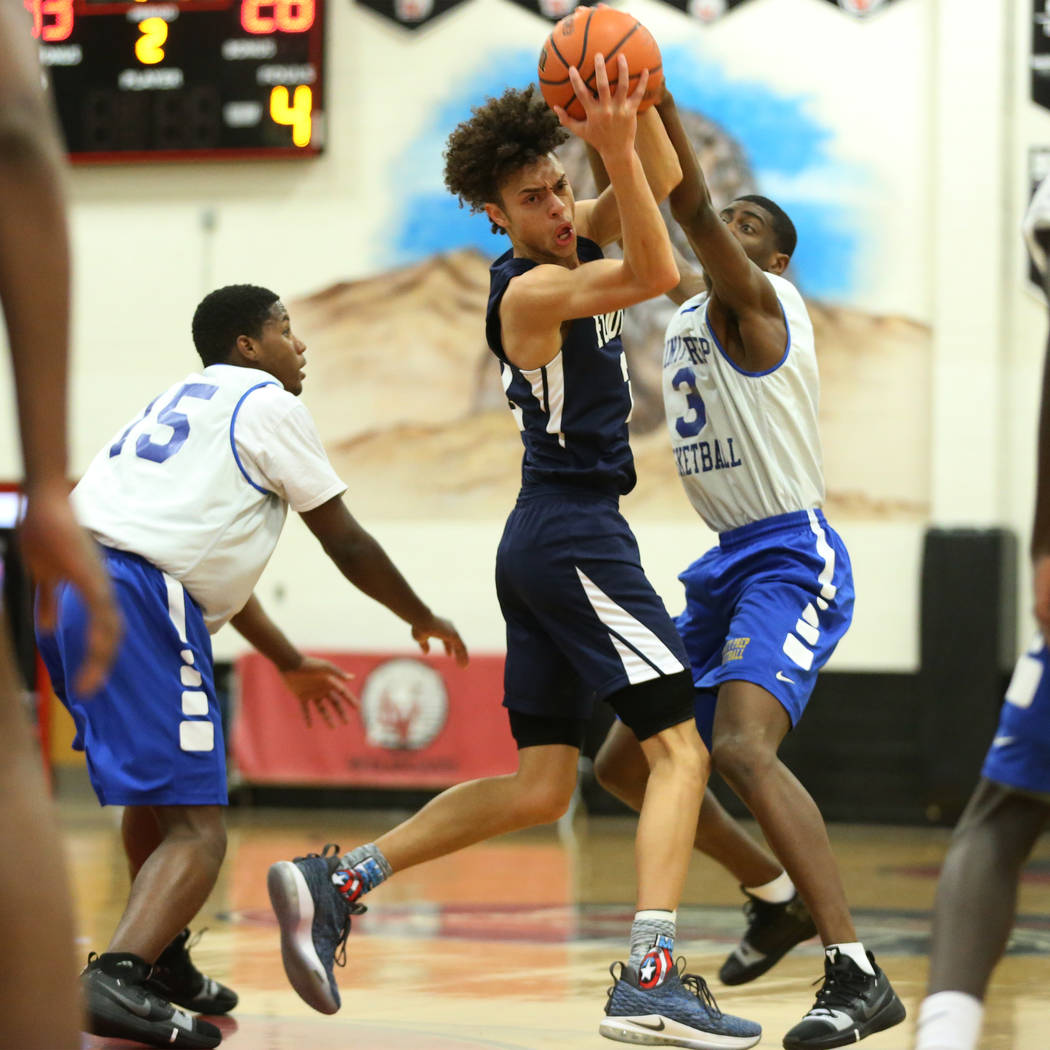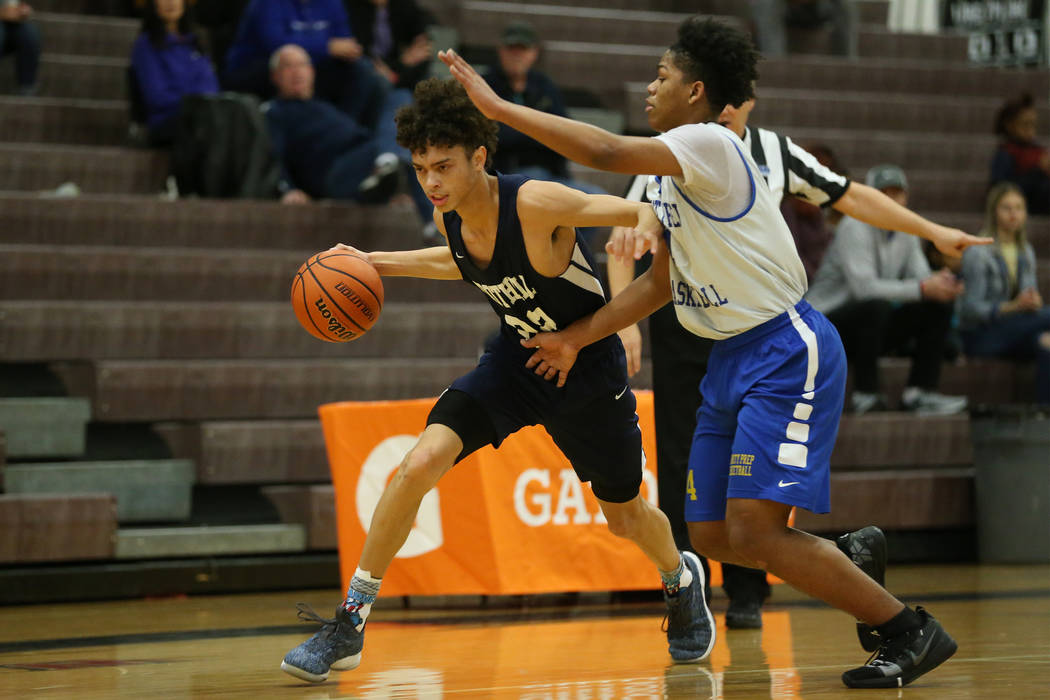 Foothill's boys basketball team was hanging with Trinity on Friday, trailing by six points entering the fourth quarter.
But the Thunder finally wore the Falcons down.
Trinity used its size to create a substantial rebounding advantage and claimed an 80-61 win in the semifinals of the Las Vegas Prep Championship at Las Vegas High.
"They're a smart club, they're a good club, we're just more athletic," Trinity coach Greg Lockridge said. "We're a little faster, a little bigger, so we would impose our will at the rim."
The Thunder outrebounded Foothill 38-15, and that ultimately was the difference for Trinity, which plays a national schedule and doesn't compete for a state championship.
"The name of the game is points per possession, and rebounds give you possessions," Lockridge said. "It's where we run into trouble against the Findlay Preps, the other teams. We're not as big, but I think we're big enough. We just don't do the other things, the box-outs. Here, we didn't box out well. We had one or two box-outs, but we were just longer."
Marlin Leston and Zaba Bangala, two 6-foot-8-inch forwards, teamed with 6-5 point guard Daishen Nix to control the glass for the Thunder. Foothill's tallest player is 6-5, and the Falcons generally play four-guard offenses.
"They got a lot of points off second-chance opportunities," Foothill coach Paul DeSantis said. "But I was proud of our guys. We had it to six going to the fourth quarter, so our guys were fighting. We're not faster than them, we're not stronger than them, we've just got to try to play hard."
A fastbreak basket by Foothill's Jace Roquemore cut the lead to 57-51 after three quarters. But after making 10 of 11 field goals in the third quarter, the Falcons were 3-for-14 in the fourth.
Nix had 24 points, six rebounds and five assists to lead Trinity. Bangala had 18 points and seven rebounds, and Leston added 12 rebounds.
Roquemore had 26 points, four rebounds and three assists for Foothill.
"You can't say enough about Daishen," DeSantis said. "He takes over the game sometimes. But I thought our guy was taking over, too. (Roquemore) played well."
Spring Valley 82, Las Vegas 77 — Jahlani Blair scored 30 points, including going 6-for-6 from the free-throw line in the second overtime as the Grizzlies topped the Wildcats to move into the consolation championship.
Blair hit two free throws with 34.3 seconds to go in the second overtime to put Spring Valley up for good. He also had nine rebounds.
A'mari James added 14 points, seven rebounds and four assists for Spring Valley.
Jaylin Headen had 40 points and 20 rebounds for Las Vegas. He grabbed an offensive rebound and was fouled with less than a second to go in regulation. He hit the first free throw to tie the game at 64, but missed the second, and the game went to overtime.
Headen and Taviontay Jackson each had four points in the first overtime for Las Vegas, which took a 75-72 after Katrell Wallace hit 1 of 2 free throws with 12.9 seconds left.
But James drained a 3-pointer from the right wing with three seconds on the clock to force a second overtime.
Jackson added 18 points for the Wildcats.
Basic 46, Mountain View (Utah) 45 — John Board had 16 points as the Wolves rallied to beat the Bruins in a consolation game.
Basic trailed 25-14 at the half, but Board scored 14 of his 16 points in the second half.
Kalauni Keyes added 15 points, and Joseph Ramirez scored 11 for Basic, which was 15-for-22 from the free-throw line.
Tai White led Mountain View with 17 points.
Silverado 71, Eldorado 61 — Martell Williams had 20 points to power the Skyhawks over the Sundevils to move into the fifth-place game.
Noah Sherrard hit four 3-pointers and scored 14 points, and Trevon Martin added 13 points for Silverado, which led 28-17 at the half.
Jonathan Thomas had 23 points to pace Eldorado. Jalen Malone added 11 points for the Sundevils, who scored 29 points in the fourth quarter.
Chaparral 67, Western 36 — Sameal Anderson hit three 3-pointers and scored 13 points to help the Cowboys cruise past the Warriors in a consolation game.
Robert McGregor added 11 points, and Cairyn Bray scored 10 for Chaparral, which led 32-11 at the half.
Keanu McGee led Western with 15 points.