Roundup: Damion Byrd's heave lifts Skyhawks to win
January 16, 2019 - 9:59 pm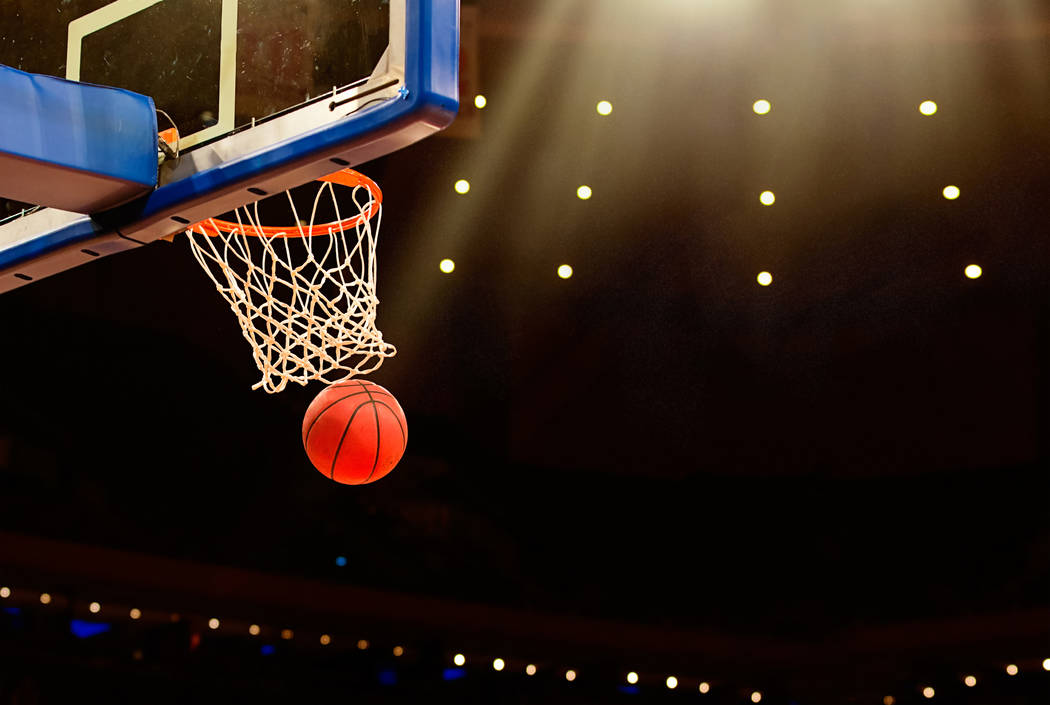 Damion Byrd drained a 66-footer as time expired in overtime Wednesday to lift Silverado's boys basketball team to a 72-71 overtime win over visiting Desert Oasis.
Martell Williams scored 26 for points for the Skyhawks, who rallied from a 15-point halftime deficit with a 29-9 third quarter run.
Leandrew Menefee provided 15 points and 12 rebounds, and Noah Sherrard supplied 15 points for Silverado.
Dominique Ford scored 22 points to lead Desert Oasis. Nate Van tallied 14 points, and Janorris Sejour scored 11 for the Diamondbacks.
Canyon Springs 73, Las Vegas 62 — At Las Vegas High, Alexander Spaight scored 20 of his 30 points in the second half as the Pioneers rallied by the Wildcats.
Mervin Soares added 11 points, and Tommie Anderson scored 10 for Canyon Springs, which trailed 37-24 at the half.
Jaylin Headen paced Las Vegas with 17 points. Isaiah Sem added 14 points, and Tavionte Jackson scored 10.
Clark 78, Durango 50 — At Durango, Carlos Allen scored 18 points, and Jalen Hill had 17 points as the Chargers defeated the Trailblazers.
Frankie Collins and Antwon Jackson each added 14 points for Clark, which used a 23-7 third quarter run to pull away.
Anthony Hunter scored 25 points, and Keshon Gilbert had 10 points for Durango.
Bishop Gorman 78, Spring Valley 39 — At Gorman, Isaiah Cottrell scored 17 points to help the Gaels rout the Grizzlies.
Mwani Wilkinson added 16 points, and Max Allen scored 15 for Gorman, which used a 46-17 burst in the middle quarters to put the game away.
Will McClendon grabbed 15 rebounds, and Zaon Collins dished out 10 assists for Gorman.
Jahlani Blair led Spring Valley with nine points and 10 rebounds.
Desert Pines 63, Eldorado 38 — At Desert Pines, Dayshawn Wiley had 12 points, six rebounds, and three assists to help lead the Jaguars past the Sundevils.
Cimarron Conriquez scored 14 points, and Darnell Washington grabbed 11 rebounds for Desert Pines.
Grayling Atkins scored nine points to pace Eldorado.
Cheyenne 81, Rancho 51 — At Cheyenne, Mike Reed had 17 points and nine rebounds to power the Desert Shields by the Rams.
Tommie Lindsey supplied 16 points and nine rebounds, and Damion Bonty contributed 14 points and nine rebounds for Cheyenne, which drained 10 3-pointers.
James Brown scored 31 points to lead Rancho.
Trinity 88, Foothill 64 — At Foothill, Zaba Bangala had 29 points to lead the Thunder past the Falcons.
Daishen Nix added 26 points for Trinity, which led 22-14 after one quarter.
Jace Roquemore paced Foothill with 23 points, and teammate Collin Russell scored 11.
Democracy Prep 61, Valley 23 — At Valley, Najeeb Muhammad scored 19 points to help the Blue Knights dominate the Vikings.
Chancellor Johnson added 13 points for Democracy Prep, which enjoyed a 38-14 halftime advantage.
Bryce Jones scored nine points for Valley.
Mojave 66, Somerset-Losee 32 — At Mojave, Isaiah Harper scored 24 points as the Rattlers downed the Lions.
A.J. Woods had nine points for Mojave, which roared out to a 42-16 halftime advantage.
Naurese Meno-Blackshear scored 13 points to lead Somerset-Losee.
Western 57, Pahrump Valley 25 — At Western, Gawain Powell had 20 points to lead the Warriors by the Trojans.
Rogelio Ruiz added 10 points for Western, which led 33-18 at the half.
Brayden Severt and Ethan Whittle each had eight points for Pahrump.
Beatty 63, Spring Mountain 62 — At Indian Springs, Jacob Henry scored 23 points to help the Hornets rally by the Golden Eagles.
Jorge Leon added 13 points, and Fabian Perez scored 11 for Beatty, which trailed 49-41 entering the fourth quarter.
Robert Arceneau paced Spring Mountain with 25 points, and teammate Josiah Johnson scored 21.
Indian Springs 49, Founders Academy 40 — At Founders Academy, the Thunderbirds rallied from a 20-18 halftime deficit to down the Centurions.