Roundup: Five double-figure scorers lead Aggies past Shadow Ridge
December 11, 2018 - 10:08 pm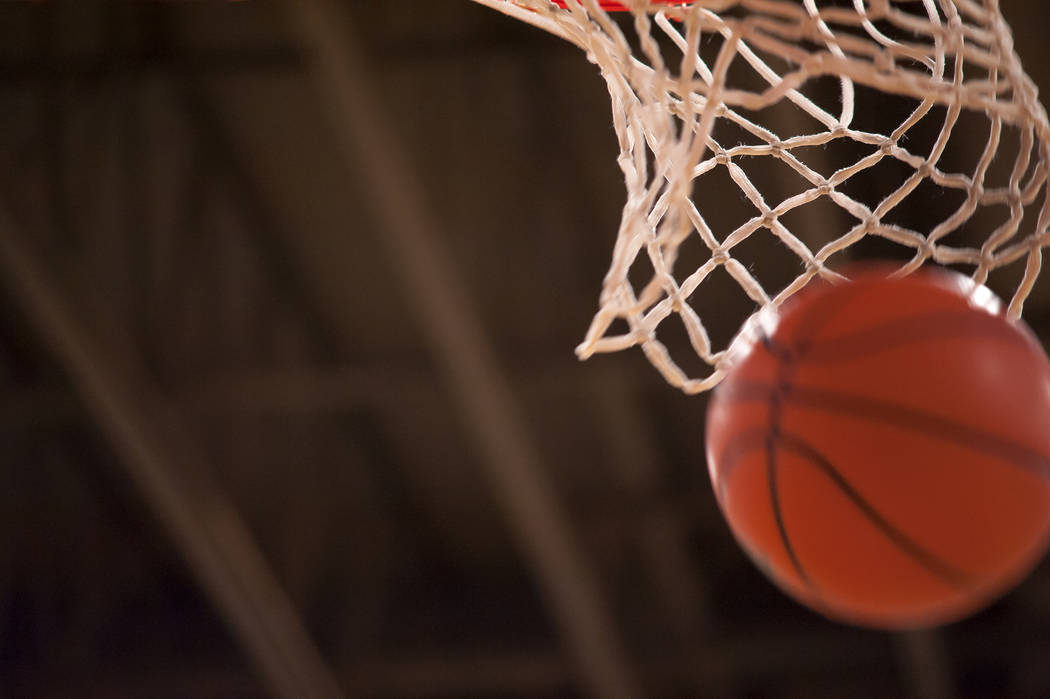 Larry Holmes poured in 20 points to lead five double-figure scorers as Arbor View's boys basketball team raced to a 97-81 win at Shadow Ridge on Tuesday.
Favor Chukwukelu added 18 points, and Tyre Williams scored 17 for the Aggies, who led 58-44 at the half. Adrian Armstrong scored 11, and Donovan Yap scored 10 for Arbor View.
Jacob Schilder scored 26 points to lead the Mustangs. Aiden Hurley added 20 points, and Garin MacFarlane scored 19 for Shadow Ridge.
Democracy Prep 57, Mojave 51 — At Mojave, Daniel Plumer scored 25 points to help the Blue Knights rally past the Rattlers.
Najeeb Muhammad added 10 points for Democracy Prep, which trailed 31-25 at halftime but rallied with a 15-7 third quarter spurt.
Chris Jackson led Mojave with 28 points and 15 rebounds, and teammate Damon McDowell scored 10 points.
Faith Lutheran 63, Bonanza 51 — At Bonanza, Brevin Walter scored 24 points to lead the Crusaders by the Bengals.
D.J. Heckard added 12 points for Faith Lutheran, which led 35-21 at the half.
Kendell Burrell paced the Bengals with 22 points.
Valley 48, Pahrump Valley 41 — At Pahrump, Andre Jones scored 11 points as the Vikings rallied to top the Trojans.
Omar Simpson had eight points, and Leigend Clark and Ti'Mar Fullmer supplied seven points each for Valley, which battled back from a 27-24 halftime deficit.
Grant Odegard tallied 13 points for Pahrump, and teammate Brayden Severt scored 10.
Del Sol 66, Somerset-Losee 27 — At Somerset-Losee, Damani Wilks led a balanced attack with 14 points as the Dragons routed the Lions.
Nati Asfaw added 12 points, and Tylan McNeal scored 11 for Del Sol, which got 10 points from Tyrell Hampton.
Johnny Bass led Somerset-Losee with nine points.
The Meadows 61, Adelson School 59 — At The Meadows, Joe Epstein had 19 points and 16 rebounds as the Mustangs nipped the Lions.
Obinna Ezeanolue added 15 points and 18 rebounds, and Trey Covell scored 11 for The Meadows.
Zach Fiumara led Adelson School with 22 points, and teammate Ore Inbar scored 16.
Lake Mead 51, Needles 42 — At Lake Mead, Ryan Kennedy's 17 points helped the Eagles secure a win over the Mustangs.
Colson Madruga added 11 points for Lake Mead.
Nathan Rodriguez led Needles with 15 points, and teammate Dawsen Yeager scored 12.
Innovations International 57, Spring Mountain 55 — At Innovations International, Jeremiah Cottrell had 17 points and 18 rebounds to lead the Ambassadors past the Golden Eagles.
Eugene Stewart added 13 points, and Charles Simon scored 12 for Innovations, which got 11 points from Jaheim Ray.
Robert Arcenaux led Spring Mountain with 12 points.
Indian Springs 49, Founders Academy 37 — At Indian Springs, Neko Valdez scored 15 points, and teammate Taylor Hickman had 10 points, as the Thunderbirds topped the Centurions.
Zackary Williams, Casey Soliwoda, and Lucas Vandever each added eight points for Indian Springs, which led 8-1 after the first quarter.
Declan Sawin scored 13 points, and Anthony Edmonson had 10 points to pace Founders Academy.