Roundup: Jahlani Blair's triple-double lifts Spring Valley past Durango
February 6, 2018 - 10:50 pm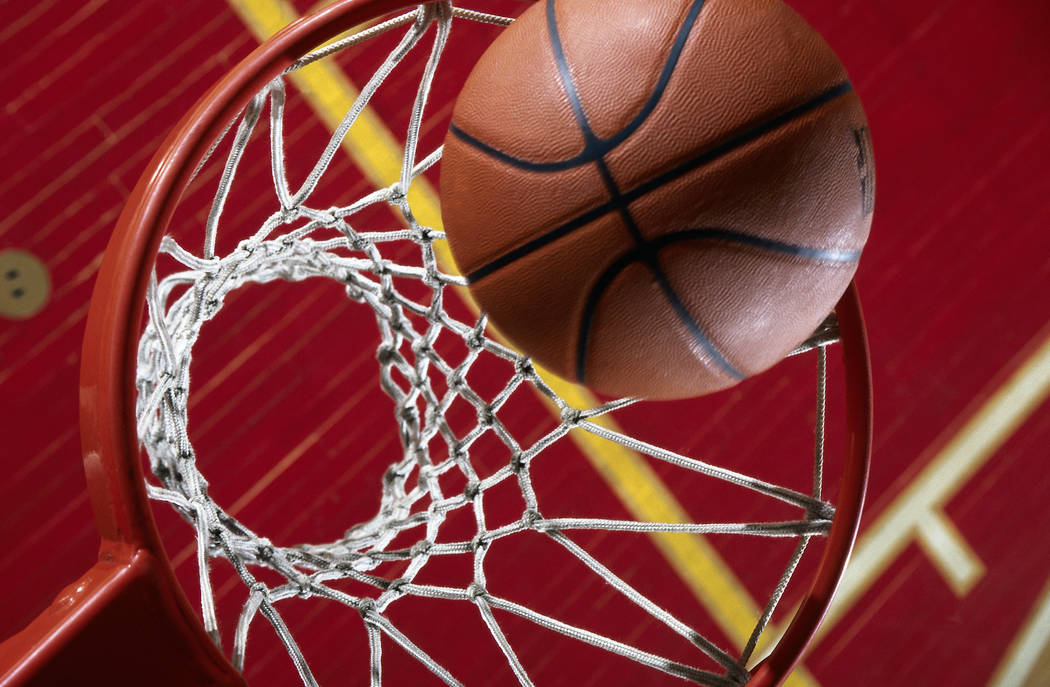 Jahlani Blair had 22 points, 10 rebounds and 10 assists as Spring Valley's boys basketball team upset Durango 84-76 on Tuesday.
Dominic Williams had 21 points for the Grizzlies, and teammate Keelan Wickersham scored 20.
Durango's Nicquel Blake led all scorers with 24 points. Vernell Watts had 14 points, Anthony Hunter had 14 points, Jovan Lubura had 11 points, and Anthony Swift scored 10 for the Trailblazers.
Bishop Gorman 92, Desert Oasis 69 — At Desert Oasis, Jamal Bey had 29 points as the Gaels beat the Diamondbacks.
Isaiah Cottrell added 22 points for Gorman, which had 12 players scored.
Jacob Heese paced Desert Oasis with 22 points. Nate Van had 15 points, and Kamari Burnside scored 11 for the Diamondbacks.
Clark 84, Sierra Vista 59 — At Clark, Jalen Hill scored 22 points to power the Chargers past the Mountain Lions.
James Bridges had 17 points, and Greg Foster scored 13 for Clark, which knocked down six 3-pointers.
Maka Ellis scored a game-high 30 points to lead Sierra Vista, and Isaiah Veal had 13 points for the Mountain Lions.
Desert Pines 59, Las Vegas 52 — At Las Vegas High, the Jaguars were 8-for-11 from the free-throw line in the fourth quarter to rally past the Wildcats.
Malachi McLaurin had 12 points to lead Desert Pines, which outscored Las Vegas 27-14 in the fourth quarter.
Darnell Washington added 10 points for the Jaguars.
Donovan Joyner led Las Vegas with 20 points. Kiaeem Johnson-Gonzaque added 13 points for the Wildcats.
Canyon Springs 88, Rancho 53 — At Rancho, Alexander Spaight led four players in double figures with 19 points as the Pioneers powered their way past the Rams.
Mervin Soares had 15 points, De'Shawn Keperling scored 12 and Nathaniel Smith added 10 points for Canyon Springs, which outscored Rancho 33-9 in the third quarter.
James Brown scored 18 points, and Frank DeGourville had 15 for Rancho.
Chaparral 65, Virgin Valley 52 — At Mesquite, Meshach Hawkins scored 17 points as the Cowboys topped the Bulldogs.
Prineko Kolaker had 15 points, and Robert McGregor added 11 for Chaparral, which used a 23-16 fourth quarter run to take control.
Jayden Perkins led Virgin Valley with 14 points, and Daxon Toone had 12 points for the Bulldogs.
Boulder City 63, Moapa Valley 42 — At Boulder City, Carson Balistere had 17 points and four rebounds, and Karson Bailey tallied 11 points, eight rebounds and three assists as the Eagles coasted past the Bulldogs.
Ethan Speaker grabbed seven rebounds, and Derrick Thomas supplied six rebounds for Boulder City, which led 34-19 at halftime.
Derek Reese had 14 points, and Lucas Walker scored 11 for Moapa Valley.
Eldorado 64, Valley 19 — At Valley, Patrick Parkes scored 16 points to lead the Sundevils to a rout of the Vikings.
Jonathan Thomas added eight points for Eldorado, which led 32-17 at halftime and held Valley scoreless in the fourth quarter.
Oscar Burns scored 10 points for Valley.
Tech 66, Sky Pointe 33 — At Sky Pointe, Jurelle Orbino had 25 points to lead the Roadrunners to an easy win over the Eagles.
Zail Lewis added 14 points for Tech, which took a 39-16 halftime edge.
Treveonne Swift led Sky Pointe with 14 points.
Mountain View 78, Lake Mead 72 — At Lake Mead, Terrence Brooks poured in 39 points to power the Saints past the Eagles.
Tyrell Brooks had 18 points for the Saints, and teammate Daniel Reyes scored 13.
Joshua Thorell scored 21 points for Lake Mead. Donte Bristol had 17 points, and Andre Childs scored 13 for theEagles.
Somerset-Losee 58, Sandy Valley 31 — At Somerset-Losee, Maxwell Lewis had 26 points and 15 rebounds as the Lions topped the Sidewinders.
Branden Bolton added 17 points for Somerset-Losee, which took a 42-18 halftime lead.
Ramiro Solano-Sanchez led Sandy Valley with 17 points.
Democracy Prep 81, Laughlin 15 — At Laughlin, the Blue Knights routed the Cougars.
Box scores:
Bishop Gorman 92, Desert Oasis 69
Boulder City 63, Moapa Valley 42
Chaparral 65, Virgin Valley 52
Mountain View 78, Lake Mead 72
Somerset-Losee 58, Sandy Valley 31