Roundup: Sunrise Mountain holds off Moapa Valley
December 14, 2017 - 9:17 pm
Updated December 15, 2017 - 2:50 pm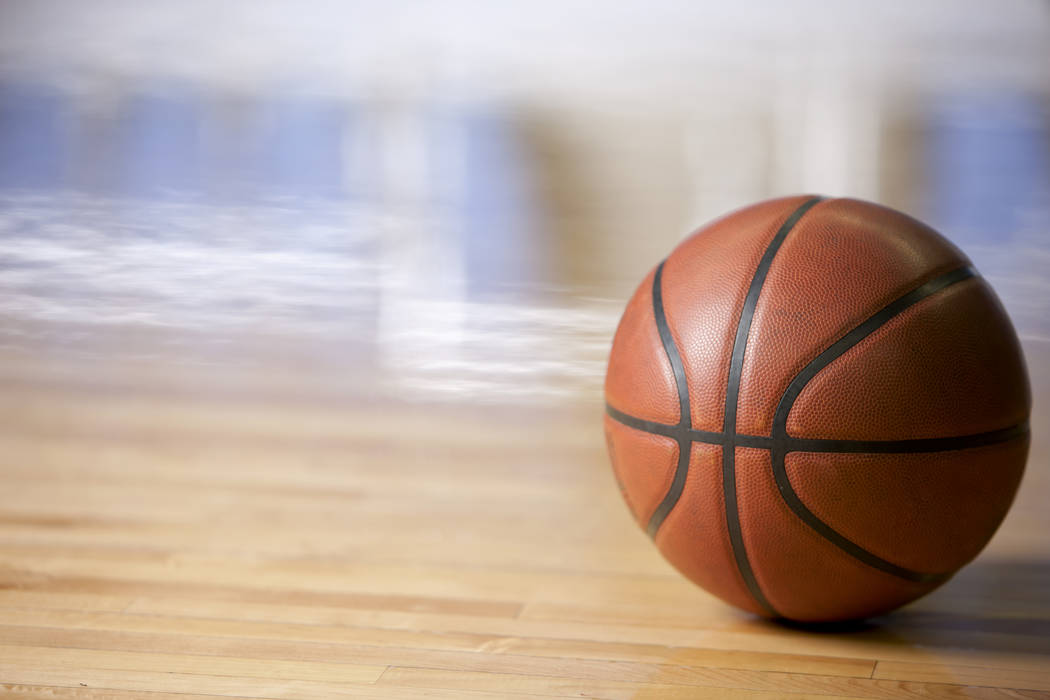 Tyree Hayes had 21 points on Thursday, and Sunrise Mountain's boys basketball team held on for a 75-70 road win over Moapa Valley in Overton.
Xavier Kyles scored 17 points, and Steven Adeyemi scored 15 points for the Miners, who led 55-44 at the end of the third quarter.
Nathaniel Thompson scored a game-high 29 points to lead the Pirates. Lucas Walker added 18 points for Moapa Valley.
Durango 65, Bonanza 53 — At Bonanza, Anthony Hunter scored 29 points to help the Trailblazers beat the Bengals.
Vernell Watts had 12 points for the Trailblazers, and Anthony Swift scored 11.
Chase Hafen had 20 points to lead Bonanza, and Zioan Blakeney added 12 points for the Bengals.
Desert Pines 63, Rancho 51 — At Rancho, Donovan Word scored 15 points as the Jaguars knocked off the Rams.
Hasani Pullens, Dayshawn Wiley, and Darius Mitchell each added 10 points for Desert Pines, which led 33-21 at the half.
Jahleel Stevens scored a game-high 28 points to lead Rancho. James Brown tallied 12 points for the Rams.
Eldorado 72, Basic 60 — At Basic, Dexter Davis scored 24 points as the Sundevils topped the Wolves.
Kemo Bell had 19 points for the Sundevils, who led 35-26 at halftime.
Geoff Faries led the Wolves with 19 points.
Sierra Vista 94, Spring Valley 60 — At Spring Valley, Maka Ellis scored a game-high 35 points as the Mountain Lions ran away from the Grizzlies.
David Howard scored 18 for Sierra Vista, which outscored Spring Valley 50-28 in the second half.
James Webster had 13 points for the Grizzlies. Keelan Wickersham had 12 points, Jonathan Powell had 11 points, and Jahlani Blair scored 10 for Spring Valley.
Boulder City 72, Virgin Valley 38 — At Boulder City, Carson Balistere scored 14 points to lead the Eagles in a rout of the Bulldogs.
Derrick Thomas scored 13 points, and Karson Bailey scored 10 for Boulder City, which led 31-18 at halftime.
Daxon Toone and Koden Tietjen each scored eights points to lead the Bulldogs.
Chaparral 58, Sky Pointe 29 — At Sky Pointe, Iopu Tauli'ili scored 16 points as the Cowboys rolled past the Eagles.
Meshach Hawkins added 12 points for Chaparral, which raced to a 28-11 halftime lead.
Danny Cox and Ryan Hedland each had six points to pace Sky Pointe.
Adelson School 58, Mountain View 57 — At Mountain View, Ben Elharar made a basket with one second left to lift the Lions over the Saints.
Mountain View's Tyrell Brooks hit two free throws with 7.1 seconds left to give the Saints the lead, but Elharar, who had 10 points, went the length of the floor and hit a running hook shot for the win.
Dale Weiford and Alex Sefia each scored 13 points for Adelson School.
Terrence Brooks had 25 points, and Tyrell Brooks scored 23 for Mountain View, which was 24-for-29 from the free-throw line.
The Meadows 68, Needles 56 — At The Meadows, Joe Epstein scored 15 points and five other Mustangs scored in double digits to lead The Meadows past Needles.
Brett Lieuallen scored 13 points, and Noah Klein, Kevin Riska, Allen Fridman and Obinna Ezeanolue each scored 10 points for The Meadows.
Doogie Harvey and Samaj Howell each scored 12 points to lead Needles, and teammate Irving Juarez added 11 points.
Indian Springs 84, Liberty Baptist 67 — At Mirabelli Community Center, the Thunderbirds outscored the Eagles 52-38 in the second half to get the win.
Trevor Campbell had 29 points for Liberty Baptist.
Box scores:
Boulder City 72, Virgin Valley 38
Indian Springs 84, Liberty Baptist 67
Sierra Vista 94, Spring Valley 60
Sunrise Mountain 75, Moapa Valley 70