Roundup: Trey Woodbury leads Clark past Desert Oasis
December 12, 2017 - 10:24 pm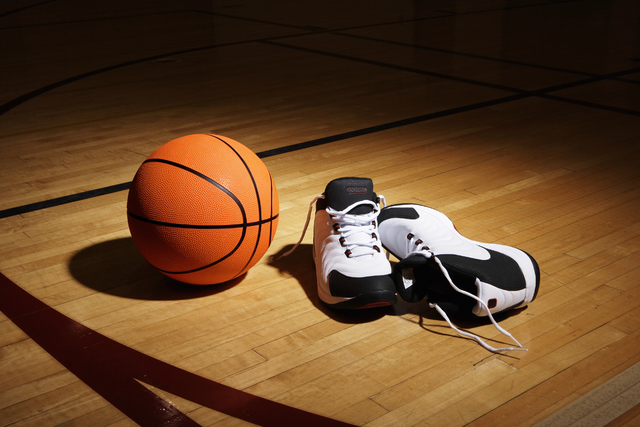 Clark senior guard and UNLV recruit Trey Woodbury poured in a game-high 29 points to lift the Chargers' boys basketball team to a 79-62 home victory over Desert Oasis on Tuesday night.
Jalen Hill added 16 points for Clark, which outscored Desert Oasis 20-11 in the third quarter to take a 60-49 lead.
James Bridges and Antwon Jackson each added 10 points for the Chargers, who scored 30 points in the first quarter.
Jacob Heese scored 25 to lead the Diamondbacks, Aaron Zollett added 14 points, and teammate Kamari Burnside posted 13.
Boulder City 69, Sky Pointe 31 — At Boulder City, Carson Balistere scored 12 points, and Matt Morton had eight points and six rebounds as the Eagles routed Sky Pointe.
Elias Woodbury added eight points, and Derrick Thomas supplied six points, six rebounds and three assists for Boulder City, which led 37-9 at halftime.
Gabe Wells led Sky Pointe with nine points.
Foothill 55, Desert Pines 49 — At Desert Pines, Jace Roquemore scored 17 points as the Falcons held off the Jaguars.
Marvin Coleman had 13 points, and teammate Caleb Stearman added 10 points for Foothill, which knocked down six 3-pointers.
Darnell Washington had a game-high 19 points, and Dayshawn Wiley scored 10 points to pace Desert Pines.
Democracy Prep 79, Mountain View 35 — At Mountain View, Daniel Plummer scored a game-high 18 points as the Blue Knights rolled past the Saints.
Jared Holmes, Chancellor Johnson and Miles Mixon each added 12 points for Democracy Prep, which raced out to a 45-16 halftime lead.
Tyrell Brooks scored 14 points, and Terrence Brooks had 10 to lead Mountain View.
The Meadows 61, Laughlin 24 — At The Meadows, Joe Epstein scored 22 points to guide the Mustangs to a comfortable victory over the Cougars.
Josh Furr scored 13 points to lead Laughlin.
Indian Springs 66, GV Christian 53 — At Indian Springs, Dallin Davis had a triple double, posting 19 points, 14 rebounds and 12 assists, leading the Thunderbirds past the Guardians.
Elyas Jones added 12 points for Indian Springs.
Collin Killoran led all scorers with 20 points, and teammate Moses Valencia scored 17 for GV Christian.
Sierra Vista 73, Bonanza 61 — At Sierra Vista, Mohamed Washington led four players in double figures with 16 points as the Mountain Lions turned back the Bengals.
Jalen McFadden and Maka Ellis each scored 14 points, and David Howard added 12 points for Sierra Vista, which made 22 of 26 free throws.
Chase Hafen scored a game-high 20 points, and teammate Derek Davis added 14 points for Bonanza.
Canyon Springs 87, Durango 72 — At Durango, Kevin Legardy scored 26 points, and Alexander Spaight scored 24, as the Pioneers downed the Trailblazers.
KaeJon Barnes added 11 points for Canyon Springs, which sank 20 of 24 free throws.
Anthony Hunter scored 26 points to lead Durango. Jovan Lubura supplied 15 points and 15 rebounds, and Vernell Watts had 14 points for the Trailblazers.
Rancho 75, Basic 67 — At Rancho, Nick Merkson scored 23 points to help the Rams down the Wolves.
James Brown tallied 22 points, and Jahleel Stevens scored 18 for Rancho, which led 34-23 at halftime and withstood a 26-18 third-quarter run by Basic.
Basic's Geoff Faries poured in 34 points, and Kris Woodard added 17 points for the Wolves.
Chaparral 67, Del Sol 59 — At Chaparral, Jonathan Tendale had 29 points as the Cowboys bested the Dragons.
Elijah Briggs added 21 points for Chaparral.
Keith Seldon led Del Sol with 24 points, and teammates Maalik Flowers and Nati Asfaw each added 10 points.
Bishop Gorman 97, Spring Valley 64 — At Spring Valley, Jamal Bey scored 25 points as the Gaels cruised to an easy win over the Grizzlies.
Noah Taitz added 13 point,s and D.J. Howe scored 10 for Gorman, which ran to a 44-22 halftime lead.
Spring Valley's Keelan Wickersham led all scorers with 29 points, and Jahlani Blair added 10 points for the Grizzlies.
Palo Verde 71, Green Valley 67 — At Green Valley, Dylan Yoro scored a game-high 24 points to help the Panthers topple the Gators.
Antoine Hines had 16, and Zachary Hammer scored 14 for Green Valley, which rallied with a 25-point fourth quarter.
Mojave 80, Tech 45 — At Tech, Noah Sherrard scored 19 points as the Rattlers ran by the Roadrunners.
Chris Jackson added 18 points for Mojave, which spurted to a 40-18 halftime lead.
Jurelle Orbino had 14 points, and Zail Lewis scored 11 for Tech.
Silverado 61, Valley 44 — At Silverado, Caden Farley scored 16 points, and Myles Daniels had 11 points and 10 rebounds as the Skyhawks defeated the Vikings.
Trevon Martin added 14 points, and Martell Williams had nine points and 10 rebounds for Silverado.
Valley's Tommy Anderson led all scorers with 20 points.
Calvary Chapel 67, Adelson School 63 — At Calvary Chapel, Elijah Martinez scored 20 points to lift his team to a come-from-behind victory over Adelson School.
Miles Hagan had 20 points for Adelson School, which led 52-46 after three quarters.
Moapa Valley 55, Virgin Valley 44 — At Overton, Nathaniel Thompson had 24 points as the Pirates beat the Bulldogs.
Josh Cox added nine points for Moapa Valley, which led 35-16 at the half.
Will Barnum led Virgin Valley with 13 points, and teammate Jayden Perkins scored 12.
Tonopah 55, Liberty Baptist 41 — At Tonopah, the Muckers built a 29-19 halftime lead and went on to defeat the Knights.
Trevor Campbell led Liberty Baptist with 10 points. Bryan Smith had nine points, four rebounds, four steals and three blocks, and teammate Christian Rameriz scored nine points for the Knights.
Box Scores:
Tonopah 55, Liberty Baptist 41
Democracy Prep 79, Mountain View 35
Indian Springs 66, GV Christian 53
Bishop Gorman 97, Spring Valley 64
Boulder City 69, Sky Pointe 31
Palo Verde 71, Green Valley 67
Calvary Chapel 67, Adelson School 63
Moapa Valley 55, Virgin Valley 44