Roundup: Western hangs on for win over Pahrump Valley
January 23, 2018 - 10:44 pm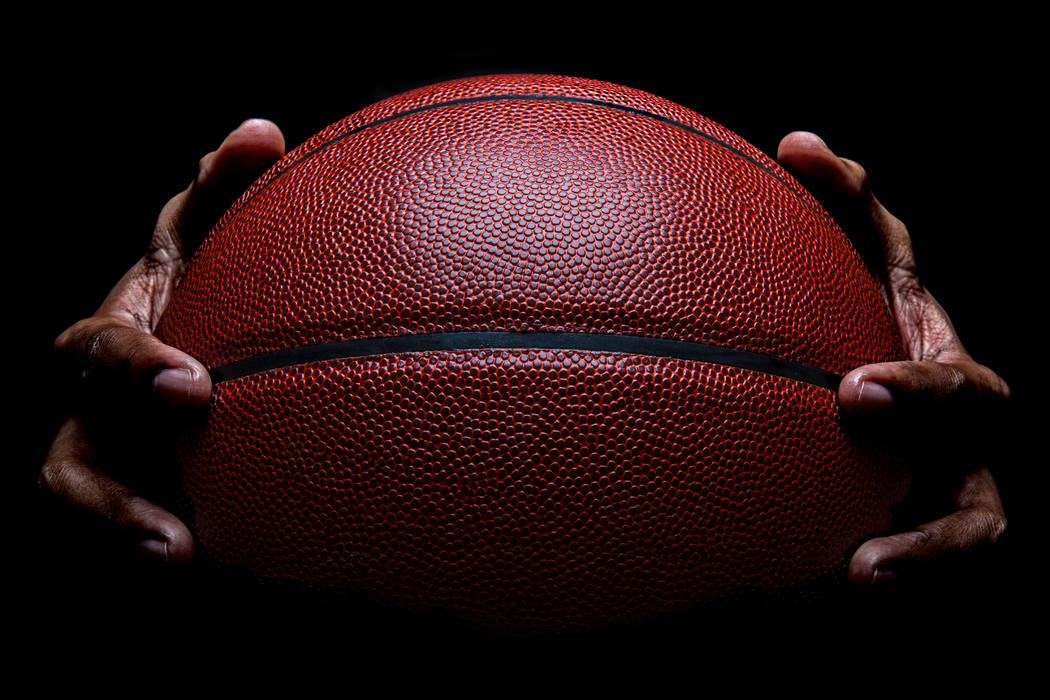 Ka'Mari Kelly led all scorers with 22 points, and Western's boys basketball team held off Pahrump Valley for a 56-51 home victory on Tuesday night.
Kizhonie Blunt and Zyann Carranza-Ibarra each had eight points to lead the Warriors, who led 27-21 at halftime.
Antonio Fortin had 15 points to lead Pahrump Valley, and teammate Cory Bergan scored 13.
Silverado 74, Green Valley 60 — At Green Valley, Caden Farley scored 21 points as the Skyhawks bested the Gators.
Trevon Martin had 19 points, and Martell Williams scored 15 for Silverado, which jumped out to a 39-27 halftime lead.
Michael Jackson scored 13 points, and Tah-Rod Washington and Zachary Hammer supplied 10 points each for Green Valley.
Foothill 91, Basic 53 — At Foothill, Dylan Hushaw scored 16 points to lead the Falcons to a blowout win over the Wolves.
Jace Roquemore scored 14 points for Foothill, and Caleb Stearman and Collin Russell had 11 points apiece.
Geoff Faries led Basic with 21 points.
Faith Lutheran 61, Centennial 53 — At Centennial, Elijah Kothe and Jaylen Fox each scored 17 points as the Crusaders rallied past the Bulldogs.
Dalton Kincaid had 12 points, and Brevin Walter scored nine for Faith Lutheran, which trailed 23-22 at halftime but outscored Centennial 39-30 in the second half.
Ishon Hardin led Centennial with 25 points. Teon Taylor had 13 points for the Bulldogs.
Cimarron-Memorial 79, Palo Verde 57 — At Cimarron, George Tribble paced four players in double figures with 19 points, and Brian Washington tallied 16 points, 12 rebounds, eight blocks and six assists as the Spartans beat the Panthers.
Marcus Phillips and Brian Lang added 11 points each for Cimarron, which trailed 12-11 after the first quarter but led 35-29 at halftime.
Dylan Yoro had 11 points, and Donovan Stewart scored 10 for Palo Verde.
Legacy 78, Shadow Ridge 58 — At Shadow Ridge, D'Eric Marlowe led four players in double figures with 21 points as the Longhorns handled the Mustangs.
Jalen Johnson had 14 points, and Amare James and Cristian Pitts tallied 11 points each for Legacy, which led 44-32 at halftime.
Garin Macfarlane had 17 points, and Anthony Jaramillo scored 12 for Shadow Ridge.
Desert Pines 56, Mojave 42 — At Mojave, Dayshawn Wiley had a game-high 17 points, and the Jaguars waltzed to a win over the Rattlers.
Donovan Word added 11 points for Desert Pines, which had a 22-8 scoring advantage in the third quarter.
Chris Jackson had 13 points for Mojave.
Democracy Prep 68, Mountain View 32 — At Democracy Prep, Najeeb Muhammad and Daniel Plummer each scored 14 points as the Blue Knights got by the Saints.
Jared Holmes had 12 points, and Chancellor Johnson added 10 points for Democracy Prep.
Tyrell Brooks scored a game-high 24 points for Mountain View.
Indian Springs 49, Beatty 45 — At Indian Springs, Dallin Davis poured in 25 points to help the Thunderbirds down the Hornets.
Elyas Jones scored 11 points for Indian Springs, which trailed 29-25 after three quarters.
Alan Sandoval scored 13 points, and Jacob Henry had 10 points to lead Beatty.
The Meadows 59, Adelson School 46 — At The Meadows, Allen Fridman scored 19 points to help the Mustangs topple the Lions.
Joe Epstein added 17 points for The Meadows.
Ben Elharrar led Adelson School with 14 points.
Spring Mountain 67, Sandy Valley 27 — At Sandy Valley, the Golden Eagles outscored Sandy Valley 24-6 in the third quarter to take command and roll to a victory.
Brandon Eastham led Sandy Valley with 15 points.
Innovations International 73, Word of Life 53 — At Innovations International, Jordan Allison had 23 points, five rebounds and five assists as the Ambassadors beat the Eagles.
Derec Anderson added 12 points, and Dereon House had nine points and 10 rebounds for Innovations International.
Jaiden Stuckey and Isaac Lopez each scored 14 points to pace Word of Life. Cheikou Kouyate added 10 points for the Eagles, who trailed 22-6 after one quarter.
Beaver Dam 51, Liberty Baptist 34 — At Beaver Dam, the Diamondbacks defeated Liberty Baptist.
Trevor Campbell led Liberty Baptist with 12 points.
Box Scores:
Cimarron-Memorial 79, Palo Verde 57
Faith Lutheran 61, Centennial 53
Democracy Prep 68, Mountain View 32
The Meadows 59, Adelson School 46
Spring Mountain 67, Sandy Valley 27
Innovations International 73, Word of Life 53
Beaver Dam 51, Liberty Baptist 34