Stars ride winning streak into state tournament
February 26, 2015 - 4:44 pm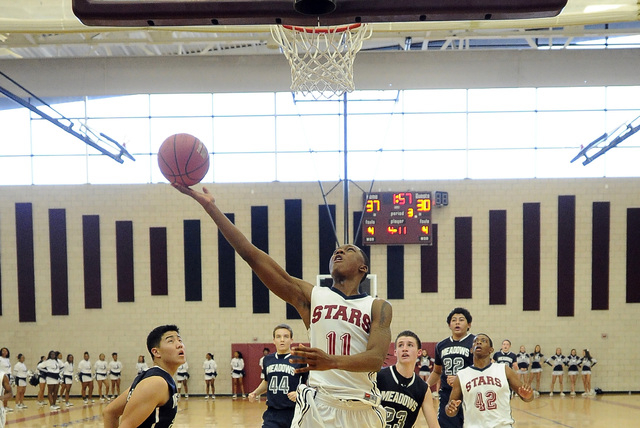 Agassi Prep boys basketball coach Trevor Diggs remembers every little detail about a loss that happened nearly 14 months ago. That's because the second-year coach doesn't have many setbacks on his resume.
Diggs, who has the defending-champion Stars on a 43-game win streak, doesn't plan on experiencing any more losses with the state tournament looming Friday at Sunrise Mountain.
Agassi Prep (24-0) meets Incline (20-5) at 8 p.m. Friday in the Division III state semifinals.
The Stars beat the Highlanders, 71-60, last season to win the state championship.
"We feel confident," Diggs said. "Just in the way we play defense, we're a confident bunch. When you win 43 games in a row, you are confident. The plan is to win the next game. We know the team we're playing is pretty good; nobody in this tournament is a bad team. We're expecting their best, and we'll give them ours."
Agassi Prep, which last loss to Kingman Academy (Ariz.) on Jan. 4, 2014, has compiled a 50-1 record under Diggs and rarely has been threatened in the process.
"We lost by one (point)," Diggs said of his only loss. "But how the tournament was set up, we actually beat them that (morning). I would put that loss on me. I could've coached better. I didn't make the proper adjustment for our team to be successful."
This season, the Stars have defeated their opponents by an average of 31.5 points. Only four games have been decided by 10 points or less.
"We don't look at it like we're going to beat everybody by 30 points," Diggs said. "If we play our game, and play the defense the way we can play, our team should be fine. It's a challenge every game to play. That's why I love basketball. Anything can happen. And these kids have stayed focused the last two years. It's really a testament to these kids."
Behind the area's leading scorer — guard Deishuan Booker — who averages 27.7 points, the Stars are the overwhelming favorites to repeat.
Agassi Prep also has eight players averaging more than five points a game.
"I've got guys willing to share the ball," Diggs said. "Last year, we had Deishuan scoring and didn't know where the help would be from. It's a really special bunch. We could play eight to nine players and there's no drop off.
"This team needs to stay focused and understand that we can do something special if we don't get caught up in the moment. We want to play the same basketball we've played all year. This Agassi Prep team is for real."
Division III girls semifinals also take place at Sunrise Mountain, with games at 3 and 6:20 p.m.
The Division I-A boys and girls semifinals will begin at 3 p.m. at Silverado.
Division IV boys and girls will be played at Orleans Arena, beginning at 11 a.m.
Contact reporter Ashton Ferguson at aferguson@reviewjournal.com or 702-383-0430. Follow him on Twitter: @af_ferguson.