SUNRISE BOYS BASKETBALL: Coronado rallies past Foothill behind newcomer Will Weems
February 18, 2017 - 11:18 pm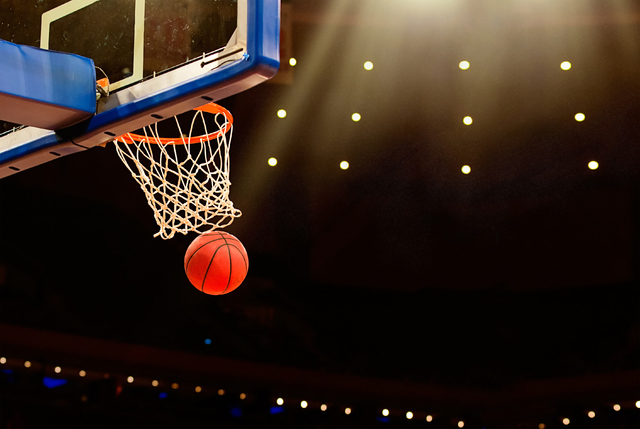 It doesn't take much for people to take a liking to Coronado big man Will Weems.
More than his 6-foot-8-inch frame, Weems has the gravitating personality that endears him to all. It's what brought him so close to his current teammates after moving from Detroit this past summer.
"It was two seconds and he was everybody's best friend," Cougars coach Jeff Kaufman said.
Weems wasn't as affable to the Foothill boys basketball team Saturday in the Class 4A Sunrise Region final.
The senior scored 10 of his game-high 19 points in the second half and was a defensive force in the post, as the Cougars overcame a 13-point halftime deficit to top rival Foothill for the third time this season with a 56-47 win at Canyon Springs.
"The hardest thing to do is beat a team three times," Weems said. "It's a playoff run, so everybody came out to play. Foothill is a great team. But in the second half, we just came out and played team ball. …
"I'm just happy to be a part of the program right now."
Weems, who finished with seven rebounds, four blocked shots and two steals, scored two go-ahead buckets in the fourth quarter and was the team's top low-post defender. If he wasn't blocking shots, Weems was clogging up the paint and altering shots for Coronado (18-9), which trailed 33-20 at halftime but limited Foothill to five second-half field goals.
"He's a tireless worker and he's just a gamer," Kaufman said. "That's what you need."
Weems gave Coronado its first lead since early in the first quarter when he scored a bucket on two Foothill defenders with 7:13 to go in the fourth quarter. The Falcons answered at the other end, but Weems scored another field goal while getting fouled to put the Cougars up for good at 43-42 with 6:11 left.
Coronado closed the game on a 13-5 run. Foothill, which had only three field goals in the fourth quarter, turned the ball over twice in the final 34 seconds with the Cougars leading 52-47.
"We've got a bunch of seniors, and those guys didn't panic at halftime," Kaufman said. "We knew we were going to pick up the defense. We had saved a little something of our own, and that was the half-court trap. …
"(In the locker room), I just said, 'Look, it's energy and effort. They have more energy than we do. Let's pick it up. We're better. We're stronger. Let's go finish it.' And my guys responded immediately."
Kennedy Koehler, who has committed to UC San Diego, struggled shooting but finished with 13 points, six rebounds and four assists for Coronado. Teammates Nick Davis and Trey Hurlburt each added 10 points for the Cougars, who finished 13-for-24 shooting (54 percent) in the second half.
Marvin Coleman and Jeron Bodin scored 12 points apiece for Foothill.
Coleman also had seven rebounds, four assists and two steals for the Falcons (23-9), who will meet Clark (25-4) at 6:45 p.m. on Tuesday at Valley for the final berth at state.
Box score: