SUNSET BOYS BASKETBALL: Jamal Bey boosts Bishop Gorman to win over Clark
February 18, 2017 - 11:18 pm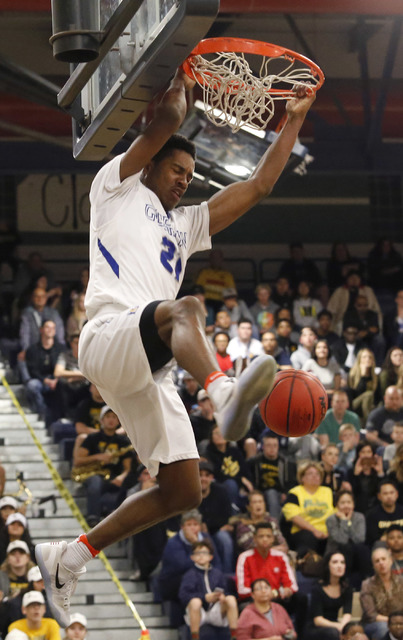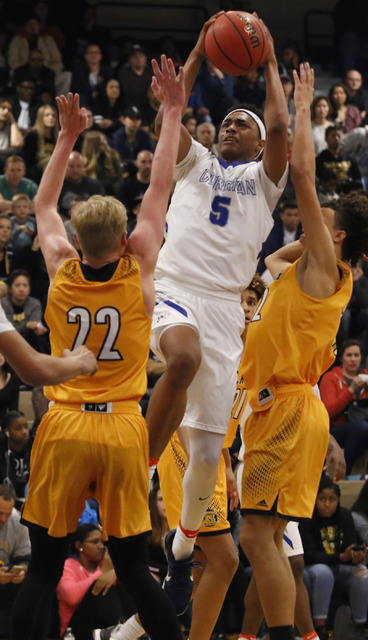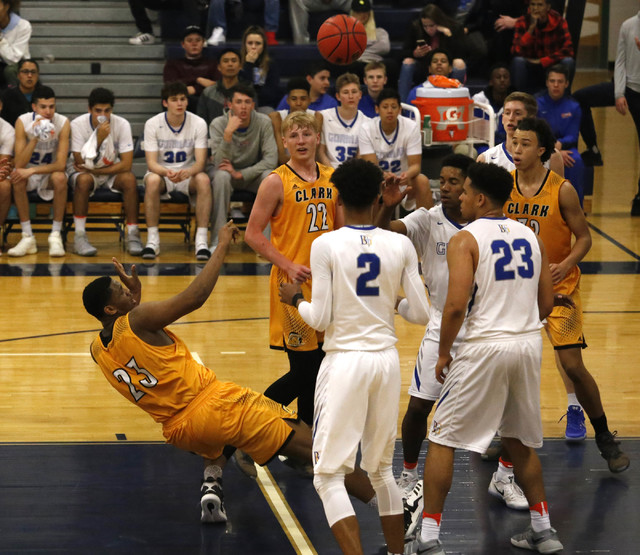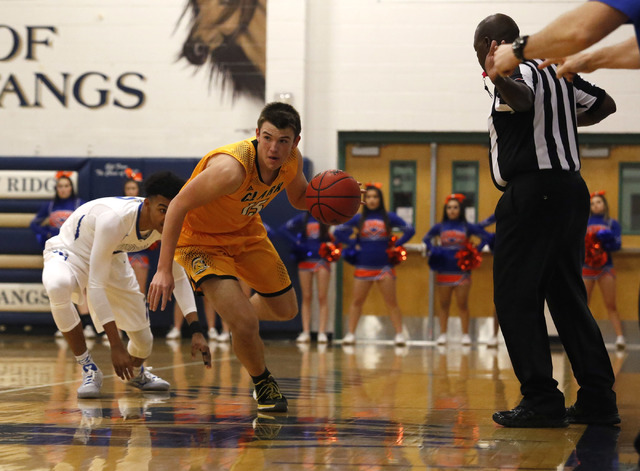 Bishop Gorman junior Jamal Bey didn't look like himself in the first half on Saturday in his first game back after dislocating his left shoulder Tuesday.
He more than made up for it in the second half.
Bey scored all 15 of his points after halftime, sparking the Gaels to a 64-51 win over Clark for the Class 4A Sunset Region boys basketball title at Shadow Ridge. It is the ninth consecutive region title for the Gaels.
"We told him at halftime, if you're going to play, leave it all out there," Gorman coach Grant Rice said. "And if you can't go, let us know. Obviously he showed what a good player he is in the second half."
It was the second time Bey dislocated his shoulder this season, and he conceded to being tentative in the first half when he had one assist and missed a pair of 3-point attempts. The scoring drought didn't last long, as he nailed a 3-pointer in the first minute of the second half to start a 20-4 run that gave Gorman control for good.
Bey drilled a 3-pointer and was fouled with 1:40 to go in the quarter, completing the four-point play to give Gorman (20-9) a 43-28 lead, and Clark never really threatened again.
The Gaels forced six third-quarter turnovers and turned them into 11 points, as they stretched a 23-22 halftime lead into a 45-31 advantage after three quarters.
"Usually we lay back on defense," Bey said. "This time, we tried to really put it on them."
Chuck O'Bannon had 26 points, six rebounds, three steals and two blocked shots to lead Gorman. O'Bannon had 15 first-half points to carry the Gaels early.
"I was so proud of Chuck," Rice said. "Everyone knows how talented he is, and he's one of the best players in the state. But we really talked about not settling for jump shots. When he gets it going, he's the best shooter in the state, but sometimes he settles for jumpers because he's a good shooter. I was so proud of him in the first half. He attacked."
Clark got as close as 57-48 on a basket by Antwon Jackson with 1:53 to play. But O'Bannon ended the comeback hopes, taking a skip pass from Bey and nailing a 3-pointer from the right corner to make it 60-48 with 1:10 to play.
Christian Popoola added 15 points, seven rebounds and four assists for the Gaels, who advance to next week's state tournament.
"I thought Christian Popoola played his best game of the year," Rice said. "Christian Popoola showed us what a great point guard he is."
Trey Woodbury had 16 points to lead Clark (25-4), which will face Sunrise Region runner-up Foothill (23-9) at 6:45 p.m. on Tuesday at Valley for the final berth at state.
Woodbury had 11 points in the first half, including a buzzer-beating 3-pointer in front of the Gorman bench to end the first quarter.
James Bridges added 10 points and four assists for the Chargers.
Contact prep sports editor Damon Seiters at dseiters@reviewjournal.com or 702-380-4587. Follow @DamonSeiters on Twitter.
Box score: