SUNSET BOYS: Durango senior digs deep
February 20, 2014 - 4:21 pm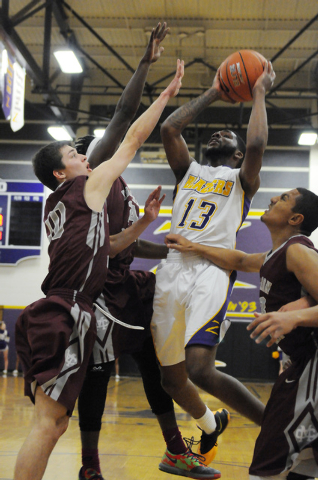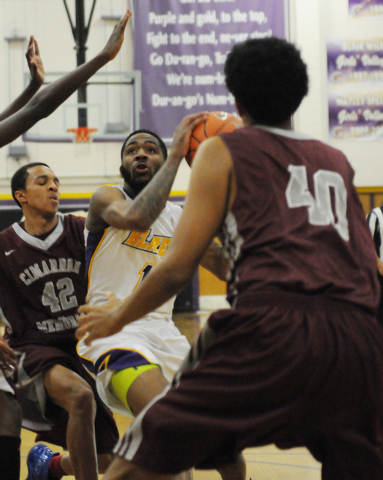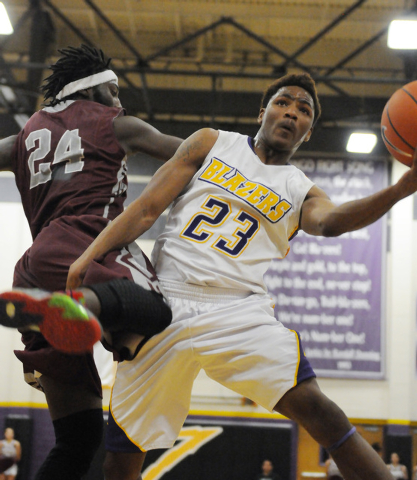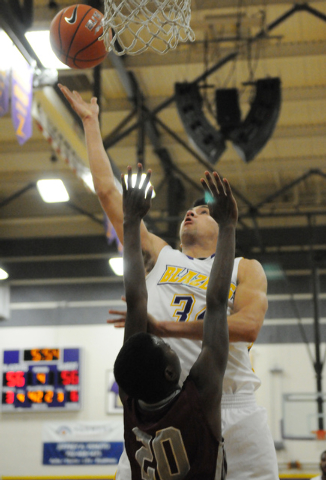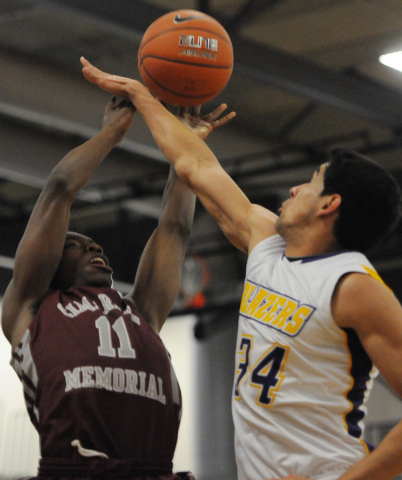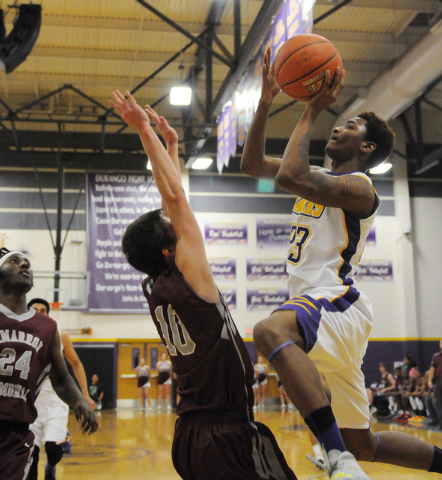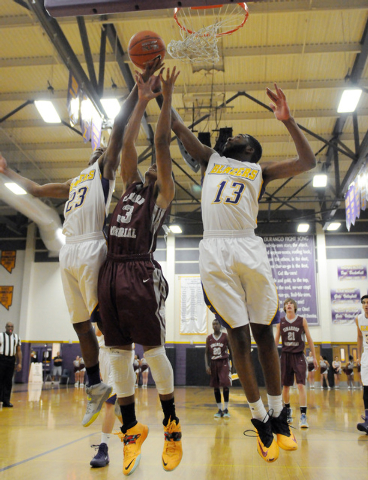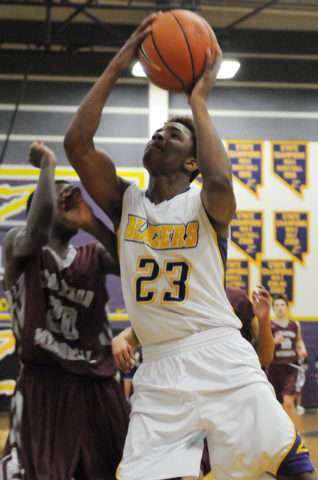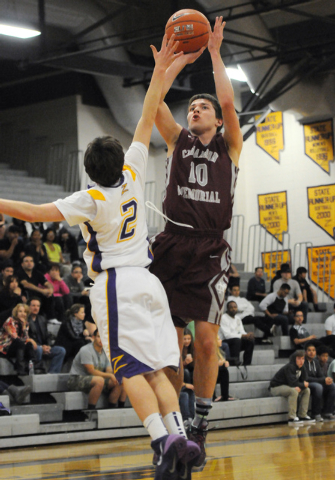 Darryl Gaynor had a huge gash on the inside of his mouth, and his upper lip looked like a collagen injection gone horribly wrong.
But the senior guard for the Durango boys basketball team wasn't going to miss the fourth quarter of Wednesday's Sunset Region quarterfinal.
"This is my last go-round in high school basketball," Gaynor said. "I had to go back out and help my team get the 'W.' "
Gaynor scored only four of his 30 points in the fourth quarter, but his return after a nasty second-half collision was all the inspiration the Trailblazers needed to pull out a 76-71 victory over Cimarron-Memorial.
Durango (11-9) will host two-time defending state champion Bishop Gorman (25-4) in the semifinals at 4:40 p.m. today.
"We've leaned on Darryl to be a leader all season, and when he came back into the game, that provided strength for our guys," Trailblazers coach DeShawn Henry said. "They felt confident and at peace to make plays and do what we needed to do to win."
Cameron McKissic led Cimarron-Memorial (13-15) with 30 points, including 23 in the second half as the Spartans rallied from as many as 10 points down.
Gaynor had 25 points before he was injured while trying to corral an offensive rebound with 2:56 remaining in the third quarter. He went to the locker room with Durango leading 52-43, but by the time he returned to a loud ovation with 1:08 left in the third, the Spartans had trimmed the deficit to 54-52.
Cimarron tied the score at 58 on a basket by McKissic with about six minutes remaining before Alex Arias and Vee Price sparked a 10-2 Trailblazers' run. The Spartans got as close as 68-64, but Gaynor and Price combined to go 8-for-10 from the free-throw line in the final 1:33.
"Right when we got there, we had little mental mistakes and turnovers," Cimarron coach Chris Walker said. "To me, it doesn't matter how much momentum they had. I felt like it was a winnable game for us."
Arias finished with 19 points and 12 rebounds, and Price added 15 points and six rebounds. Victor Ross had four of his five steals in the fourth quarter and scored six points for Durango.
Cimarron, which trailed 37-28 at halftime, rallied in the third quarter as McKissic had 14 points, including a 3-pointer that cut the Trailblazers' lead to 52-50 with 1:55 to go in the third.
Tony Harrison had 12 points and 14 rebounds, and Austin Garrison chipped in with 12 points and seven rebounds for the Spartans, whose comeback was aided by 19 offensive rebounds.
Bishop Gorman 73, Sierra Vista 55 — At Gorman, Noah Robotham had 22 points and eight assists, and Stephen Zimmerman added 15 points, eight rebounds, and five assists as the Gaels topped the Mountain Lions.
Chase Jeter had 15 points and eight rebounds, and Nick Blair added 15 points for Gorman, which trailed 16-13 after one quarter but responded with a 27-13 second-quarter spurt.
Mikko Balmes had 13 points, and Giovanni Santana scored 12 for Sierra Vista (16-11). Jeremiah Covington scored 10 points for the Mountain Lions.
Centennial 79, Palo Verde 49 — At Centennial, Troy Brown had 15 points, 13 rebounds and nine assists as the Bulldogs pulled away in the second half and eliminated the Panthers.
Garrett Scheer had 18 points and 11 rebounds, and Eddie Davis supplied 17 points and nine rebounds for Centennial (24-3), which will face Arbor View (23-2) in a region semifinal at 8 p.m. Thursday at Durango.
Khalil Thompson had 13 points, and Rayquan Stewart scored 10 for the Bulldogs, who led only 26-25 at the half.
Braxton Richard paced Palo Verde (13-14) with 10 points.
Arbor View 90, Legacy 80 — At Arbor View, Justin Burks poured in 38 points, and Terrell Butler added 20 points and five steals to help the Aggies hold off the Longhorns.
Charles Porter scored 15 points, and Corey Moore had eight points, 11 assists, and seven steals for Arbor View. Isaiah Simmons grabbed 10 rebounds for the Aggies.
Deshaun Hilliard led Legacy (11-16) with 31 points. Jacob Rainey had 12 points, and Don'Tre Avery and Christian Solis each scored 11 for the Longhorns.
Box scores:
Bishop Gorman 73, Sierra Vista 55
Durango 76, Cimarron-Memorial 71