TARKANIAN CLASSIC: Defense on star keys Findlay win
December 19, 2015 - 12:35 am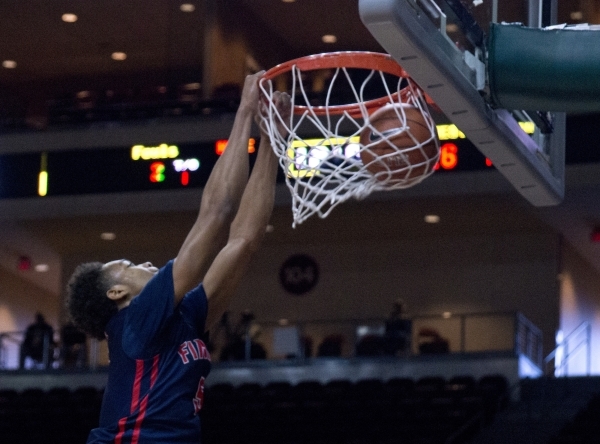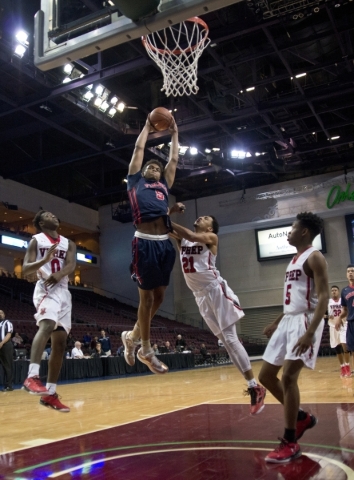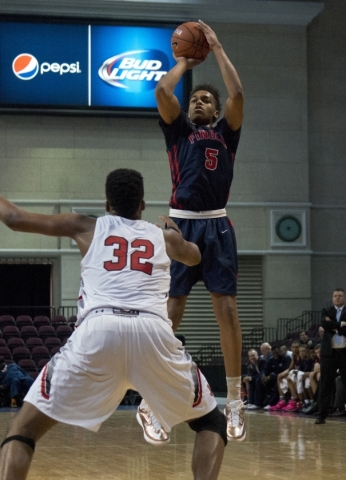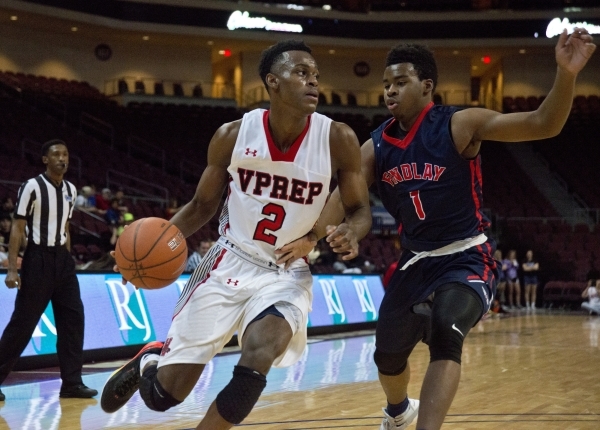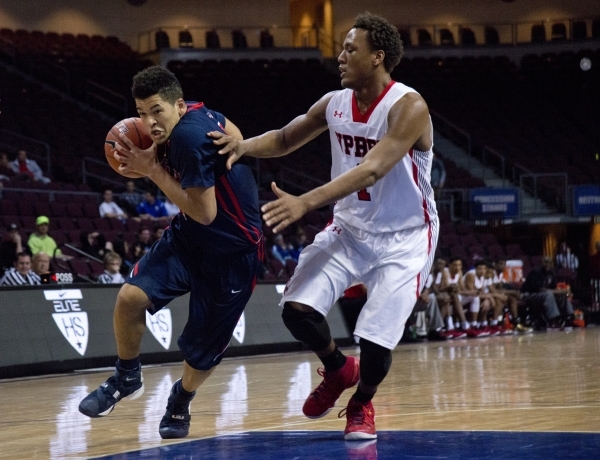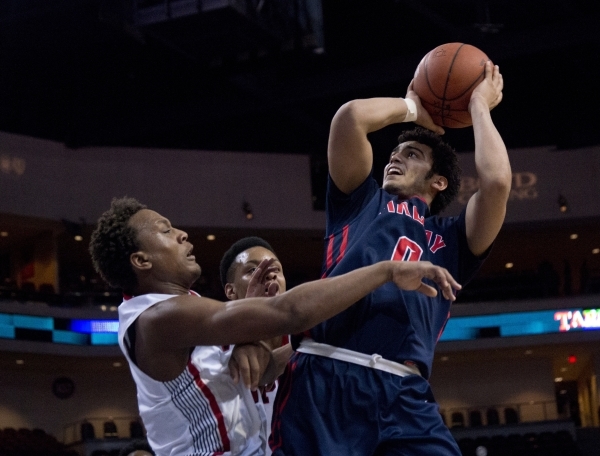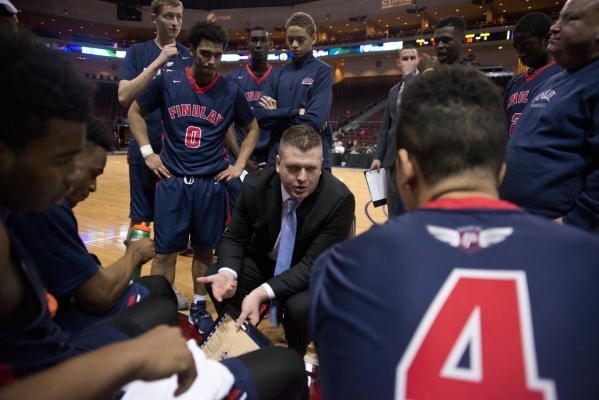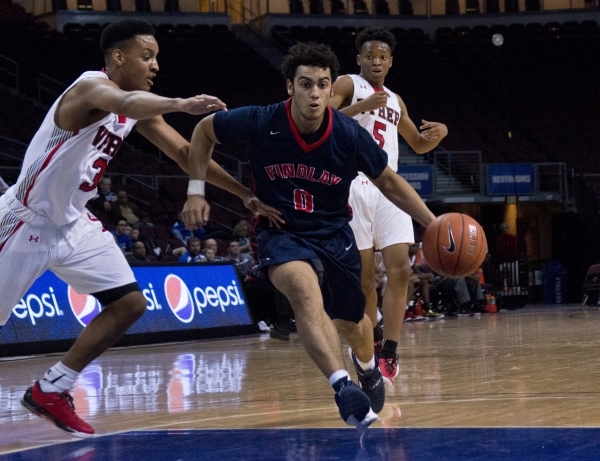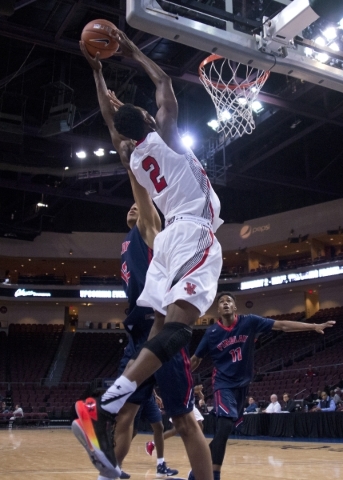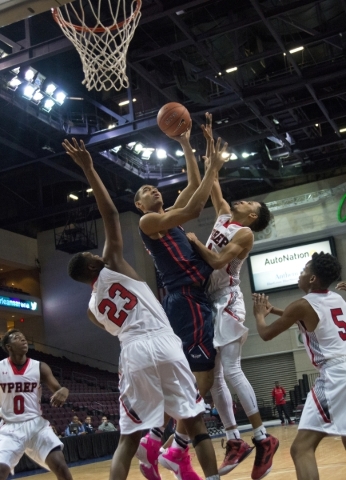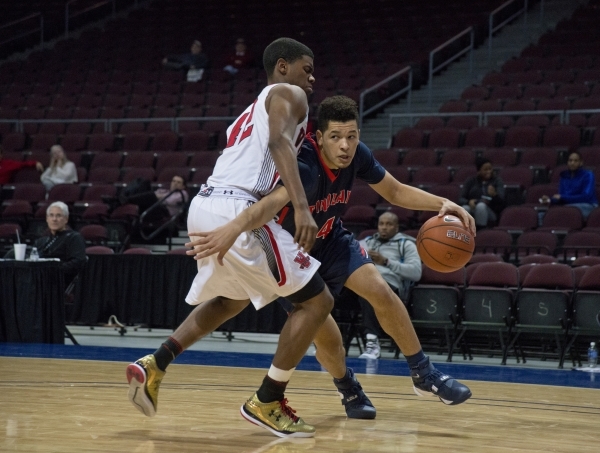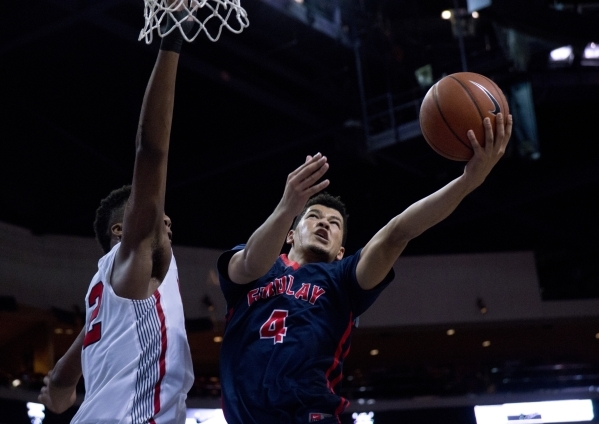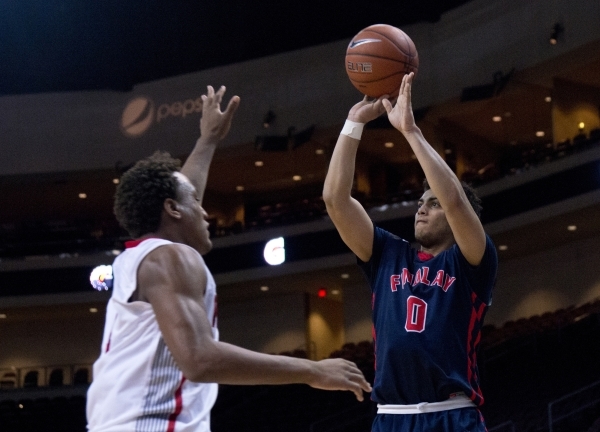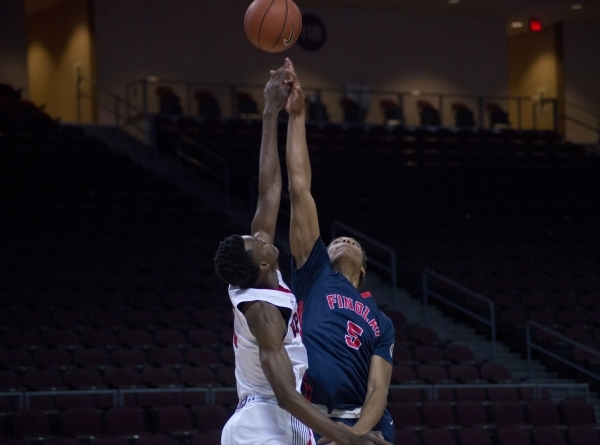 Carlos Johnson loves the challenge that comes with defending the opposing team's best player.
The Findlay Prep senior rose to the occasion again on Friday.
Johnson, a UNLV recruit, helped contain Victory Prep (Texas) standout Jarred Vanderbilt during the opening half, and the Pilots ran away with an 85-47 victory in the Tarkanian Classic prep school division at Orleans Arena.
"He's an upcoming star," Johnson said of Vanderbilt. "He tried to do what he had to do. My game plan was just to slow him down a bit because we know he can score. My coach just told me to do what I do best, and that's defend and be physical."
Vanderbilt, a 6-foot-8-inch small forward, is a consensus top-10 player in the class of 2017 with offers from several top-25 schools.
With Johnson and Lamine Diane, a native of Senegal who arrived at Findlay Prep last month, guarding him for much of the first half, Vanderbilt missed six of his first seven shots as the Pilots (13-0) raced to a 27-2 lead.
Vanderbilt finished with 21 points, 14 of which came in the second half when Findlay Prep was leading by more than 30 points.
"Going into the game, our game plan was to really pressure Jarred and get up in him," Pilots coach Andy Johnson said. "I thought Carlos and Lamine absolutely did a phenomenal job on him tonight, limiting his touches, pressuring him, getting up in him, not allowing him to catch the basketball at spots that's comfortable for him."
P.J. Washington led the way for Findlay Prep with 22 points, 12 rebounds, six assists, four blocked shots and two steals. Markus Howard had three of the Pilots' 10 3-pointers and finished with 21 points, and Carlos Johnson finished with 14 points, six rebounds, three assists and a steal.
"He works hard, true team kid, really, really defends and rebounds," Andy Johnson said. "He does everything that helps a team wins basketball games. I'm really proud of his effort."
Findlay Prep went ahead 23-2 on a dazzling sequence in the first half. Howard hustled to save the ball from going out of bounds, and his no-look toss went to teammate O'Shae Brissett, who hit a cutting Washington for a dunk and three-point play.
The Pilots led 45-15 at halftime and extended the spread in the second half, leading by as many as 40 points late. Carlos Johnson made a 3-pointer to put Findlay Prep on top 63-24, and Washington's 3-pointer gave the Pilots a 66-27 advantage.
Findlay Prep finished with 19 assists on its 32 field goals.
"One trait that really sticks out about our team is how unselfish we are," Andy Johnson said. "Our guys have really moved the basketball and really play for each other, and I think that's a big key. When guys are playing for each other, the ball's going to move."
Bishop Gorman 60, Sagemont (Fla.) 44 — At Orleans Arena, Charles O'Bannon had a team-high 15 points, and the Gaels beat the Lions to advance to the Platinum Division final for the second time since the tournament's inception in 2012.
Gorman will host Overland (Colo.), a 64-55 winner over Bingham (Utah), at 6:20 p.m. Saturday in the title game. The Gaels, who lost in the semifinals each of the past two seasons, have never won the Tarkanian Classic.
Byron Frohnen had 11 points, six rebounds and four assists, and Zach Collins added eight points, 15 rebounds and five blocked shots for Gorman.
O'Bannon had nine points in the first half, including an alley-oop dunk, as the Gaels opened on a 15-5 run and led 34-14 late in the first half after a 3-pointer by Ryan Kiley. Frohnen capped off the half by rejecting Sagemont's Nik Popovic at the buzzer to preserve the Gaels' 36-20 lead.
Collins' follow-up dunk gave Gorman a 47-30 lead with 9:50 remaining in the game, and O'Bannon found Frohnen on a fast break for an easy bucket that gave the Gaels their biggest lead at 55-35 with 5:45 left to play.
Christian Popoola had seven of his eight points in the first half for the Gaels and added eight rebounds.
Gorman held the Lions to 24 percent shooting from the field (13-for-54) and owned a 48-32 rebounding advantage.
Tyler Polley, a 6-foot-8-inch forward and four-star recruit in the class of 2017, led Sagemont with 12 points and eight rebounds on 3-for-10 shooting. Samir Stewart had 10 points for the Lions.
Redemption Christian (N.Y.) 51, Clark 45 — At Orleans Arena, Darius Jackson had 22 points, but the Chargers couldn't hold a five-point halftime lead and lost to the Lions in the Gold Division semifinals.
Clark meets Pasadena (Calif.) in the third-place game at 2:20 p.m. Saturday at Bishop Gorman.
Jackson had 11 points in the second half, but the Chargers were outscored, 29-18. Clark made only five field goals in the second half and finished the game with more made 3-pointers (eight) than two-pointers (six).
Trey Woodbury added 11 points and had three 3-pointers for Clark.
Christopher Duarte led Redemption with 20 points. Willesley Butler had 12 points, and Joel Mensah scored 10 for the Lions.
Cheyenne 54, Faith Lutheran 51 — At Bishop Gorman, Dewayne Alexander's only point came on a free throw with 24 seconds to play that broke a 51-51 tie, and the Desert Shields held on to win in the Premier Division semifinals.
Ezekiel Watts made two free throws with four seconds to go to extend the lead, and Jaylen Fox's 30-footer at the buzzer went off the rim.
Kavon Williams had 22 points and seven rebounds to lead Cheyenne, which plays Clay County (Ky.) in the championship game at xyxyx Saturday at Gorman.
Alajhan Banks scored seven of his nine points in the second half for the Desert Shields, and added five rebounds and two blocked shots.
Fox led Faith Lutheran with 13 points, and Elijah Kothe had 10 points and nine rebounds for the Crusaders.
Clay County (Ky.) 73, Las Vegas 56 — At Gorman, Trey Farmer had 25 points and 10 rebounds as the Tigers defeated the Wildcats to move into the Gold Division title game.
Blake Smith added 23 points and four assists for Clay County.
Donovan Joyner paced Las Vegas with 15 points. Marquise Raybon had 11 points and six rebounds for the Wildcats, and teammate DiQuan Brown scored 10.
Bishop O'Dowd (Calif.) 88, Desert Oasis 85 — At Gorman, Naseem Gaskin had 25 points, and the Dragons topped the Diamondbacks in two overtimes in the Select Division.
Elijah Hardy added 17 points for O'Dowd.
Jacob Heese had 26 points and nine rebounds to lead Desert Oasis. Aamondae Coleman added 19 points and nine rebounds for the Diamondbacks, who outscored O'Dowd 35-26 in the second half to force overtime.
Taiga Miyano and Leslie Long each added 12 points for Desert Oasis.
Godby (Fla.) 69, Desert Oasis 49 — At Desert Oasis, Quan Jackson scored 16 points to lead the Cougars past the Diamondbacks.
DeSean Ezor scored 14 points to lead the Cougars, who are the defending 5A state champions from Tallahassee, Fla.
Godby went on an 11-2 run to take a 22-13 lead in the first half and never looked back.
Desert Oasis threatened late in the first half, cutting the Cougars' lead to 24-18 when Tyler McClendon hit a 3-pointer. But Godby took a 35-24 lead into the break, then went on an 8-0 run to start the second half.
Coleman scored 12 points to lead the Diamondbacks, and Long scored 10.
Long Beach Poly (Calif.) 55, Desert Pines 50 — At Gorman, Zafir Williams and Harrison Bonner each had 17 points to lead the Jackrabbits over the Jaguars in the Platinum Division.
Capri Uzan had 16 points to lead Desert Pines, which got 12 points from Trevon Abdullah.
Durango 74, Sierra Vista 57 — At Faith Lutheran, Demetrius Valdez sparked a 12-0 run to start the game by throwing two alley-oop passes to Jason Landman, and the Trailblazers cruised to an easy win over the Mountain Lions in the Gold Division.
Valdez finished with 17 points, six assists and three steals for Durango, which led 61-34 with 4:58 to play.
Durango's Chase Ruiz, who made 5 of his 6 3-point attempts, scored a game-high 21 points. Ruiz made four 3-pointers in the first half to give the Trailblazers a 37-20 halftime lead.
Maka Ellis scored 12 of his 19 points in the second half for Sierra Vista, which got 12 points from Lerone Gibson.
St. Anthony (Calif.) 60, Liberty 48 — At Faith Lutheran, Dyllan Robinson scored 20 points in the Patriots' loss to the Saints in the Gold Division.
Logan Koch and Cameron Burist each added eight points for Liberty.
Damani Whitlock had 19 points for St. Anthony.
Adelson School 53, Western 51 — At Faith Lutheran, Jake Buchman scored 15 of his 20 points in the second half to help the Lions hang on and beat the Warriors in the Premier Division.
Jalen Pitts added 14 points for Adelson, which led 24-21 at halftime.
Kwan Carter poured in 31 points to lead Western. Dalair Muhammad and Anthony Dodson each added nine points for the Warriors, who went 12 of 27 at the free-throw line.
Fossil Ridge (Colo.) 73, Coral Academy 57 — At Faith Lutheran, Isaiah Spears scored 21 points in the Falcons' loss to the Sabercats in the Premier Division.
Kaleb Robinson had 17 points, and Ryan Dijno scored 11 for Coral Academy, which trailed 30-23 at halftime.
Braxton Bertolette led Fossil Ridge with 22 points. Jackson Everhart added 18 points, and Garrett Schmidt contributed 12 points for the Sabercats.
Box scores:
Redemption Christian (N.Y.) 51, Clark 45
St. Anthony (Calif.) 60, Liberty 48
Fossil Ridge (Colo.) 73, Coral Academy 57
Bishop O'Dowd (Calif.) 88, Desert Oasis 85
Findlay Prep 85, Victory Prep (Texas) 47
Cheyenne 54, Faith Lutheran 51
Long Beach Poly (Calif.) 55, Desert Pines 50
Clay County (Ky.) 73, Las Vegas 56
Godby (Fla.) 69, Desert Oasis 49