TARKANIAN CLASSIC: Gaels' frontcourt combines for 48 points in third-place win
December 20, 2014 - 11:28 pm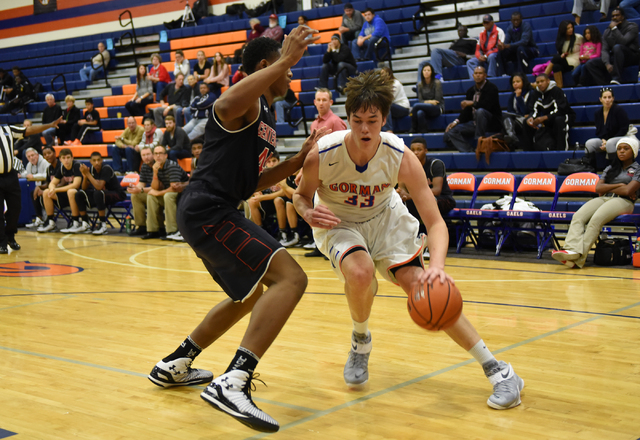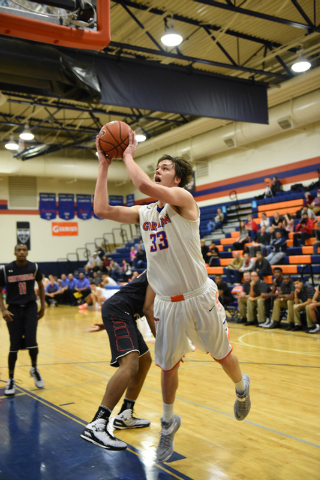 Stephen Zimmeman, Chase Jeter and Zach Collins give Bishop Gorman's boys basketball team unmatched size, and playing the three big men together might seem like a good idea on paper.
On Saturday, the idea worked on the court, too.
Zimmerman, Jeter and Collins each had 16 points, and the Gaels used the three big men together down the stretch as they pulled away for a 71-51 win over Corona (California) Centennial for third place in the Platinum Division of the Tarkanian Classic at Gorman.
Redondo Union (Calif.) beat Putnam City West (Okla.) 66-51 in the championship game.
"It's just a sign of how much we trust each other, how the coaches trust us and how far we've come," said the 6-foot-11-inch Jeter, who also had 13 rebounds. "Being able to do that, it worked great for us. We had Zach with some big 3s, and Zim with some great points down there down the stretch."
Gorman led 45-42 when Jeter got the ball on the left block and kicked it out to Julian Payton, who nailed a 3-pointer from the top of the key with 5:49 to play to push the lead to six. That sparked a 26-9 run for Gorman to close the game.
"That was a big shot from Julian," Jeter said. "When he comes off (the bench) he always brings energy, so he's a great player for us."
Gorman coach Grant Rice inserted Payton into the lineup along with starting point guard Richie Thornton and the three big men.
"We seemed to have a little more energy those last 10 minutes than they did," Rice said. "We just got on a little roll and it worked. With two point guards and the three bigs, it worked. It could have gone the other way. You just never know. For today we made the right decision. We'll see what happens next game."
Collins, a 6-11 junior, hit a pair of 3-pointers in the final two minutes to help the Gaels extend the lead. Gorman continued to be aggressive offensively against Centennial's pressure down the stretch.
"We hit the middle and then attacked," Rice said. "A lot of times coaches have a tendency, including myself, to be too conservative when you've got the lead. We had Zim in the middle, we hit the middle and then looked to attack. Zach Collins hit those two big 3s and kind of iced the game for us."
Collins was 7-for-7 from the field and scored all 16 of his points in the second half. The 7-footer Zimmerman finished with nine rebounds and four assists for Gorman, which lost 52-50 in overtime to Putnam City West (Oklahoma) in the semifinals on Friday.
"We just went in with the mindset that we had to take it out on Corona Centennial," Jeter said. "Being able to take it out on them was the best way to bounce back from that loss last night."
Sedrick Barefield led Centennial with 22 points and seven assists.
Lee (Ala.) 66, Las Vegas 51 — At Gorman, the Generals closed the game on a 28-12 run to capture third place in the Premier Division.
Patrick Savoy had 16 points, and Devon Colley scored 14 to lead Las Vegas, which led 33-29 at the half. The Wildcats played without leading scorer Tyler Bey, who missed the game with an injured left hand.
Malik Burnett and Tracey Burnett each had 13 points to lead Lee, which got 12 points from Gerron Scissum.
Clark 58, Windward (Calif.) 56 — At Gorman, Darius Jackson had 16 points as the Chargers edged the Wildcats in a Platinum Division consolation game.
Keyshaun Webb added 14 points for Clark.
Windward's Wonder Smith led all scorers with 18 points.
Faith Lutheran 47, Cheyenne 35 — At Faith Lutheran, Blake Bell scored 12 of his 14 points in overtime as the Crusaders topped the Desert Shields.
John Molchon added 11 points for Faith Lutheran.
Bruce Gaitor led Cheyenne with six points.
Cheyenne 59, Liberty 42 — Joseph Rose scored 10 points as the Desert Shields downed the Patriots.
Alahjan Banks and Ulises Santillan each scored eight points for Cheyenne, which led 28-8 at halftime.
Ed O'Bannon scored 14 points, and Errol Newman had 12 points to lead Liberty.
Mars Area (Pa.) 66, Quest Academy 55 — At Faith Lutheran, John Castello scored 22 points, and Robby Carmody had 20 points to lead the Fighting Planets by the Knights.
Alex Gruber had 11 points for Mars Area.
Chris Hawkins led Quest Academy with 21 points. D'Eric Marlowe had 13 points, and David Vasquez scored 11 for the Knights.
Fossil Ridge (Colo.) 77, Desert Pines 76 — At Faith Lutheran, Ryan Quaid had 30 points to lead the Sabercats by the Jaguars in overtime.
Braxton Bertolette added 29 points for Fossil Ridge.
Capri Uzan had 29 points, and Coby Myles scored 28 for Desert Pines, which was just 1 of 6 from the free-throw line in overtime.
Eaglecrest (Colo.) 80, Durango 54 — At Faith Lutheran, Blend Advili had 21 points to lead the Raptors by the Trailblazers.
Colbey Ross added 13 points for Eaglecrest, which led 43-24 at halftime.
Apollo Corley paced Durango with 13 points.
Box scores:
Bishop Gorman 71, Corona Centennial (Calif.) 51
Clark 58, Windward (Calif.) 56
Eaglecrest (Colo.) 80, Durango 54
Faith Lutheran 47, Cheyenne 35
Fossil Ridge (Colo.) 77, Desert Pines 76
Mars (Pa.) 66, Quest Academy 55