TARKANIAN CLASSIC: Gorman survives early barrage, rolls past California foe
December 20, 2013 - 12:14 am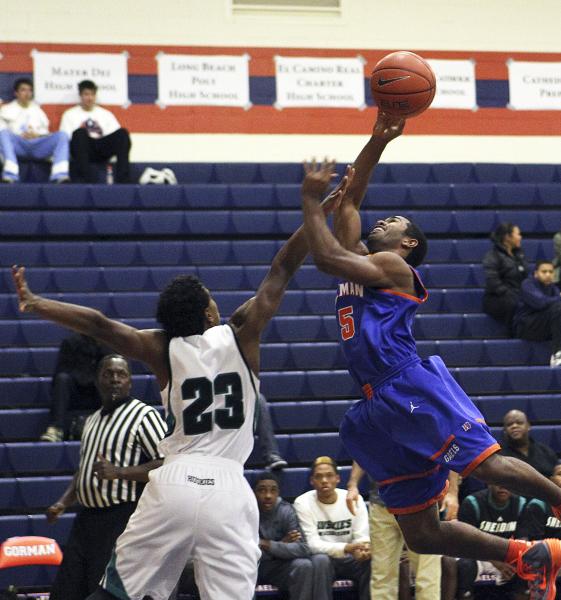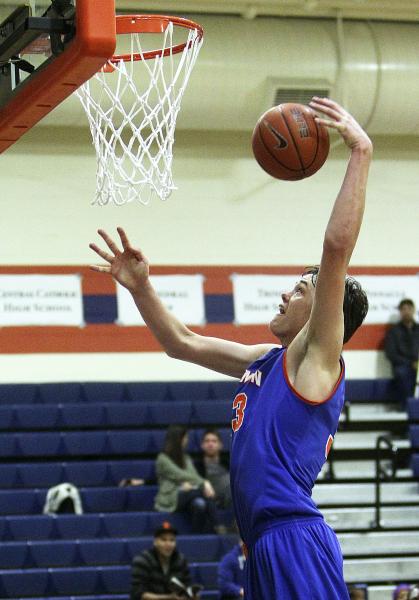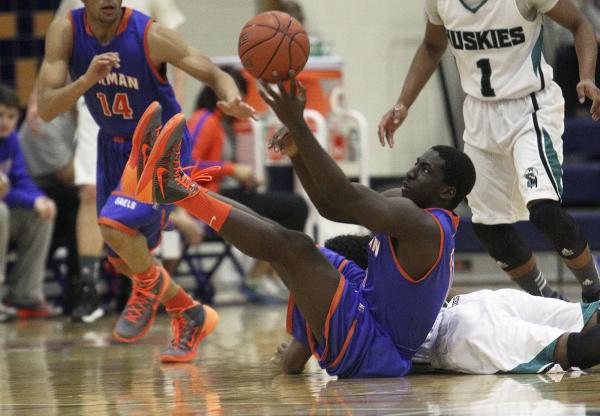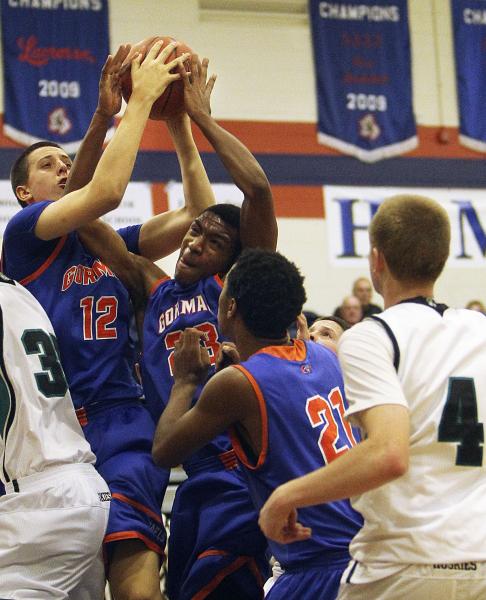 Sheldon (Calif.) used red-hot shooting from the perimeter to take an early lead Thursday.
But the Huskies finally cooled off enough to let Bishop Gorman take control, and the Gaels gained a 65-49 win in the Tarkanian Classic at Gorman.
"They stopped making jump shots," Gorman coach Grant Rice said. "I think they made their first six shots in the game, so we hoped that wouldn't continue. We were just fortunate enough to catch them at the half, and I was proud of our guys. We didn't panic, and we just kind of let our big guys take over."
The Gaels (4-2) will play Valor Christian (Colo.) at 10 a.m. today at Gorman, with the winner advancing to the semifinals of the Platinum Division. That game will be at 7 p.m. at Orleans Arena.
Sheldon started the game by making its first six 3-pointers to take an 18-11 lead. The Huskies led by 10 before Gorman closed to within 34-33 at halftime.
After Sheldon's barrage, the Gaels answered with some long-range shots to take control in the second half. Obim Okeke and Nick Blair hit back-to-back 3-pointers for a 49-43 lead, and Gorman pulled away.
Blair scored a team-high 15 points, 12 in the first half as the rest of the Gaels struggled. The 6-foot-6-inch forward hit 3-for-4 3-pointers, giving Gorman another perimeter option to go with point guard Noah Robotham and help take pressure off big men Stephen Zimmerman (7-0) and Chase Jeter (6-10).
"This is the second game in a row that Nick Blair has really grown up as a player, and he definitely gave us a big lift today as well," Rice said.
Jeter scored nine of his 11 points after halftime and finished with 11 rebounds and two blocked shots. Zimmerman had 10 points and 12 rebounds, and 6-9 sophomore Zach Collins supplied four points and three rebounds in the second half.
"We've got three high-level big guys," Rice said. "Obviously Zim and Chase are going to start, but we're just as comfortable with Zach in there. He's doing a great job for a sophomore."
Robotham added 12 points, six rebounds and seven assists.
Ian Miller had 16 points to lead Sheldon, which shot 7-for-11 on 3-pointers in the first half but 2-for-13 after halftime.
Mater Dei (Calif.) 72, Clark 58 — At Gorman, the Chargers led with 10 minutes to play, but the Monarchs pulled away down the stretch for the win in the Platinum division.
Clark led 42-41, but Mater Dei's Rex Pflueger hit a 12-foot pull-up jumper in the lane with 9:41 to go. Clark's Diontae Jones was whistled for a foul away from the ball on the play, giving the Monarchs the ball again, and La-Vette Parker hit a 3-pointer from the top of the key to push the lead to four and give Mater Dei the momentum.
Arizona-bound forward Stanley Johnson had 34 points and 11 rebounds for the Monarchs, who are ranked third in the nation by USA Today.
Colby Jackson had 21 points, five assists and two steals to pace Clark. Jackson hit five 3-pointers.
Carter Olsen added 14 points, four rebounds and four assists, and Jones had 11 points and six rebounds for the Chargers.
Bishop O'Dowd 78, Durango 34 — Ivan Rabb had 28 points and nine rebounds as the Dragons routed the Trailblazers in the Platinum Division.
Rabb had 24 points in the first half as O'Dowd sprinted to a 61-17 lead. The rest of the game was played with a running clock.
Paris Austin added 15 points for the Dragons, who scored 30 points off 18 Durango turnovers in the first half.
Darryl Gaynor led Durango with 23 points. He was 4-for-8 from the field in the first half, but the rest of the team was 0-for-12. Vee Price's basket with 11:48 to play was the first non-Gaynor field goal of the game for Durango.
GOLD DIVISION
Cheyenne 60, Upper St. Clair (Pa.) 54 — At Faith Lutheran, Javon Peterson had 14 of his 22 points in the second half as the Desert Shields held off the Panthers.
Jarrell Bell added 14 points for Cheyenne, which shot 16-for-26 from the free-throw line in the second half, while Upper St. Clair didn't attempt a foul shot after halftime.
Thomas Steve's 3-pointer with 20 seconds remaining cut the Desert Shields' lead to 57-54 before Bell made three of four from the line in the final 18.9 seconds to seal the win.
Cheyenne led 28-26 at halftime and went up 46-38 midway through the second half on a three-point play by Peterson.
J.J. Conn finished with 19 points, and Conor Gallagher added 16 points for Upper St. Clair, which made 10 3-pointers.
ThunderRidge (Colo.) 53, Legacy 50 — At Faith Lutheran, Elias Tiedgen made a 3-pointer with 4.2 seconds remaining to lift the Grizzlies past the Longhorns.
Legacy led 47-43 before ThunderRidge, which had a huge size advantage inside, closed the game on a 10-3 run.
ThunderRidge's Noah Szilagyi made two free throws with 51.8 seconds left to knot the score at 50. The Longhorns then missed two open looks in the final 25 seconds before Tiedgen's winning shot.
Deshaun Hilliard led Legacy with 21 points, and teammate Shakir Arrey chipped in with 12 points.
The Longhorns were up by as many as 11 points in the first half before Szilagyi hit three 3-pointers in the final two minutes to cut Legacy's lead to 24-21 at the break.
Szilagyi paced the Grizzlies with 23 points, including six of his team's nine 3-pointers. Tiedgen notched 13 points, while 6-foot-10-inch Zach Pirog contributed seven points and altered several Legacy shots in the paint.
Ambridge (Pa.) 54, Faith Lutheran 39 — At Faith Lutheran, Michael Holthus posted a team-high nine points in the Crusaders' loss to the Bridgers.
Sean Kay, Conner Vang and Clayton Holthaus chipped in with six points each for Faith Lutheran, which trailed 27-15 at halftime and never got closer than 10 points in the second half.
Daylon Carter poured in 31 points for Ambridge, and Stephon McGinnis scored 11 as the Crusaders struggled to contain the talented backcourt.
Orem (Utah) 75, Coronado 60 — At Faith Lutheran, Eddie Austin had 22 points, and Nick Kornieck added 18 points in the Cougars' loss to the Golden Tigers.
Austin Morgan scored 11 for Coronado, which trailed 38-23 at halftime. The Cougars got as close as 61-52 on Morgan's fast-break basket with 3:58 to play.
Dalton Nixon, a 6-8 forward who signed with Brigham Young, led Orem with 27 points. Teammate Cooper Holt posted 21 points.
Foothills Christian (Calif.) 70, Chaparral 47 — At Gorman, sophomore T.J. Leaf had 31 points, 10 rebounds, four assists and a blocked shot as the Knights rolled past the Cowboys.
Chaparral led early, but Foothills took control with a pair of 3-pointers by Luis Salgado. Salgado's second 3-pointer gave the Knights a 22-20 lead with 5:26 to go in the first half, and they wouldn't trail again.
J.R. Rivera added 11 points and seven rebounds, and Salgado scored 10 for Foothills.
Charles Miller paced Chaparral with 14 points, with 12 coming in the first half. The Cowboys' leading scorer, Tyree McNeal, missed his first 12 field goals and finished 1-for-13 from the field. He had 10 points and eight rebounds.
Box scores:
Foothills Christian (Calif.) 70, Chaparral 47
ThunderRidge (Colo.) 53, Legacy 50
Bishop Gorman 65, Sheldon (Calif.) 49
Bishop O'Dowd (Calif.) 78, Durango 34
Mater Dei (Calif.) 72, Clark 58
Ambridge (Pa.) 54, Faith Lutheran 39
Cheyenne 60, Upper St. Clair (Pa.) 54