UNLV wins national recruiting battle for Las Vegas point guard
Updated May 14, 2023 - 2:58 pm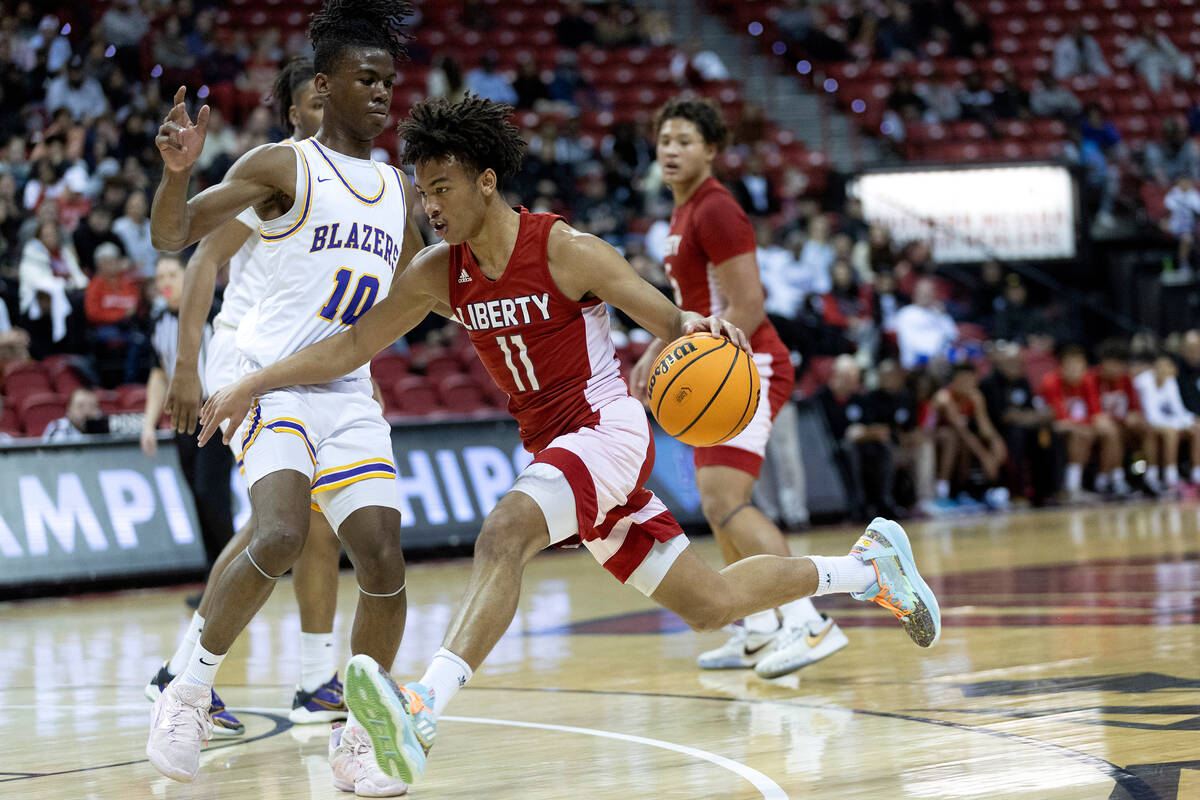 Liberty junior Dedan Thomas Jr. knew it the moment he stepped onto the basketball court inside the Thomas & Mack Center that Saturday afternoon before the Class 5A state championship game against Durango.
"This," the four-star floor general thought to himself, "is exactly where I want to be."
Meaning the 57-47 loss to the Trailblazers in late February wouldn't be the final game he played at the Thomas & Mack. It would be the first of many.
Thomas, the state's top basketball recruit and one of the country's top point guards, announced his commitment Sunday to UNLV via social media — choosing the Rebels over fellow finalists Arizona, Florida, Gonzaga, Houston and UCLA.
He's considering reclassifying and enrolling this fall at UNLV, where he would join an experienced team that includes top returning scorers Luis Rodriguez and Justin Webster, twin transfers Khalib (Oklahoma State) and Keylan Boone (Pacific), and former Clark standout Jalen Hill (Oklahoma).
Thomas' commitment to UNLV is nonbinding and won't be official until he signs a national letter of intent. In the meantime, the university cannot comment or issue a statement about his commitment.
When he does sign, though, he'll be the most significant recruit in coach Kevin Kruger's tenure — and one of the most significant signings for UNLV in the past decade.
"Ever since I was little, going to games, just seeing the atmosphere that they had when I was little, that place was jumping," Thomas said. "Hopefully, when I get there, we can get that place going again."
Known as DJ and long a fixture at Rebels games, Thomas is the son of former UNLV point guard Dedan Thomas, who played for Jerry Tarkanian and averaged 7.8 assists in two seasons as a full-time starter. He inherited his father's point guard pedigree and emerged at Liberty as one of the nation's top players, guiding the Patriots to their first Class 5A state championship in 2021-22 and to the championship game again last season.
But Kruger and the Rebels were aware of Thomas well before his high school glory.
All roads lead home❤️🖤 #committed #gorebels pic.twitter.com/H4WIbXdUnl

— Dedanthomasjr (@dedanthomasjr) May 14, 2023
Kruger began watching Thomas play upon his arrival at UNLV. He was an assistant under T.J. Otzelberger while Thomas was in eighth and ninth grade. College coaches are not permitted to directly contact recruits until the summer after their sophomore year, so Kruger recruited Thomas through his father.
"I always had a feel for them," the younger Thomas said of the UNLV staff.
When Kruger replaced Otzelberger after the 2020-21 season, Thomas became his top recruiting priority — and that of other top programs around the country. ESPN pegs Thomas as the No. 31 player in the junior class, while 247 Sports rates him No. 22.
Standing sturdy at 6-foot-1-inch, Thomas plays to the strengths of his teammates in transition and half-court situations. He can push the pace or play in pick-and-rolls — slithering around ball screens, manipulating defenders and freeing shooters and cutters who operate on the perimeter.
He's also a savvy scorer with an offensive arsenal filled with ball and shot fakes that allow him to score over taller, longer defenders.
The Rebels want him to "be the quarterback," Thomas said, and distribute to a team filled with forwards and wings, which is exactly how he prefers to play.
Thomas averaged 22.8 points, 5.1 assists, 3.9 rebounds and 1.2 steals last season en route to state Gatorade Player of the Year honors, often playing before crowds that included Kruger and assistants Barret Peery, John Cooper and Jamaal Williams.
I've never been to a game where they weren't there to see DJ. Job well done #RebelsBack

— Karlton Grant (@kg_werk_) May 14, 2023
He'll conclude this spring with his club basketball program, Dream Vision, with whom he played this weekend in Dallas. Then, he said, he'll decide about reclassification.
The elder Thomas said in a text message he's happy his son is playing at UNLV, where he'll be supported by family members and friends, and help get "UNLV back on track and build a nice culture."
And play at the Thomas & Mack Center some more.
"I got a special feeling when I walked in that gym," the younger Thomas said. "I just took a look around, took a second to take it all in and just got a feeling in my heart where this is the place I'm meant to be. I felt comfortable out there. It felt normal."
It felt like home.
Contact Sam Gordon at sgordon@reviewjournal.com. Follow @BySamGordon on Twitter.