VEGAS INVITATIONAL: Epstein brothers lift The Meadows into winner's bracket semis
December 27, 2016 - 9:42 pm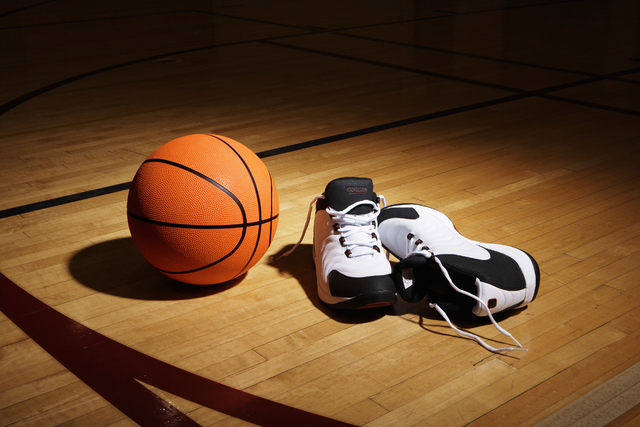 Before taking the boys basketball coaching job at The Meadows, Brian Lang knew what senior guard Jake Epstein brought to the table with his scoring prowess.
He's starting to learn what Jake's younger brother, Joe, is capable of as well.
The sophomore forward finished with 13 points and four rebounds and was his brother's quintessential sidekick Tuesday in the Mustangs' 40-37 win over Buckley (California) in the Vegas Invitational at Mountain View.
"He's coming up real big for us," Lang said of Joe Epstein. "He plays in the summer with the Las Vegas Prospects (AAU team), so he plays on the big circuit. And I told him, 'This is your year.' He didn't log a lot of minutes last year, but we need him to this year. …
"It's been great to see (his growth). I've been coaching Joe since he was in third grade. So it's very special for me to see him play like this."
Joe Epstein, who averaged just 3.0 points per game last season, scored 10 of his 13 points in the second half, and the brothers combined for 35 of the team's 40 points to send The Meadows (6-4) into the winner's bracket semifinal on Wednesday.
Jake Epstein led the team with 22 points, six rebounds, four steals and two blocked shots. His go-ahead 3-pointer from the right wing made it 33-32 with 4:15 remaining and gave The Meadows a lead it would not relinquish.
But the win didn't come without some late dramatics.
Joe Epstein's layup pushed the Mustangs' lead to 40-37 with 1:30 to go, but Jake Epstein was called for a charge on the team's next possession and fouled out with 43.8 seconds left.
With a chance to tie the game, Buckley missed three 3-point attempts to send The Meadows' bench into jubilation. Kanoa Johnson's final attempt clanked off the backboard as the buzzer sounded.
"I was worried that they'd tip one out and hit a 3 on us," Lang said. "That one shining moment, like in the NCAA. …
"(This is a) big win for us. We grew up a little bit tonight. A lot of people are doubting us because we're missing Max (Hisatake) and Ethan (Fridman) — our two (graduated) seniors. But Jake and Asheesh (Chopra), and a lot of our role players, stepped up big for us tonight."
Paul Bingaman led Buckley with 11 points and nine rebounds.
Pahrump Valley 52, Adelson School 47 — Garrett Lucas scored a game-high 21 points and finished 8-for-10 from the free-throw line as the Trojans held off the Lions.
Lucas scored 13 of his 21 points in the second half for Pahrump, which led 25-11 at halftime.
Parker Hart added 10 points, and Bryce Odegard and Cory Bergan each scored nine for the Trojans.
Jake Buchman led Adelson School with 14 points, and teammate Brandon Pappas scored 10.
St. Joseph (Calif.) 76, Bonanza 31 — Zioan Blakeney scored seven points in the Bengals' loss to the hot-shooting Knights.
JoJo Walker led St. Joseph with 23 points. Scott McBeth had 19 points, and Elihu Cobb scored 13 for the Knights, who outscored Bonanaza 34-12 in the second quarter to grab a 44-20 halftime lead.
St. Joseph, which won last season's tournament, finished with nine 3-pointers.
Moapa Valley 56, Spring Mountain 25 — Nathaniel Thompson scored 19 of his game-high 21 points in the first half to help the Pirates rout the Golden Eagles.
Chase Kruse added nine points, and Trey Jones scored eight for Moapa Valley, which led 44-11 at halftime.
Eric Brooks led Spring Mountain with six points.
Carlsbad (Calif.) 66, Mountain View 26 — Terrence Brooks had eight points, and twin brother Tyrell scored seven in the Saints' loss to the Lancers.
Stone Stapleton led Carlsbad with 15 points. Bronson Montgomery added 12 points, and Isaiah Ramos scored 11 for the Lancers, who got scoring contributions from all 12 of their players.
Box scores:
The Meadows 40, Buckley (Calif.) 37
Pahrump Valley 52, Adelson School 47
St. Joseph (Calif.) 76, Bonanza 31
Moapa Valley 56, Spring Mountain 25
Carlsbad (Calif.) 66, Mountain View 26