Versatility just the ticket for Palo Verde's Morgan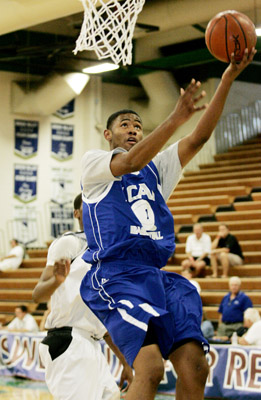 Fundamentals and mental toughness were ways of life for Winston Morgan while playing basketball for Bob Knight at Indiana in the 1980s.
The same traits appear to be rubbing off on his son.
Taking two charges. A bank shot in the lane. A spin move on the way to a one-handed floater.
All were part of the polished repertoire shown Friday by Moses Morgan, who will be a senior swingman next season at Palo Verde High School.
"I try to give him his space and his room to be able to mature into the player he needs to be," Winston Morgan said. "The little time I have with him, I just try to teach the basic fundamentals and how to play the game. Also the mental toughness."
Moses Morgan scored 19 points for I Can All Stars of California in an 83-78 overtime loss to Northwest Panthers of Washington at Green Valley High School. He has scored 13, 14 and 19 in three games at the Reebok Summer Championships, in which the All Stars were 2-1 in pool play.
"Having him in this process is real good," Moses Morgan said of his father. "He played at Indiana. He knows what's good and not good, so it's real good having him on my side."
A three-star prospect on Rivals.com and Scout.com, the 6-foot-5-inch Morgan said he has scholarship offers from Indiana, Memphis, UNLV, Utah and Oklahoma.
He told the Review-Journal in April that Indiana was atop his list, but said Friday the recruiting process is still open.
"I'm not sure where I'm going to go," he said.
Morgan has made an unofficial visit to Michigan and plans trips to Indiana, Memphis and Oklahoma after the summer circuit ends and before his senior year. He plans to sign in November.
Winston Morgan said UNLV coach Lon Kruger came to watch "about three or four games" when Moses was a freshman on Palo Verde's junior varsity, and has been on the recruiting trail ever since.
"I love coach Kruger, I really do," Winston Morgan said. "I like him a lot. He's a great man.
"From the time when coach Kruger came to see him in the ninth grade, I've talked to so many coaches from assistants to heads. It's basically going to be really all about the relationships between (Moses) and the coaches. I think that's the most important thing."
Playing the most important week of the summer circuit in Las Vegas has been a welcome breather for Morgan, who also showcased his skills this summer at the LeBron James Skills Academy in Akron, Ohio, and the King City Classic in Cleveland. He's been practicing mostly in Los Angeles, where I Can is based.
"The summer's been real busy," he said. "I've been on the road for like four weeks straight. Being back home is real good, playing in front of my family."
Morgan's summer coach, Rock Johnson, said his swingman's calm demeanor on the court has become a sign of confidence.
"Before I looked at that cool, calmness as a letdown to college coaches, like he's soft," Johnson said. "But I think when he's cool, calm, collected now, he's more confident.
"I think he's showing everybody he's physical. He can pound; he's not just a jump shooter. He's proven in this tournament he's one of the elite kids out here and in this country."
Morgan averaged 17.0 points and 7.5 rebounds as a junior, leading Palo Verde to a 24-6 record and the Class 4A state championship game.
Palo Verde coach Jermone Riley said Morgan is becoming a leader for a team that is hungry after a 56-55 loss to Bishop Gorman in the state final.
"He's already showing that leadership, working out on his own and mentoring the younger guys," Riley said.
The Panthers appear loaded for next season. Two others starring on the summer circuit who will return as seniors are guard Davion Pearson (Las Vegas Dogcatchers Elite) and post Andrew Topham (Triple Double Elite).
"We've got a lot of players returning, so we should be good," Morgan said. "We already have that chemistry there. We have a nice freshmen class coming, too.
"Right now we're real hungry. That state game really hurt us a lot. We had that game in the bag. We should be back next year."