1A GIRLS BASKETBALL: Pahranagat Valley keeps Knights' Hanks in check, wins league tourney
February 18, 2017 - 5:13 pm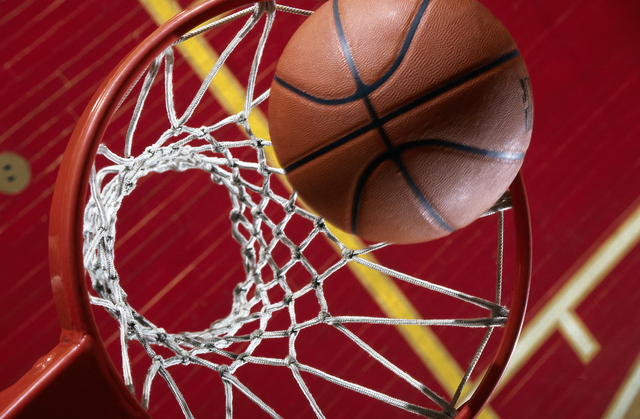 Sometimes holding a great player to just a good game is enough to win.
Pahranagat Valley's girls basketball team held Round Mountain post Alyssa Hanks to 15 points Saturday and cruised to a 53-31 win over the Knights in the Class 1A Southern League final at Sunrise Mountain.
Both teams advance to the state tournament, which begins Friday at Durango.
"It was more than we had hoped from her," Pahranagat Valley coach Amy Huntsman said of Hanks. "We hoped for 10 or less, but we'll take 15 and the win."
The key for the Panthers (16-8) was keeping Hanks off of the free-throw line. Hanks, who entered the game averaging 21.1 points per game and shooting 79 percent from the line, took just six foul shots.
"That was a huge win for us because she is such a good free-throw shooter," Huntsman said. "She's one of the best in the state I would honestly guess, so to keep her off the line was a huge thing for us."
Pahranagat Valley also shot well Saturday, a contrast from their semifinal win over Beaver Dam on Friday, when the team team missed too many open looks.
Back-to-back 3-pointers by senior Shayla Leavitt to start the game got the Panthers going. Pahranagat Valley made seven 3-pointers in the game.
"I knew we had it in us," Huntsman said. "We just struggled last night at the beginning of the game. You just have to have confidence in your shots, and if you're a shooter you have to keep shooting."
Allyse Frehner led the Panthers with 16 points. Leavitt scored 11.
"It was good to see us finally hit some shots that we've been capable of all season," Huntsman said. "I would say that every kid that went in that game, and even the kids on the bench that helped us get ready, I would say they played their hearts out. I could not be prouder of them."
The Panthers will shoot for the program's 16th state title. Pahranagat Valley last won the crown in 2015.
"We need to be us. We need to be Panthers," said Huntsman. "We need to play our game and dictate the pace of the game and the momentum, and I'll think we'll be OK."
Hanks' 15 points led Round Mountain (15-7), which will make its third straight state tournament appearance and attempt to win its first state title.
Contact reporter Bill Slane at bslane@reviewjournal.com or 702-380-4559. Follow @bill_slane on Twitter.
Box score:
Pahranagat Valley 53, Round Mountain 31