1A Girls: Pahranagat Valley presses way to title
February 24, 2018 - 1:31 pm
Updated February 24, 2018 - 3:19 pm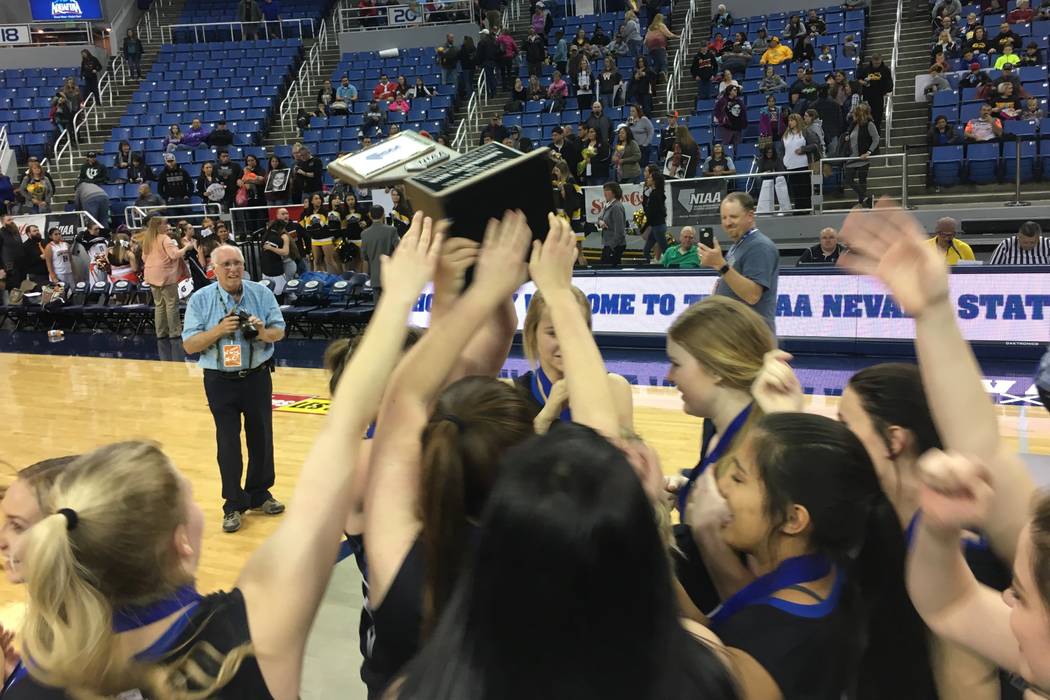 RENO — Pahranagat Valley coach Amy Huntsman wasn't sure the Panthers should use its full-court press against Wells on Saturday.
They did, and it was the right choice.
The Panthers forced 10 first-quarter turnovers to take control en route to a 58-43 win over the Leopards in the Class 1A girls state championship game at Lawlor Events Center.
"They've seen our press, so the question is 'Do you run it?'" Huntsman said. "It's worked for us all season, so we ran our press and got some turnovers."
Those early turnovers helped Pahranagat Valley (22-3) take the lead early, and the Panthers never trailed. They finished with 14 steals and forced 26 turnovers, turning them into 18 points.
"They're so fast," Huntsman said of her players. "When you have quick kids, you need to play to your strengths."
The Panthers were able to hang onto the lead without their best player. Southern League Most Valuable Player Karley Whipple sat for the final 5:53 after picking up a technical foul.
Senior guard Madison Williams handled the ball instead, and Williams finished with 11 points, five rebounds and three steals. She was 7-for-9 from the free-throw line in the fourth quarter.
"Madi Williams played the best game of her entire life," Huntsman said. "That's the best I've ever seen her play. I was so proud of Madi."
Wells (19-12) got as close as 39-33 after Samantha Stumpf hit the technical free throws with 5:53 to go.
But Morgan Harris rebounded a missed shot on the ensuing possession and went coast-to-coast for a layup to push the lead back to eight, and the Leopards wouldn't threaten again.
Harris had eight points, 14 rebounds and three steals, and Gracie Carter added seven points and eight rebounds for the Panthers. Whipple had 15 points, five assists and three steals before she picked up the technical.
Stumpf had 20 points to lead Wells.
It was Huntsman's 14th state championship, but the first since 2015.
"Weirdly I was more nervous yesterday," Huntsman said. "Today I just felt calm. It wasn't that I was confident and arrogant, it was more that I just felt like the girls were ready."
Box score:
Pahranagat Valley 58, Wells 43