3A GIRLS BASKETBALL: Fast start helps Moapa Valley down Virgin Valley
February 18, 2017 - 8:43 pm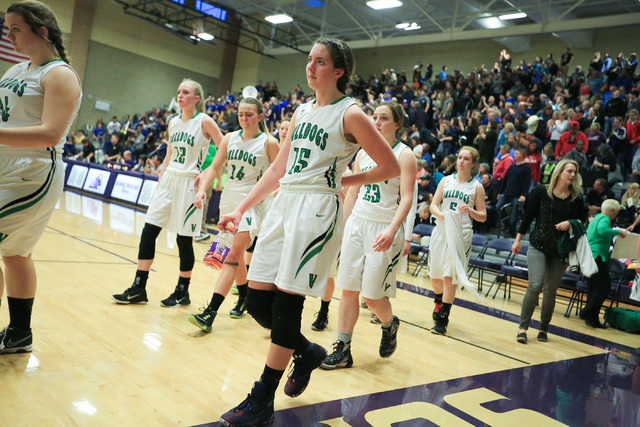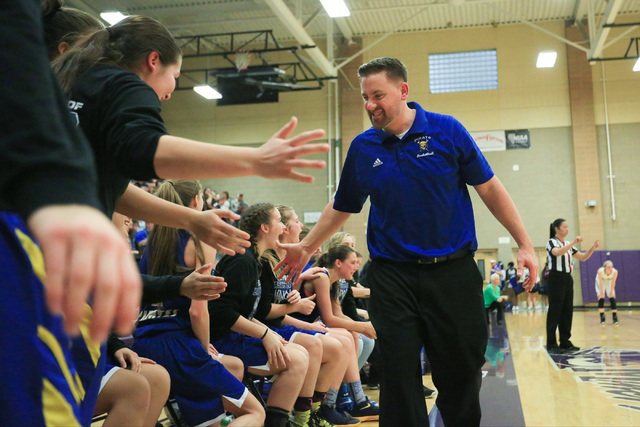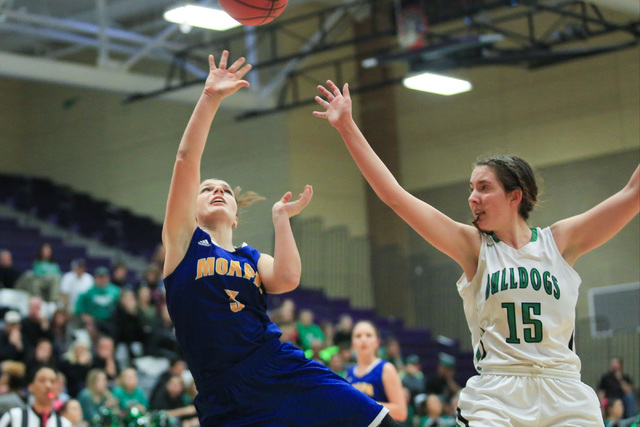 The Moapa Valley girls basketball team turned up the defensive pressure and ran a frenetic offense in the first half to win its first Class 3A Southern Region title since 2000.
Sophomore guard Lainey Cornwall scored 12 of her game-high 14 points in the first quarter, as Moapa Valley beat top-seeded Virgin Valley 47-33 on Saturday at Sunrise Mountain.
Both teams advance to the state tournament, which begins Friday at Cox Pavilion.
The Pirates (26-5), who lost twice to Virgin Valley during the regular season, closed out the first quarter on a 12-0 run to lead 19-8. And when Cornwall went to the bench with early foul trouble, senior Kinlee Marshall stepped up by scoring nine of her 13 points in the second quarter to push the Pirates lead to 32-20 at the end of the first half.
Freshman Kaitlyn Anderson finished with 10 points, nine rebounds and three steals.
"It feels really awesome," Marshall said through tears. "(Head coach Stuart Humes), he's been here with us for the past five years, and it's been so awesome and he's worked super hard. We just came out strong in the first half and we trusted each other."
Humes, who took over the Moapa Valley program in 2012, has seen the program steadily increase from three to four wins a season to winning 26 games, a region crown and qualifying for the state tournament.
"When I took over this job five years ago, we could barely win a game," an emotional Humes said. "We were used to getting killed by Virgin Valley by 30. Someone needed to take it over, and I felt like I was the right man for the job. It's been a four- to five-year process, but the girls bought in. … I couldn't be more proud of these girls."
While the Pirates offense set the pace, their zone defense seemed to confuse Virgin Valley (22-4), which was not able to utilize their size advantage inside.
The Pirates limited Virgin Valley's senior center Bernice Fiso to four points in the first half. She finished with nine points and six rebounds.
"We were more active in our zone," Humes said. "We were moving when the ball was in the air. We were getting deflections. We were moving on the backside a lot more because we knew that was (Fiso's) game. She loves to rebound on the backside.
"We just tried to put a body on her a little bit more. You can't really stop someone like that, but if you can neutralize her just a little bit and control the boards, then we had a chance."
The early pace took its toll on both teams in the second half, but the Pirates were able to extend their lead to 36-23 at the end of the third quarter.
The Bulldogs cut Moapa Valley's lead to 36-27 after two quick baskets to start the fourth quarter.
However, Anderson stopped their momentum when she stepped in front of a pass in the backcourt and converted a layup on the other end to push the lead back to double digits.
Emma Barnum scored 11 points to lead Virgin Valley, while Briana Todd added seven points and pulled down seven rebounds.
Box score:
Moapa Valley 47, Virgin Valley 33