3A GIRLS: Lowry's hot 3-point shooting too much for Moapa Valley in semifinals
February 24, 2017 - 7:21 pm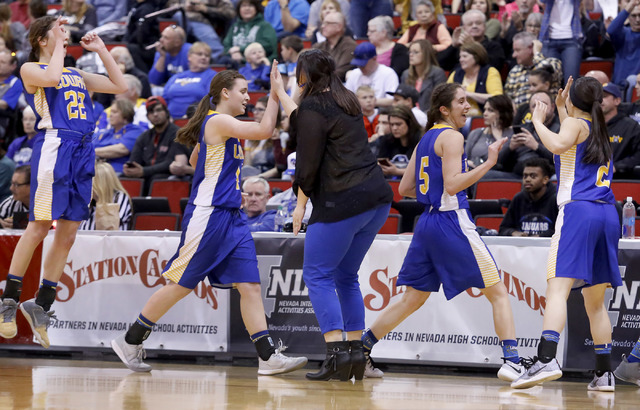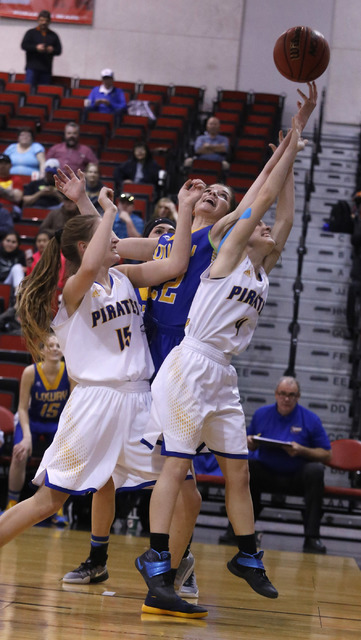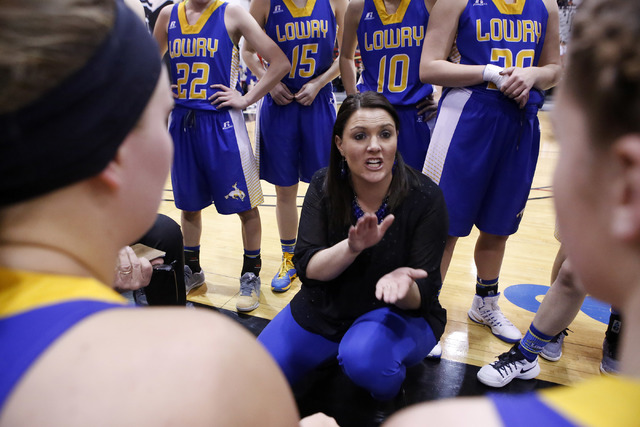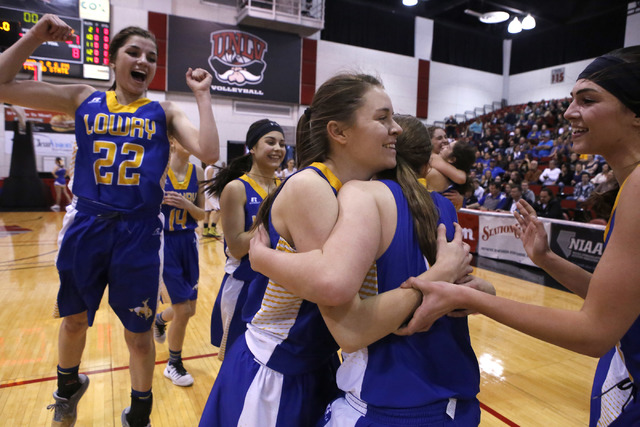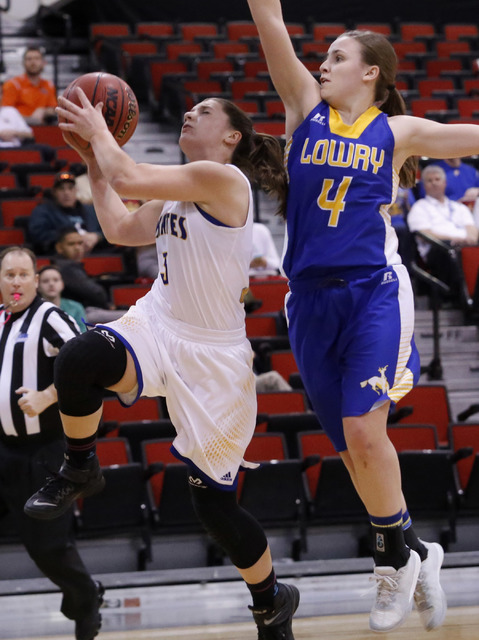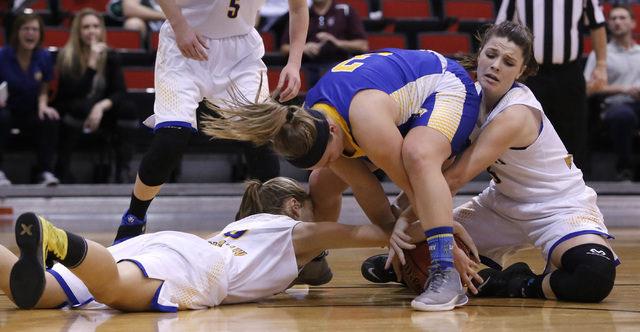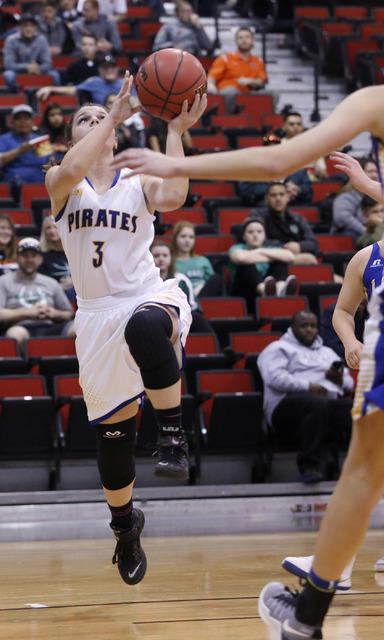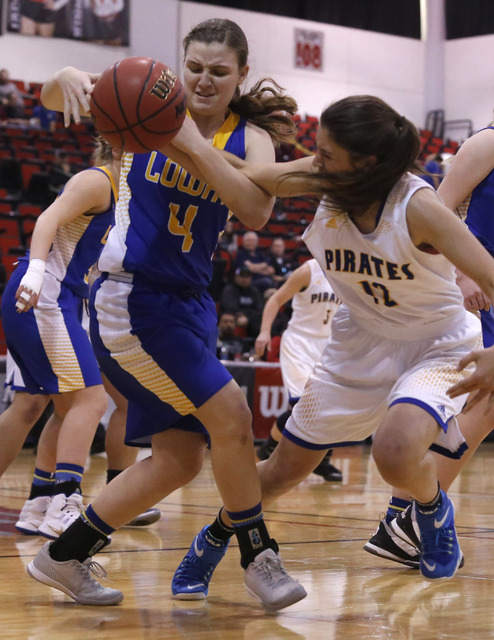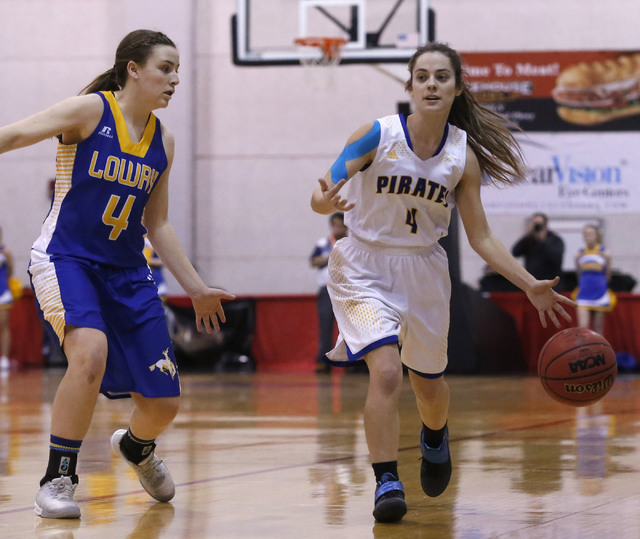 The girls basketball teams from Moapa Valley and Lowry share the same uniform colors (blue and gold) and even play a similar style.
The most glaring difference between them Friday was 3-point shooting.
The Pirates were unable to cool off Lowry's outside shooters in the second half and dropped a 61-42 decision in the semifinals of the Class 3A girls basketball state tournament at Cox Pavilion.
Lowry (24-4) takes on Churchill County in the final at 11 a.m. Saturday.
"I was very impressed with their execution, their willingness to find the open girl. We're very similar, I believe," Moapa Valley coach Stuart Humes said. "I just felt like they made a few more shots than we did down the stretch, and we just had a hard time recovering."
The Buckaroos went 10-for-15 overall from 3-point range and made 7 of 9 from behind the arc in the second half.
Sydney Connors led Lowry with 21 points, including five 3-pointers, and teammate Brooklyn Waller added 15 points on three 3-pointers.
The Pirates were 6-for-27 from 3-point range overall and struggled for long stretches offensively after Lowry switched to a 3-2 zone to open the third quarter.
Moapa Valley (26-6) trailed 40-29 entering the fourth quarter before making three straight 3-pointers. Kinlee Marshall drove the baseline and scored to cut Moapa Valley's deficit to 49-41 with 3:40 remaining in the fourth quarter.
But Connors made a 3-pointer, one of three she made in the fourth quarter, to ignite a 12-0 run that put the Buckaroos ahead by 20 points late.
"Any time you're playing from behind you can't trade baskets," Humes said. "One of my frustrations is I felt like we were trading too much. Our defense has always been our calling card, and I felt like we kind of fell asleep a little bit in their transition offense."
Lainey Cornwall finished with 14 points and four rebounds to lead Moapa Valley. Shelbi Walker came off the bench to provide 11 points, and Marshall added 10 points and seven rebounds.
Moapa Valley forced 16 first-half turnovers but was unable to take advantage and trailed 26-24 at halftime.
"We did everything we wanted to defensively, just the inability to finish some of those layups and some of those shots I think kind of rattled us a little bit," Humes said. "We're super excited for the season that we've had. Obviously we're disappointed with how it ended, but I couldn't be more proud of this group of girls."
Churchill County 52, Virgin Valley 40 — Bernice Fiso finished with 15 points, seven rebounds and two blocks in the Bulldogs' loss to the Greenwave in the other semifinal.
Virgin Valley (22-5) struggled to handle Churchill County's full-court pressure and committed 34 turnovers.
"Offensively, we were pretty much OK once we got the ball across," Virgin Valley coach Chimane Creer said. "We were working hard to execute some things, but we didn't do a very good job in the beginning."
The Bulldogs trailed 19-16 in the second quarter after a 3-pointer by Briana Todd, but Churchill County took advantage of several miscues to close on a 10-2 run and lead 29-18 at halftime.
The Greenwave (25-3) led by double digits the entire second half and were up by as many as 19 points late before Virgin Valley scored the game's final seven points.
Todd had eight points and five rebounds, and Nathalie Lagamayo added eight points for the Bulldogs.
Lagamayo had one of the few offensive highlights for Virgin Valley when she blocked a shot and went coast-to-coast before banking in a shot high off the glass to cut the Greenwave's lead to 44-30 midway through the fourth quarter.
"I think in the second half we came out with more intensity and tried to close the gap," Creer said. "We tried to get it to single digits, but we had to work really hard."
Leta Otuafi led Churchill County with 13 points and eight rebounds. Faith Cornmesser had 12 points and six rebounds, and Leilani Otuafi added 11 points and six boards for the Greenwave.
Box scores:
Churchill County 52, Virgin Valley 40