3A Girls: Mojave, Virgin Valley bow out of state playoffs
February 23, 2018 - 9:10 pm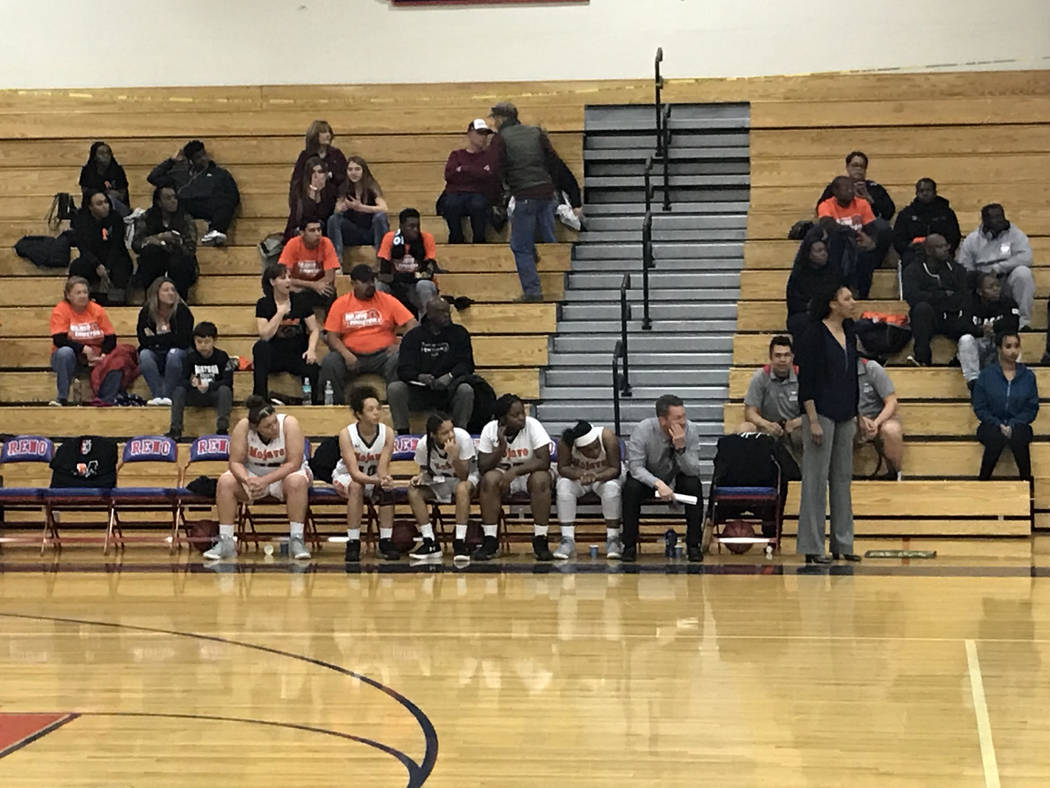 RENO — Mojave girls basketball coach Jessica Harrison plans on giving her players a couple weeks of rest to start their offseason.
Then it's back to the gym.
And maybe, just maybe, back to the Class 3A state girls basketball playoffs.
Mojave's first trip to state ended Friday afternoon with a 72-38 loss to Lowry at Reno High School. Savannah Blanchard-Davis made four 3-pointers and finished with 15 points to lead the Rattlers, who were visibly emotional as they walked off the court.
Yes, their season is over.
But they have a lot to be proud of.
"It means the world to me (to get here)," Mojave senior Kiara Lemon said. "I play with heart, and the (underclassmen) look up to me. I had to do what I had to do to get us here."
Lemon led the Rattlers (15-8) to a second-place finish in the Class 3A Sunset League and, in turn, their first playoff appearance since 2011.
They upset Moapa Valley in triple-overtime in the Southern Region semifinals to clinch the program's first state title appearance, then beat Virgin Valley to win their first region title.
But on Friday, they could't hang with the Buckaroos (17-9), who will play Churchill County (24-3) for the state championship Saturday.
Lowry generated quality 3-point opportunities by pushing the ball in transition, and made seven treys in the first half to secure a 35-13 halftime lead. Alyssa Kuskie made four more 3-pointers for the Buckaroos in the third quarter, and the Rattlers continued to struggle offensively.
Kuskie made seven 3-pointers and finished with a game-high 23 points. Sydney Connors added 16 points for the Buckaroos.
Robinson was pleased with Mojave's accomplishments this season, and said she hopes the returning players grow from the experience.
"We had a lot of adversity throughout the season," she said. "They've bounced back from everything that they've gone through."
Churchill County 52, Virgin Valley 19 — Virgin Valley's season is over after a decisive loss to Churchill County in Class 3A semifinal play Friday evening at Reno High School.
The Bulldogs (15-13) took a 4-0 lead two minutes into the first quarter, and struggled the rest of the game to manufacture quality offense against the Greenwave's man-to-man defense.
Nathalie Lagamayo led Virgin Valley with eight points.
Leilani Otuafi had a game-high 18 points for Churchill County.
Contact reporter Sam Gordon at sgordon@reviewjournal.com. Follow @BySamGordon on Twitter.
Box Scores:
Churchill County 53, Virgin Valley 19