4A GIRLS: Centennial devours Bishop Manogue to win state title
February 24, 2017 - 11:35 pm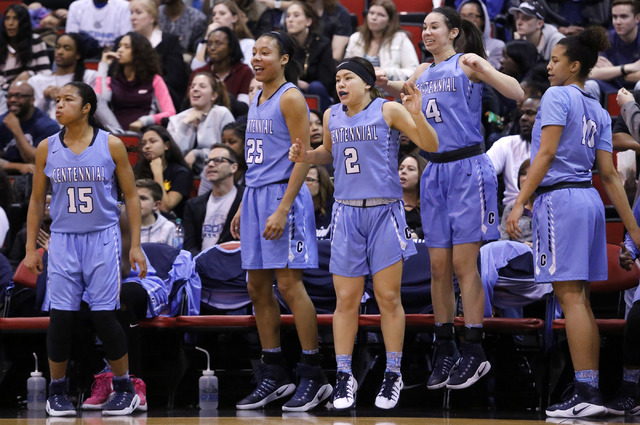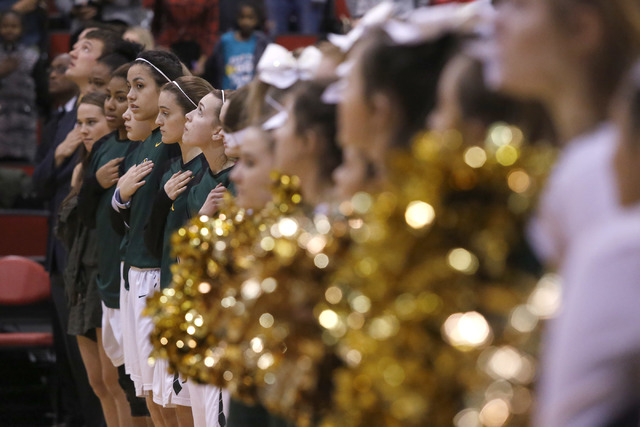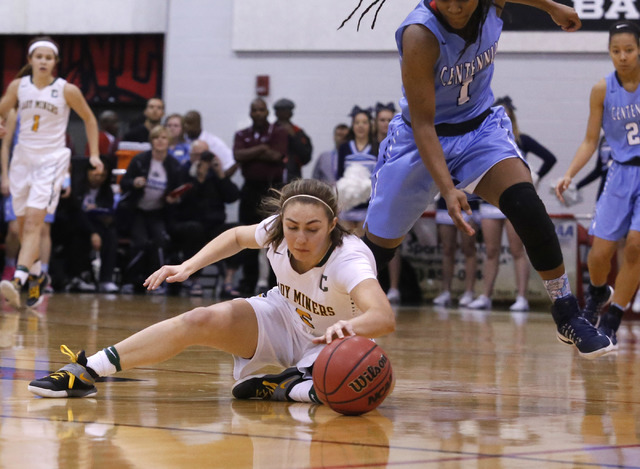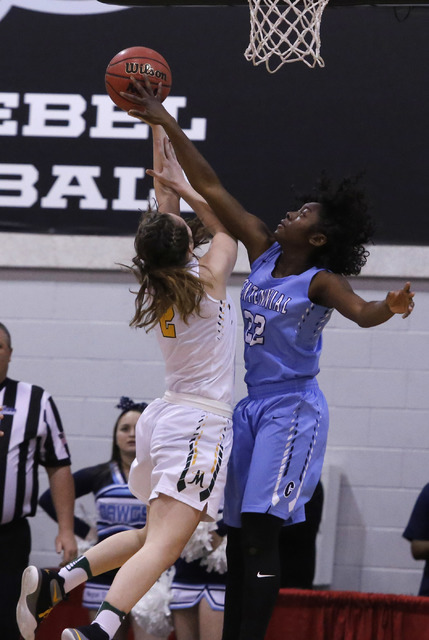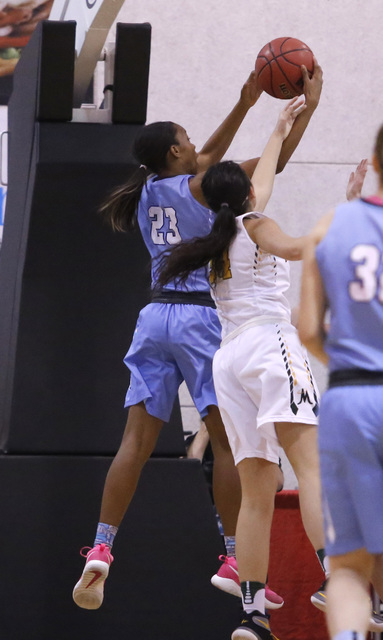 Centennial girls basketball coach Karen Weitz often laments the short attention span of today's youth.
"Kids," she likes to say, followed by a shake of her head.
But Weitz didn't have to worry whether the Bulldogs were focused Friday.
Centennial jumped on Bishop Manogue from the outset and capped its season in style with a record-setting 97-52 victory in the Class 4A state title game at Cox Pavilion.
Justice Ethridge scored 22 of her 24 points in the first half as the Bulldogs (31-2) won their third straight state title. They are expected to finish in the top five of every major national poll.
"We've had our ups and downs, because sometimes they think they know a little more than what they do when you have them for a long time," Weitz said. "Overall, they're just a good group of kids, and I'm just really, really proud of them and really happy for them to go out this way. This is the way they deserve to go out."
Samantha Thomas, an Arizona recruit, finished with 19 points, six rebounds, five assists and three steals for Centennial. Teammate Jayden Eggleston added 17 points and seven rebounds.
Centennial shot 61.7 percent (37-for-60), including a 12-for-20 effort from 3-point range.
The 97 points by the Bulldogs are the most in a girls state final, topping the previous mark set in 2004 when Centennial defeated Reed 90-59.
"This is one of the greatest teams we've ever had," Ethridge said. "We've really been waiting for this game just to show people who we are, because they don't really think we deserve to be where we're at."
Ethridge made six 3-pointers in the first half, including four in the second quarter. Her final 3-pointer capped a 15-4 run and helped the Bulldogs to a 54-26 halftime advantage.
"Justice is like a silent assassin. I say that all the time," Weitz said. "The girl has so many things in her arsenal, you don't even know. Shooting obviously is one of them."
Bishop Manogue (26-3), which shot 53 percent and made nine 3-pointers in the state semifinal game, struggled against the Bulldogs' swarming man-to-man defense.
The Miners made 15 of 56 shots and were held to their second-lowest point total this season.
Kenna Holt scored 12 points and Malia Holt 11 to lead Bishop Manogue.
"I thought the way we defended them tonight, the kids did a really good job," Weitz said. "Our defense is special. We've got some kids that can score, but we really honed in on defense."
Eboni Walker added 10 points and 12 rebounds and had four of Centennial's 11 blocks. Melanie Isbell made two early 3-pointers and finished with eight points, as 12 players scored for the Bulldogs.
Centennial's only losses this season came to nationally ranked Paul VI (Virginia) and Clovis West (California) in December. The Bulldogs, ranked No. 4 in the latest USA Today Super 25 poll, avenged the loss to Clovis West last month.
"It's nice to come out here and play your hardest and beat this team that was good," Thomas said. "We've always heard about them, how they had all the good players, and it was just good to come out here and show them we're the better team."
Contact reporter David Schoen at dschoen@reviewjournal.com or 702-387-5203. Follow @DavidSchoenLVRJ on Twitter.
Box score:
Centennial 97, Bishop Manogue 52