4A GIRLS: Reserve sparks Centennial in state semifinals
February 23, 2017 - 10:48 pm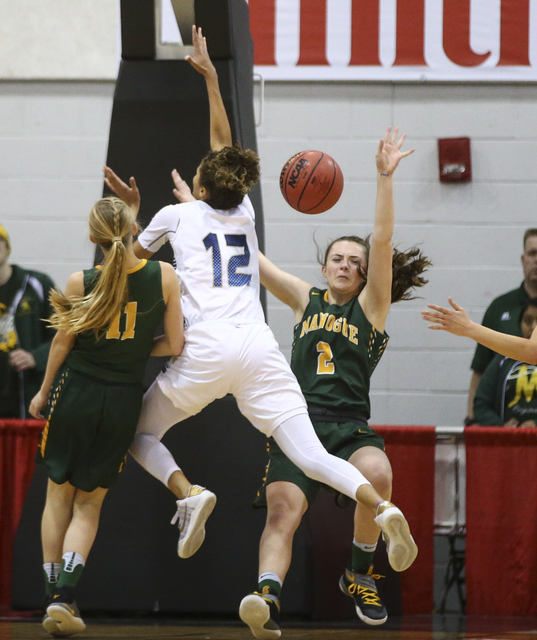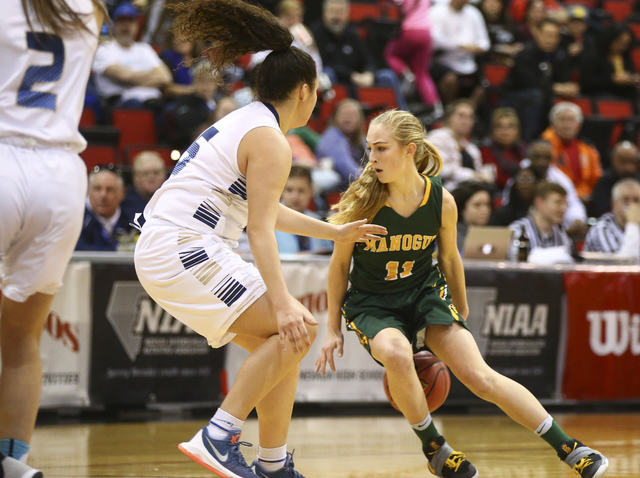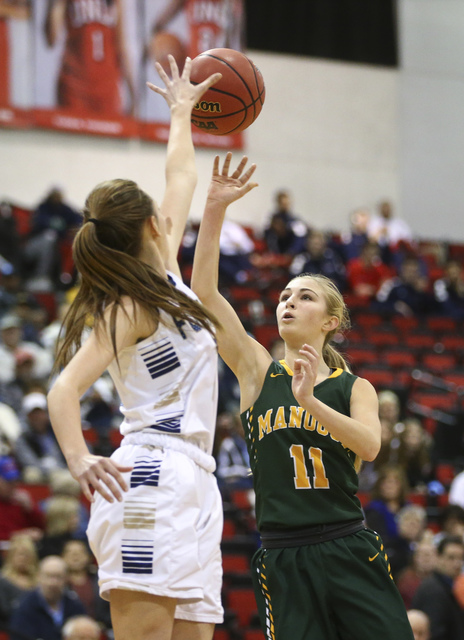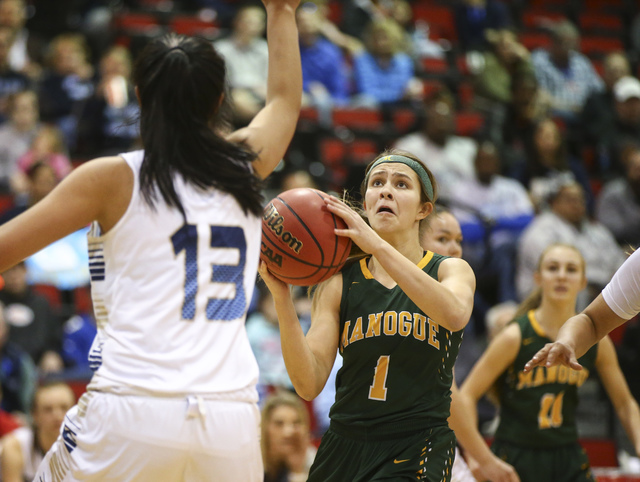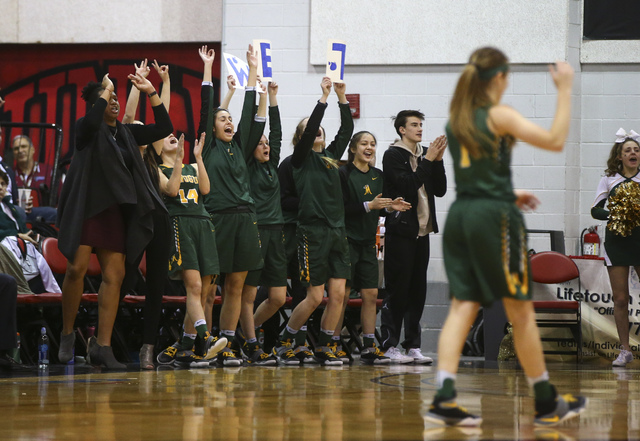 Not many prep girls basketball teams have the luxury of bringing a Division I signee off the bench.
That depth proved pivotal for Centennial on Thursday.
Reserve Jayden Eggleston finished with 23 points and six rebounds before leaving to a standing ovation from the Bulldogs' faithful, and Centennial wore down Liberty for a 76-51 victory in the Class 4A state semifinals at Cox Pavilion.
Centennial (30-2), seeking its third straight title and ninth overall, meets Bishop Manogue (26-2) in the championship game at 6:10 p.m. Friday at Cox Pavilion. The Miners defeated Foothill 74-37.
"Jayden has that instant-offensive mind," Centennial coach Karen Weitz said. "She was, by far, our rock tonight."
Justice Ethridge had 22 points with six 3-pointers, and Samantha Thomas added 13 points and 13 rebounds for the Bulldogs.
Eggleston, who signed with Iona, combined with Ethridge to ignite a 15-0 run in the second quarter that gave the Bulldogs a 32-24 halftime lead.
Eggleston came away with a steal while guarding Liberty standout Dre'una Edwards on the perimeter and converted a three-point play to give Centennial a 68-48 advantage with 3:02 to play before exiting to cheers.
Eggleston had 15 points in the second half and also helped hold Edwards scoreless in the fourth quarter.
"We started off kind of struggling," Eggleston said. "It's my job this year to come off the bench and give us that spark, and I was able to get us going. I want to go out with a state championship, and as a team we worked really hard to do that."
Edwards had 18 points and 12 rebounds for the Patriots (31-3), who were undone by 32 turnovers.
Liberty trailed 36-31 midway through the third quarter after Edwards beat a double team and found Amanda Pemberton for an easy basket before the Bulldogs started to pull away.
Ethridge's 3-pointer gave Centennial 48-36 lead with 2:08 left in the third quarter, and her 3-pointer capped a 10-2 run to open the fourth that put the Bulldogs on top 60-42.
Eboni Walker added 10 points and seven rebounds for Centennial.
"I think we're deep enough with the players that we have that I can shuffle through some people and at least find the right combos at times to get us going in the right direction," Weitz said. "I think we had some good runs here and there with the right combos on the floor."
Bishop Manogue 74, Foothill 37 — After struggling to contain Bishop Manogue's dribble-drive offense in the first half, Foothill ditched its man-to-man defense and started the third quarter in a zone.
It took all of 15 seconds for the Miners' Kenna Holt to knock down a wide-open 3-pointer.
Manogue made nine 3s and shot 53 percent from the field to breeze past the Falcons in the second semifinal at Cox Pavilion.
The game was played with a running clock for the final 11:45.
"Our girls gave it their all," Foothill coach Laura Allen said. "No one expected us to get here. I'm so proud of them."
Foothill struggled early against the Miners' full-court press and ended the first half with as many turnovers (21) as points, as it trailed 39-21 at the break.
Rae Burrell led the Falcons (19-9) with 19 points and eight rebounds but battled foul trouble most of the way. Burrell picked up her third foul midway through the second quarter with Foothill down 24-17, and Manogue closed the half on a 15-4 run.
Malia Holt finished with a game-high 25 points for Manogue, and Kenna Holt scored 20. Katie Turner added 16 points as the Miners advanced to the state final after losing in the state semifinals each of the past three seasons.
Manogue made 26 of 49 shots, including a 9-for-22 showing from behind the 3-point line.
"They're excellent shooters, dead-eye. You can't leave them open for a breath because they'll drill it," Allen said. "That offense is effective when you're that quick. They're tough to defend. Kudos to them."
Trinity Betoney scored eight points, and Kylie Vint had six points and seven rebounds for Foothill, which finished with 28 turnovers.
"I'm proud of our seniors," Allen said. "I've seen them since they were freshmen. They all came a long way with their development, their skills and their leadership."
Contact reporter David Schoen at dschoen@reviewjournal.com or 702-387-5203. Follow @DavidSchoenLVRJ on Twitter.
Box scores:
Bishop Manogue 74, Foothill 37