Bishop Gorman jumps to 15-0 lead, cruises past Foothill in play-in game
February 23, 2015 - 11:18 pm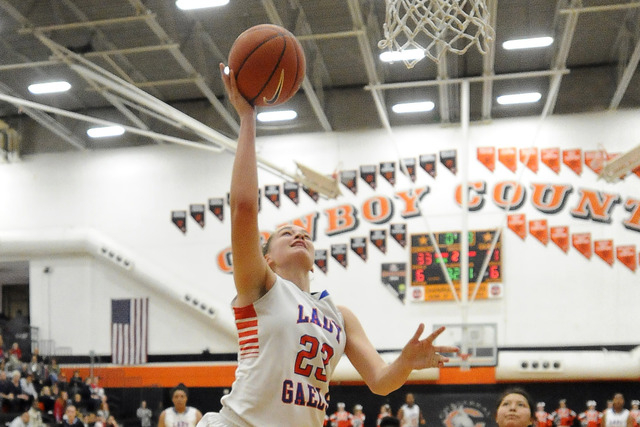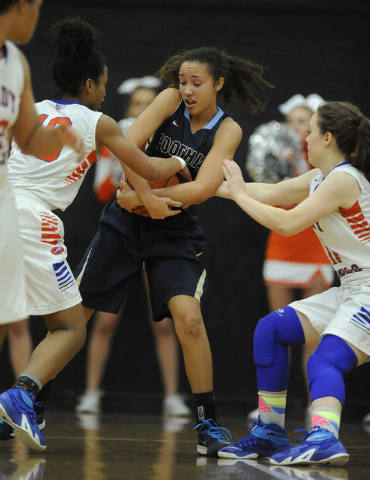 Veteran Bishop Gorman girls basketball coach Sheryl Krmpotich had good reason to be nervous Monday.
Her team was coming off a heartbreaking overtime loss to archrival Centennial on Friday and was playing on a day that hadn't been kind for most of the season.
The Gaels, though, showed no ill effects.
Gorman scored the first 15 points of the game and was never seriously threatened in a 68-47 win over Foothill in the Division I state play-in game at Chaparral. Gorman (23-5) will meet Liberty (25-3) in a state semifinal at 3 p.m. Thursday at Orleans Arena.
"It was an emotional game on Friday, and we just don't normally play well or practice well on Mondays," Krmpotich said. "But I thought we came out with fire and intensity. All cylinders were clicking, and we were all on the same page."
The Gaels came out of the gates strong, leading 15-0 when Raychel Stanley hit a short jumper in the paint with 2:37 left in the first quarter.
Foothill (21-9) missed its first nine shots and was just 2 of 25 from the field with 12 turnovers before Taylor Turney hit a long 3-pointer from the left wing with a minute left in the second quarter.
Megan Jacobs answered with a transition basket to give the Gaels a 35-11 halftime lead.
"We changed up our defense a little bit, but we didn't want to show too much," Krmpotich said. "We did an outstanding job on Taylor today. We knew Taylor was their catalyst."
Katey Roquemore drained five 3-pointers in the second half to try to rally the Falcons. Her fourth trey cut the lead to 54-42 with just less than five minutes to play, but it was as close as Foothill got as the Gaels used an 8-0 run to put away the game.
Madison Washington paced Gorman with 21 points. Skylar Jackson added 13 points and seven rebounds, five of those boards in the first quarter, and Jacobs and Stanley each scored 12 points.
Roquemore finished with 17 points, and Turney scored 13 for Foothill.
Contact reporter Bartt Davis at bdavis@reviewjournal.com or 702-387-5230.
Box score: