Centennial's Weitz remains dedicated after 500 wins
December 18, 2013 - 11:58 pm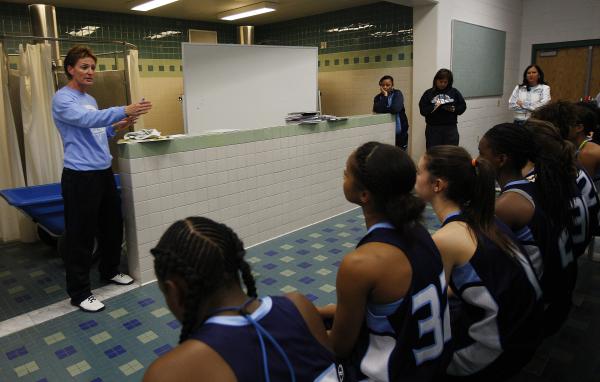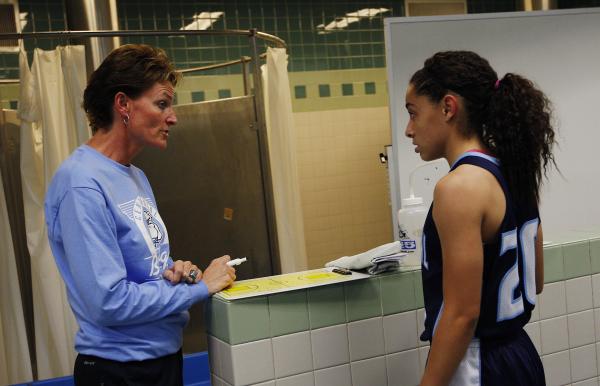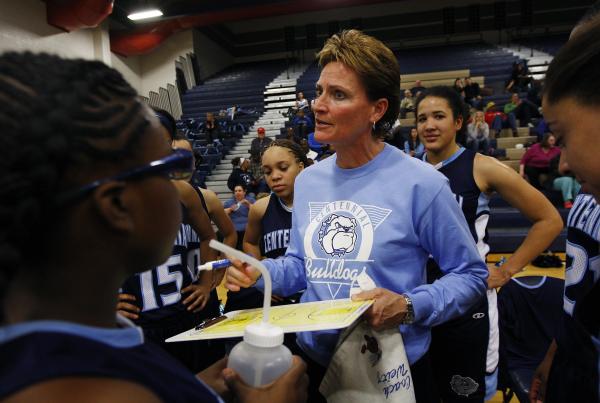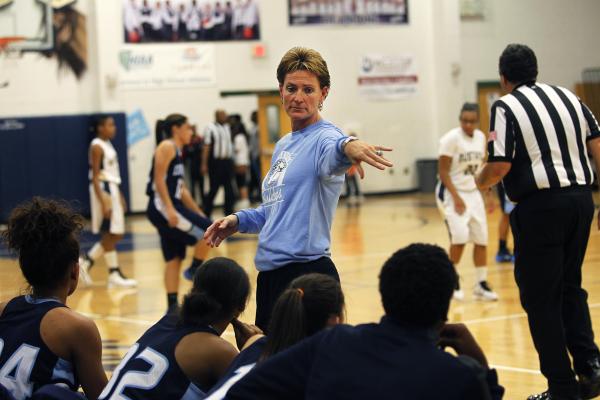 Karen Weitz had to be strongly persuaded to take her first basketball coaching job.
Twenty years and a lot of victories later, she's more than happy to be running practices and helping students grow as basketball players and people.
Weitz, 45, has won six state titles at Centennial and on Dec. 10 became the second girls high school basketball coach in state history to reach 500 victories.
"It doesn't seem like 500, I guess because I do enjoy what I do, and overall we've been fairly successful," said Weitz, who has a record of 503-67, trailing only former Elko coach Lynette Davis (563 wins). "That always helps that things are more fun."
But in 1993, when Weitz began her teaching career at Swainston Middle School, she didn't want to coach basketball. A two-sport star and member of the Hall of Fame at Scottsdale (Ariz.) Community College and a standout javelin thrower at UNLV, Weitz wanted to just teach.
"I didn't want to be the girls basketball coach," said Weitz, who admitted she enjoyed coaching once she started. "You're a first-year teacher. You're not thinking about coaching."
Two seasons later, she took over Cheyenne's girls basketball team and collected the first of her 503 wins. She hasn't looked back. After four seasons with the Desert Shields, she was convinced to move to Centennial, where she and top assistant Cassandra Adams started the program and turned it into a juggernaut.
"If I do something, I want to do it right, and I want to be the best at what I do," Weitz said. "You want to be the best teacher you can be. You want to be the best, I don't care what you do. If you mow your lawn, you want to have your lawn looking the best."
In 2002, Weitz led the Bulldogs to their first Class 4A state title, breaking Northern Nevada's 21-year stranglehold on the large-school state crown. She's 424-40 in 14 seasons with the Bulldogs despite taking a year off to coach at the University of the Pacific.
"When people come to Las Vegas, they know that Centennial is the place to go to watch girls basketball," Arbor View coach Donna Gentry said. "She has this refusal to lose. It's not even an option."
Other coaches might have as much basketball knowledge as Weitz, but few outwork her.
"She's just very dedicated to her craft," Centennial athletic director Mike Livreri said. "She takes it very seriously, and she knows how to get the most out of her players."
The most, indeed. The Bulldogs seemingly never have a down year, though last season Centennial, which had three NCAA Division I recruits on its roster, fell to Reno in the state semifinals. The Bulldogs finished 26-5 last season.
"When you get a win against them, you know you earned it," said Karen Friel, who had more than 300 wins at Galena. "If you have a team that you think can compete, you want to play them to know where you stand."
Of all the victories, the six in state championship games stand out the most to Weitz.
In an office almost overflowing with trophies, six large team photos hang on the wall behind her desk.
"Those have some memories," Weitz said. "The state titles, I like for the kids. It's all about the kids."
It's a side of Weitz that many don't see. During games, she's intense. Yelling at players or officials is common as she strides along the sideline.
The Bulldogs routinely rout opposing teams, something that hasn't made Weitz popular among fans or some other coaches, and she'll still implore her team to play harder and smarter.
"When I was in seventh grade and I was watching, I was like I don't know (if I wanted to play for Weitz), but when I came here, it made me better," Centennial senior Teirra Hicks said. "She's not just a coach. She helps me with school, life, home, anything I need help with, she's there. She's like another parent.
"I don't think people notice how big her heart is. It's huge. When she stops yelling at me and stops getting on my case, it would be like she doesn't care. When she's talking to me and worried about me, it makes me feel special."
Hicks will play at UC Irvine next year. She'll be the 16th Division I player to come from the Bulldogs' program.
Future college star or not, Weitz demands hard work from every player. And she's thrilled when they succeed.
"I love all my kids," Weitz said. "People don't see how much I show them that I care, because you can't do that during a game. I love to see the kids win. Just to see them win state championships is awesome, even regional championships.
"And when they get their scholarships probably even means a lot more. That's a great gift in itself."