Curtain closing on sister act
January 13, 2016 - 10:23 pm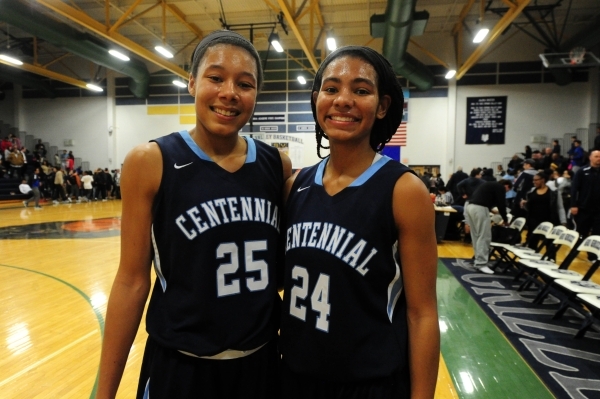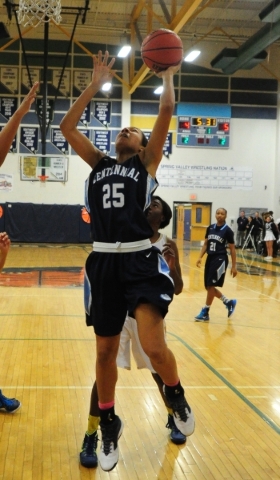 Bailey Thomas has a lot to think about these days, what with basketball season going on and college to prepare for.
It completely slipped her mind that her time playing with sister Samantha is starting to wind down.
"I think we were so distracted with all our state championship and national championship goals that I need to step back and take some time to appreciate this could be my last year playing with my sister," Bailey Thomas said.
The Thomas sisters, who transferred last year to Centennial from Marian High in Bloomfield Hills, Mich., have played basketball together for nearly a decade.
With Bailey Thomas, a senior guard, and Samantha Thomas, a junior forward, added to a group that claimed last season's Division I state title, the Bulldogs have gone from a regional power to one of the top girls basketball teams in the nation.
Centennial (16-1) is ranked No. 7 in the latest USA Today Super 25 national poll.
"It's just amazing how good of kids they are, academically, personality-wise," Bulldogs coach Karen Weitz said. "I knew after coaching them after the first 10 to 15 minutes … that we'd hit the jackpot with them, and just what a great addition they'd be and willing to fit in."
The Thomas sisters hail from an athletic family. Their grandfather Emmitt Thomas is a member of the Pro Football Hall of Fame, and their father, Derek, was an assistant men's basketball coach at UNLV under Charlie Spoonhour from 2001 to 2003.
Derek Thomas also was the head coach at Western Illinois from 2003 to 2008 and was an assistant at Detroit until resigning in 2012.
During their time in Michigan, Bailey and Samantha Thomas helped lead Marian to back-to-back large-school state titles. When Derek Thomas accepted a coaching position with the Las Vegas Prospects boys travel basketball program in April, the family relocated to the valley.
"It's been really nice," Samantha Thomas said. "The transition was really easy because we're always around each other and everyone is just pushing each other to do our best. And no one treated us like the new kids. Everyone was pretty welcoming."
Bailey Thomas is averaging 7.9 points in 16 games as part of a balanced offense for the Bulldogs. The 5-foot-9-inch West Virginia signee played point guard for most of her high school career before moving off the ball this season for Centennial.
She made seven 3-pointers and had 25 points in the Bulldogs' 89-49 victory over defending Division I-A state champion Spring Valley last week.
"I think it's really helping me for college to develop more parts of my game," Bailey Thomas said. "I think it's going to help me be more well-rounded."
Samantha Thomas is a matchup nightmare for opposing teams, as the 6-foot wing has a soft shooting touch out to the 3-point line and can score down low. She is averaging 14.6 points and is a three-star prospect in the class of 2017, according to ESPN's Hoop Gurlz's rankings.
"I see myself as versatile. Wherever coach needs me to be, that's what I'm going to do," Samantha Thomas said. "I like to do the dirty work, like get in there and get rebounds, go against everybody. But this year, she's transitioning me into becoming a shooter and a driver."
Weitz, who praised the sisters' basketball IQ and work ethic, said she requested to be placed in the top bracket at last month's Nike Tournament of Champions, and the Bulldogs went 3-1. Their only loss came to Riverdale Baptist (Tenn.), which is ranked No. 2 by USA Today.
Centennial already owns a convincing 91-56 victory over Reno, the Northern Region favorite — Samantha Thomas got the better of her matchup with reigning state player of the year Mallory McGwire, as she had 31 points and six rebounds in the win — and the Bulldogs have had a running clock in 11 of their 17 games this season.
Centennial's next big test comes Feb. 5 against Mater Dei (Calif.) before its inevitable matchup with Bishop Gorman in the Sunset Region tournament.
"A lot of the players we had coming back were good players, but I think Sam and Bailey have also elevated their games, because they've come in, they've provided that competition," Weitz said. "They've fought and they've earned and worked themselves into starting spots, so, therefore, maybe people that started last year or had more minutes last year have really had to elevate and pick up their game, which I think in turn has made our whole team better."
— Contact reporter David Schoen at dschoen@reviewjournal.com or 702-387-5203. Follow him on Twitter: @DavidSchoenLVRJ