'D' keys Pioneers' rout at Cheyenne
December 3, 2015 - 12:07 am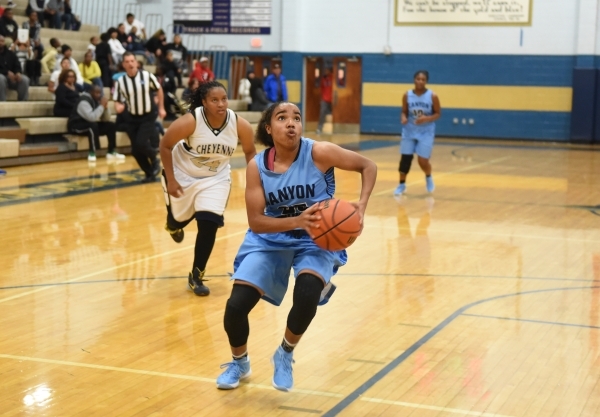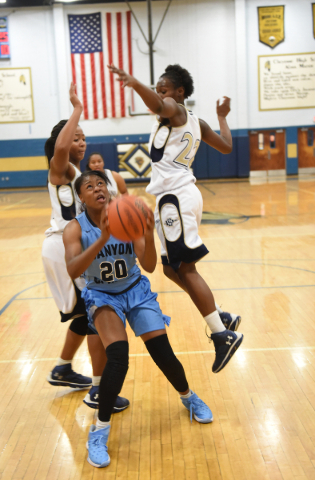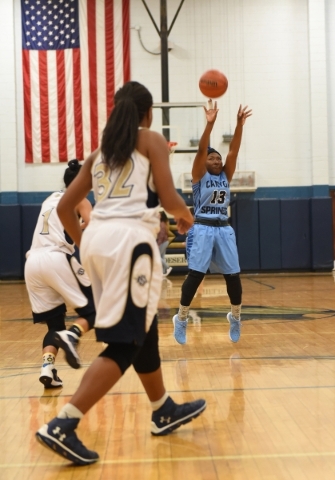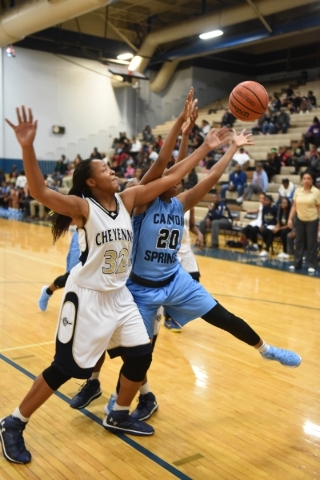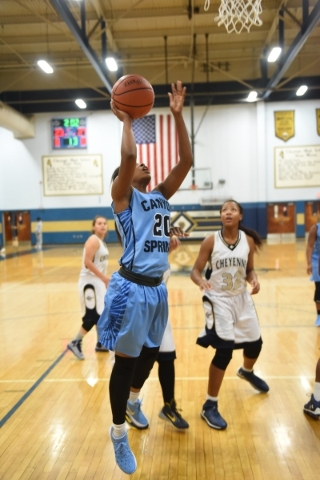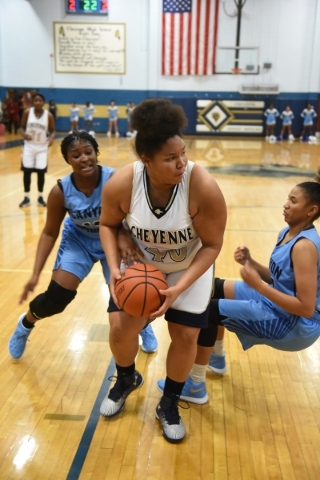 Chris Walker's coaching debut for the Canyon Springs girls basketball team got off to a rocky start Wednesday, as his team was assessed two administrative technical fouls in the first quarter for illegal substitution.
But once the dust settled and all of his players were accounted for in the scorer's book, it became a rout for his defensive-minded Pioneers.
Using stingy full-court pressure, the Pioneers forced 32 turnovers and had 25 steals in their 68-41 win over host Cheyenne.
"I'm proud of the way they played," said Walker, who previously coached at Valley and Cimarron-Memorial. "Our whole team played well. Right now we don't have our rotations set since it's the first game, so we're trying to figure things out. It was a good team effort."
Canyon Springs (1-0) got its first technical foul with 3 minutes, 42 seconds, left in the first quarter after Haja Graham's name did not appear on the roster, and was hit with a follow-up at the 1:55 mark because of an incorrect jersey number.
The miscues briefly kept the Desert Shields (0-2) in the game; the Pioneers led only 14-13 after the first quarter.
Canyon Springs settled down in the second quarter and used its full-court defense to create turnovers and set up fast-break points.
The Pioneers grabbed their first double-digit lead with 1:27 to go in the half and led 38-25 at the break. It was a sign for things to come.
"We made some in-game adjustments," Walker said. "We don't want to make adjustments based on what they're doing. We want to try and dictate what we're doing."
And they did that with their defense.
D'Licya Feaster led the way for Canyon Springs with 14 points, seven rebounds, seven steals and three assists.
Alexia Thrower added 13 points, nine rebounds and five steals, and Aleza Bella scored 10 for the Pioneers, who led 55-35 after three quarters.
"We have athletes and we want to use that to our advantage," Walker said. "We're not a team that wants to sit back and play zone (defense). We want to pressure other teams and make them have to make adjustments. And hopefully we get easy buckets."
Walker could rest easily in the fourth quarter. He subbed out his starters for good with 5:49 to go, allowing 10 of his players to get on the scoreboard.
That's something he hopes will become routine.
"We're just going to continue working hard and challenging the girls," Walker said. "We have a talented roster. We're trying to give them some structure and treat them well, and hopefully that translates to a winning season."
Ejanae Coopwood led Cheyenne (0-2) with 12 points, 10 rebounds and three blocks.
Koreyl Godbolt and Alexcia Weatherly added 10 points apiece for the Desert Shields, who shot 15-for-47 (31.9 percent) from the free-throw line and only scored four field goals in the second half.
Contact reporter Ashton Ferguson at aferguson@reviewjournal.com or 702-383-0430. Follow him on Twitter: @af_ferguson
Box score:
Canyon Springs 68, Cheyenne 41