Defense keys Spring Valley win over Gorman
January 16, 2019 - 7:50 pm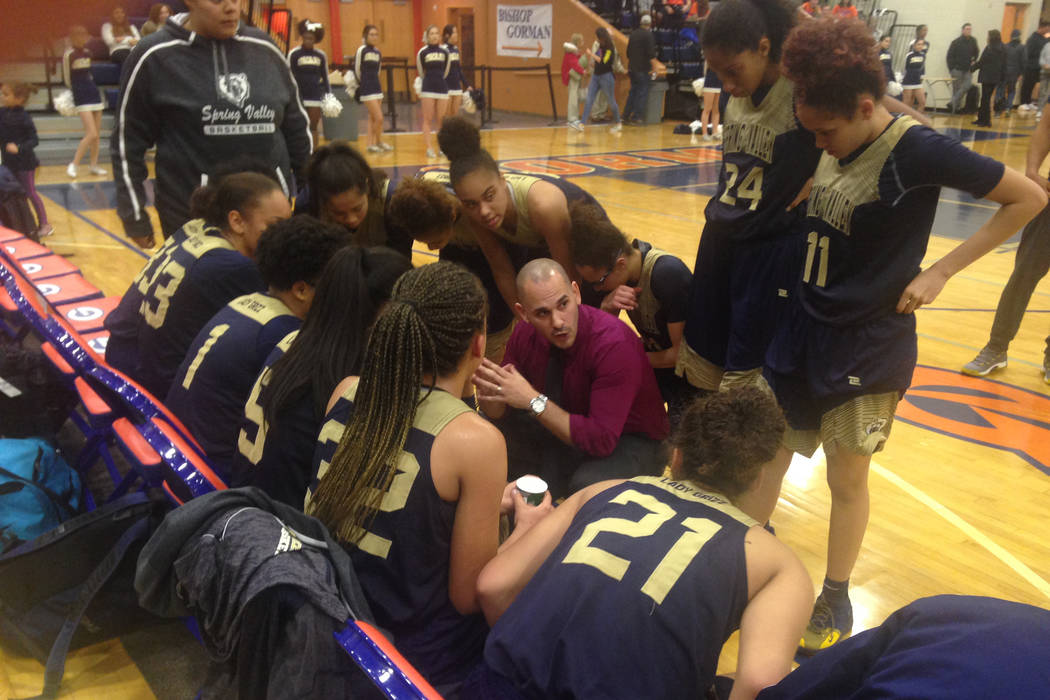 For a little more than five minutes at the start of the second half Wednesday, Spring Valley's girls basketball team couldn't get out of its own way on offense.
Fortunately for the Grizzlies, their defense never took a break.
Despite a scoreless stretch of more than five minutes in the third quarter, Spring Valley still cruised to a 60-42 win at Bishop Gorman, keeping the Grizzlies alive in the race for the Southwest League title.
"I've coached a lot of really good teams. This was the most locked in that I've seen a team," Spring Valley coach Billy Hemberger said. "I felt like we just played all on the same page. They were just so dialed in."
The Grizzlies' aggressive defense forced Gorman into 25 turnovers and held the Gaels to 17-for-45 shooting (37.8 percent). Spring Valley (14-5, 5-2 Southwest) scored 22 points off of Gorman turnovers.
Spring Valley also attacked well on offense in the first half, scoring nine of its 10 first-half baskets in the paint, and making 16 of 18 free throws to grab a 37-27 halftime lead.
"It all starts on the defensive end," Hemberger said. "We talked about coming out strong and not waiting for things to happen. We wanted to dictate the tempo, and I thought we did a really good job of that."
But the Grizzlies had trouble when Gorman (13-3, 6-1) switched to a zone defense to start the second half. Spring Valley missed its first seven shots, went 0-for-4 from the free-throw line and had three turnovers before Deja McDonald's left-wing 3-pointer with 2:49 left in the quarter broke the drought.
Gorman, though, couldn't take advantage of the Spring Valley scoreless stretch, scoring three points on 1-for-10 shooting in the third quarter.
Garrisen Freeman scored 16 points to lead Spring Valley, which moved to within a game of Gorman and Desert Oasis for first place in the Southwest. Alexus Quaadman added 14 points and 14 rebounds, and Aaliyah Gayles scored 11 for the Grizzlies. Freeman and Gayles did not play when the Gaels defeated Spring Valley in the teams' Southwest League opener.
"Our bench has done a really good job of weathering the storm," Hemberger said. "Our best basketball is still ahead of us. At the end of the day, I wouldn't want to play us (in the postseason)."
Georgia Ohiaeri led Gorman with 11 points.
Box score:
Spring Valley 60, Bishop Gorman 42