DIVISION I GIRLS: Gorman defense stifles Liberty
February 26, 2015 - 10:36 pm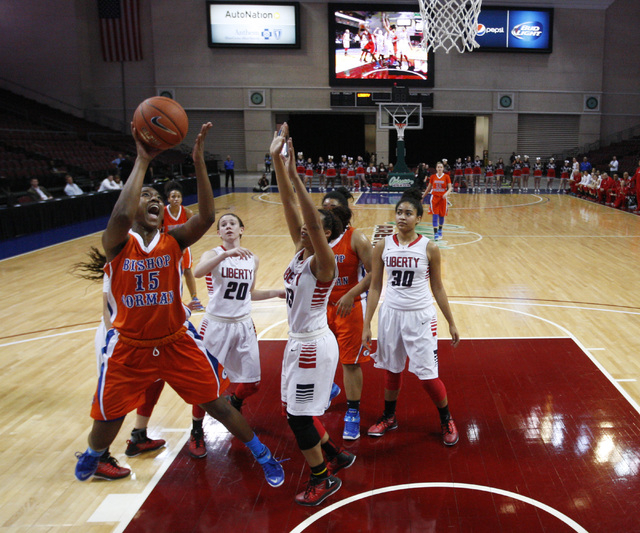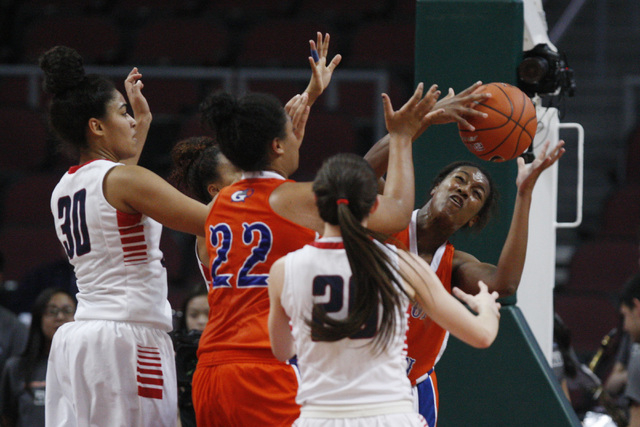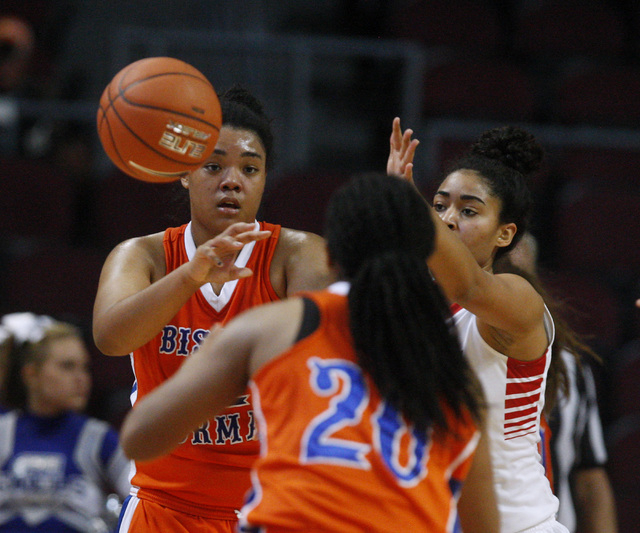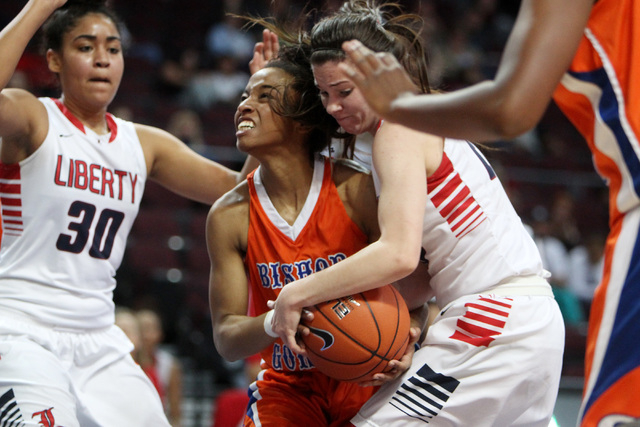 Bishop Gorman girls basketball coach Sheryl Krmpotich didn't think 39 points would be enough to win a state semifinal game.
Raychel Stanley and her teammates proved their veteran coach wrong Thursday.
Stanley, a 6-foot-2-inch post, poured in 22 points, including a go-ahead three-point play with 1:21 left in the game, and the Gaels played tremendous defense en route to a 39-35 win over Liberty in a Division I state semifinal at Orleans Arena.
Gorman (24-5) will face Centennial (30-2) in the state final at 6:10 p.m. Friday.
"Never. Not even close," Krmpotich said. "But we settled down and we got some composure. Our posts played really well, and we always want to get our posts going. It's hard to defend when you have two bigs playing well."
The Gaels led by as many as seven points in the third quarter before the Patriots rallied and took a 32-31 lead on three free throws by Kaily Kaimikaua with 3:09 to play.
After the teams traded baskets, Madison Washington fed Stanley in the low post. Caught out of rotation on defense, Kaimikaua fouled Stanley, who made the basket and the free throw to give the Gaels the lead for good.
"I knew I had to finish," Stanley said. "I knew I had to get a big bucket for my team."
Said Liberty coach Chad Kapanui: "She was the x-factor in the game. She had a great game."
Liberty (25-4) struggled all game to shoot in an arena atmosphere as opposed to a normal high school gym.
In the final 1:10, the Patriots missed two shots, including a 3-pointer, and went just 1 of 4 from the free-throw line before throwing a wild pass out of bounds with eight seconds left, effectively ending the game.
Liberty was just 13 of 49 from the field (26.5 percent), including 1 of 12 on 3-pointers.
"Gorman played a great defense against us," Kapanui said. "They played really hard. It just seemed like the ball didn't fall on our side."
During one stretch of the first, second and third quarters, the Patriots made just 1 of 18 shots from the field.
Gorman also did a fantastic job challenging shots by Paris Strawther and Kealy Brown, the Patriots' two leading scorers. Strawther, who averages 14.6 points per game, was held to eight. Brown, who averages 13.6 ppg, scored just five.
"Our defense was key. We tried to disrupt what they do well," Krmpotich said. "We were ready for them."
Stanley finished 10 of 12 from the field and had eight rebounds. Washington added eight points and 10 rebounds for the Gaels.
"It's a great feeling especially because we lost to them at South Point (in January)," Stanley said. "We never gave up. We're ready to win."
Aubre Fortner added eight points for Liberty.
Contact reporter Bartt Davis at bdavis@reviewjournal.com or 702-387-5230.
Box score: