DIVISION I GIRLS HONORS: Arbor View junior repeats as MVP
February 26, 2014 - 9:38 pm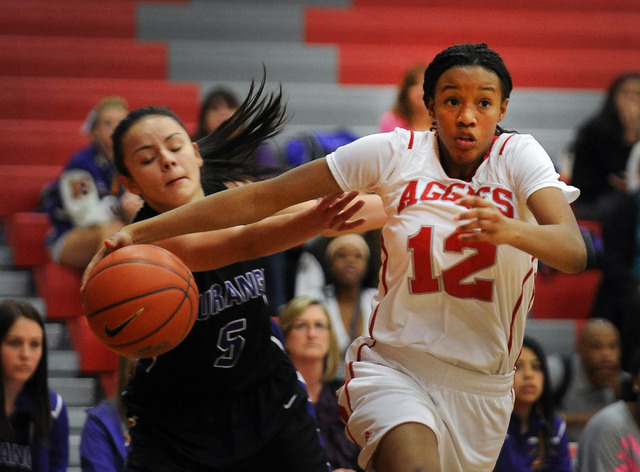 For at least some of her sophomore basketball season, Arbor View's Ariona Gill was able to fly under the radar as opponents got their first glimpse of the talented wing.
But after earning Northwest League Most Valuable Player honors last season, Gill didn't have the luxury of anonymity this year.
It didn't matter.
Despite seeing some gimmick defenses designed to stop her, Gill still thrived and collected her second straight league MVP honor.
"It's just her natural talent," Arbor View coach Donna Gentry said. "She's so quick. She has great floor vision and good instincts."
Gill, a 5-foot-10-inch junior, helped the Aggies to a 20-9 record, their second straight league title and the team's first postseason victory. She averaged 13.3 points and 4.0 rebounds.
"She wasn't a surprise to other teams," Gentry said. "She saw some box-and-ones, and teams keyed on her. It's difficult to still have that success, but she's such a good kid, such a humble kid. She understands when she plays well and when she doesn't."
Gill anticipates well defensively and averaged a team-best 2.7 steals, which sparked Arbor View's transition game, but she also has a good outside shot. She made 24 of 76 3-point attempts (32 percent).
The Aggies lose four seniors to graduation, but Gill and seven others are expected to return to chase another league title and a deeper postseason run.
"She's going to continue to mature and grow as a basketball player," Gentry said. "She has a lot of ability, and she understands the game."
Arbor View's Dana Lewis and Janae Strode were named to the All-Northwest first team, along with Palo Verde's Brooklyn Cruz and Paulina Silcox and Durango's Jazmin Chavez. Durango's Bill Thompson was the league's coach of the year.
Centennial's Teirra Hicks earned MVP honors in the Southwest. Bishop Gorman's Raychel Stanley and Maddison Washington joined Legacy's Carolina Rahkonen, Bonanza's Tanganika Hunt and Centennial's Tramina Jordan on the first team. Bonanza's Dan Savage was the coach of the year.
Canyon Springs' Cherise Beynon was the Northeast's MVP. Valley's Kennedy Wharton and Gabrielle Cabanero were named to the first team, along with Green Valley's Maggie Manwarren, Canyon Springs' Alexia Thrower and Rancho's LaKissa Martin. Canyon Springs' Dorothy Kendrick was the coach of the year.
Liberty's Paris Strawther was the Southeast's MVP. Foothill's Taylor Turney and Kelsey McFarland joined Basic's Jayla Brown, Liberty's Kealy Brown and Coronado's Dajah Washington on the first team. Foothill's Eric Kruger was the coach of the year.
Contact reporter Bartt Davis at bdavis@reviewjournal.com or 702-387-5230.