Gator Winter Classic: Essence Booker scores 28 to lift Spring Valley past Liberty in title game
December 30, 2017 - 9:44 pm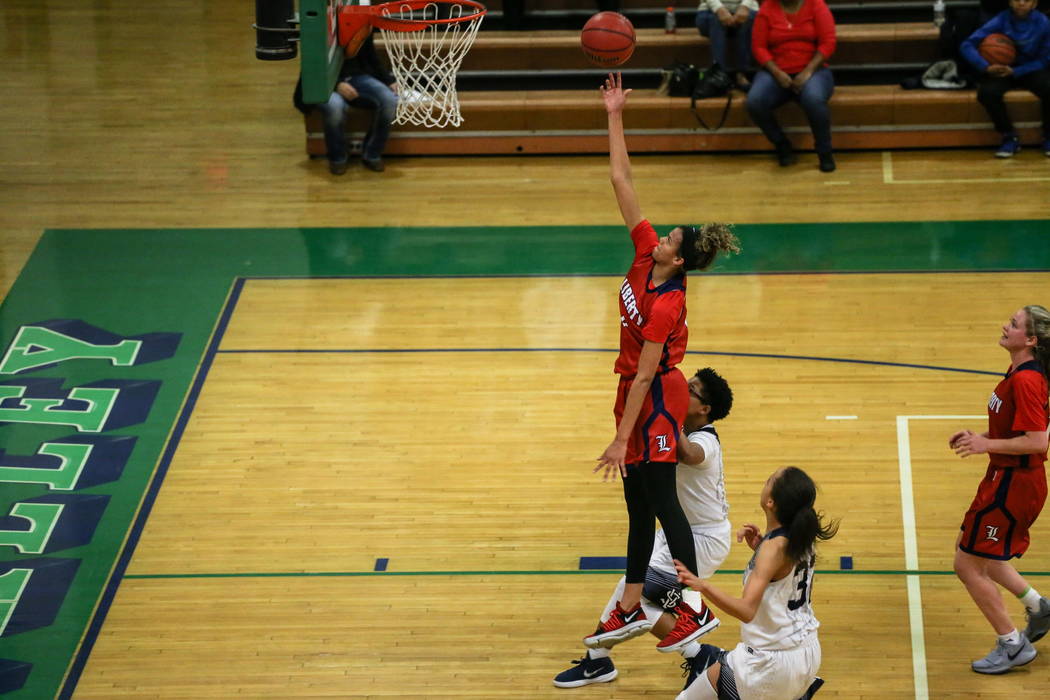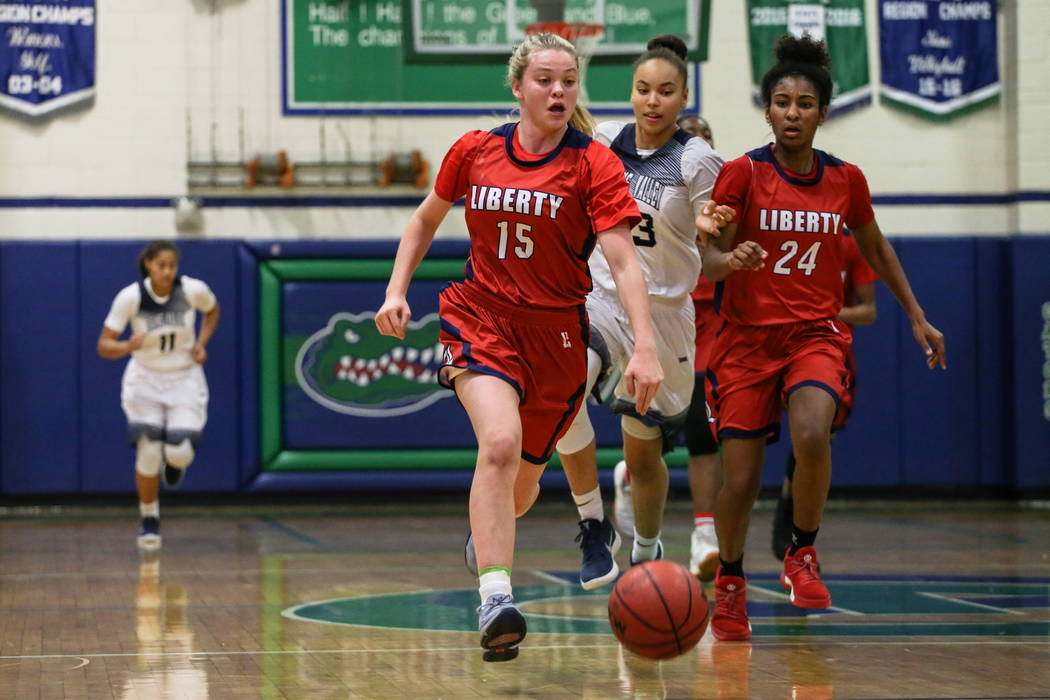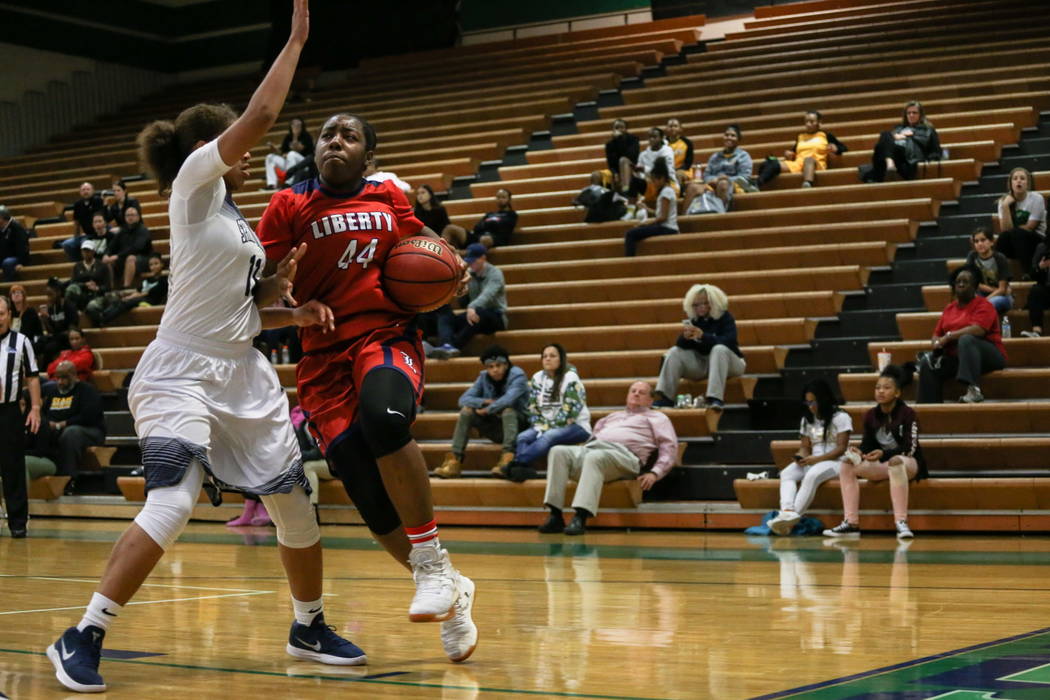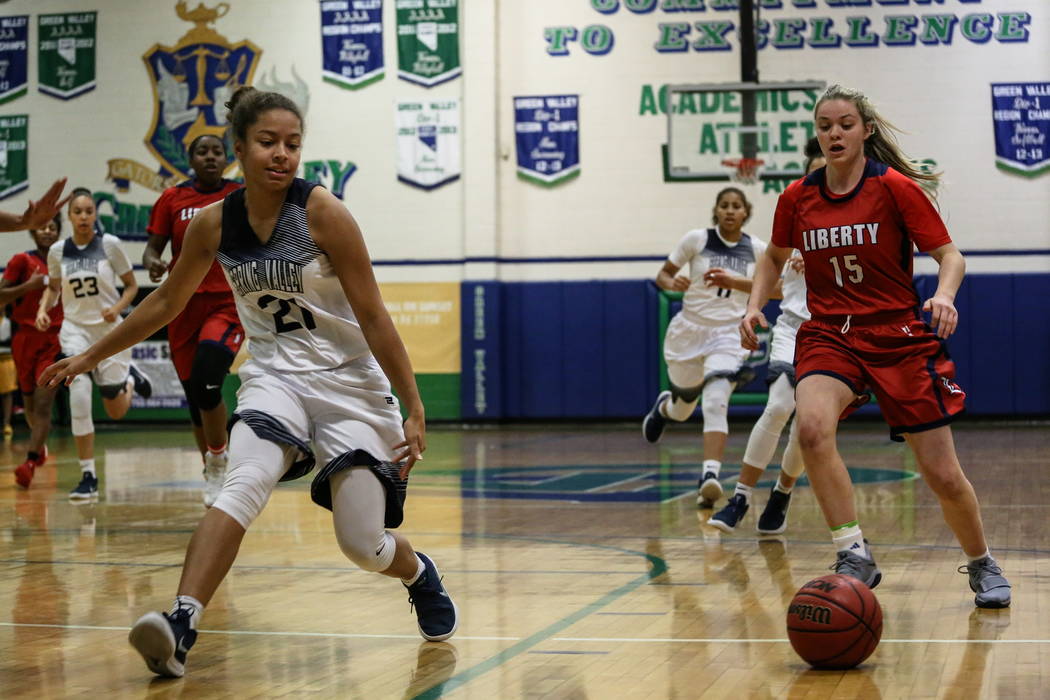 Yes, Spring Valley girls basketball coach Billy Hemberger was impressed with how Grizzlies senior Essence Booker scored 28 points against No. 2 Liberty on Saturday night.
But he was more impressed by junior Ella Zanders, who stepped in front of one of the state's best players to take a charge in the final seconds.
After all, her play won the third-ranked Grizzlies (13-2) the game. And the Gator Winter Classic.
Booker made two free throws with 13 seconds left, and Zanders stood her ground in the middle of the lane on the ensuing possession to draw an offensive foul by Patriots superstar Dre'una Edwards. Those plays clinched a 67-65 victory for Spring Valley in the diamond division title game at Green Valley.
"We know what it means," Hemberger said after celebrating alongside the Grizzlies. "We know what it means for the city, having the No. 2, No. 3 teams in the state (square off). It's exciting."
Spring Valley steamrolled its first five opponents in the tournament to set up a marquee matchup against Liberty (14-1), which won the Tarkanian Classic last week and features Edwards, a Utah signee, and Tennessee recruit Rae Burrell.
Booker outshined both of the Patriots stars in the early going, though, and scored 12 points in the first quarter to give the Grizzlies a 21-13 lead.
But the Patriots shifted to a 2-3 zone, quelling Spring Valley's offense, and Edwards began attacking the basket to set up a dramatic finish.
Booker made consecutive 3-pointers late in the fourth quarter to propel the Grizzlies to a nine-point advantage — one that Edwards single-handedly erased with three steals and nine straight point, tying the game at 65 with 20 seconds to play.
Booker's free throws gave Spring Valley the lead for good, and Zanders was bowled over a few seconds later by Edwards, who finished with 25 points, 10 rebounds and seven blocks.
"I'm glad we met Liberty in the championship. … We'll see them in January," Booker said. "We're only going to get better."
San Leandro (Calif.) 54, Cimarron-Memorial 46 — Elise Young scored 29 points for the Spartans in their loss to the Pirates in the gold division championship.
Amoura Whitney added 11 points for Cimarron, which was 8 of 17 from the free-throw line.
Tovale Tupouata had 12 points for San Leandro.
Clark 54, Rancho 41 — Marieka Dent and Julia Reid scored 13 points apiece to guide the Chargers to the silver division championship over the Rams.
Coraly Dupree added 11 points for Clark.
Kyndal Ricks scored 18 for the Rams.
Liberty 66, Rolling Hills (Calif.) 47 — London Pavlica scored a game-high 19 points to lift the Patriots past the Huskies in the diamond division semifinals.
Trinity Vasquez had 14 points Liberty, which led 32-21 at the break.
Macy Pakele led Rolling Hills with 17 points.
Spring Valley 78, Flagstaff (Ariz.) 42 — Essence Booker paced the Lady Grizzlies with 20 points in a win over the Eagles in diamond division semifinal play.
Alexus Quaadman had 12 points for Spring Valley, which held a 47-27 halftime lead.
Monique Ware had 13 points for Flagstaff.
Cimarron-Memorial 67, Moapa Valley 49 — Tasia Moore posted a game-high 23 points to help the Spartans beat the Pirates in the gold division semifinals.
No other player had more than eight points for Cimarron, which led 30-21 at halftime.
Lainey Cornwall had 17 points for Moapa Valley.
Rancho 55, Chaparral 46 — Kyndal Ricks had 17 points, and Saipress Jones scored 15 to lead the Rams over the Cowboys in silver division semifinal play.
Lea Williams added 13 points for Rancho, which led 30-26 at the intermission.
Riahana Davis led Chaparral with 22 points.
Clark 50, Fountain Valley (Calif.) 43 — Julia Reid led the charge with 18 points as the Chargers dispatched of the Barons in silver division semifinal competition.
Marieka Dent added 12 points for Clark, which outscored Fountain Valley 33-26 in the second half.
Tiffany Shimizu had 11 points for the Barons.
Fernley, 56, Valley 43 — Jeuzel Pollins' 26 points weren't enough to help the Vikings overcome the Vaqueros in the bronze division semifinals.
No other Valley player had more than seven points.
Celeste Condie led Fernley with 16 points.
Yerington 36, Las Vegas 34 — The Wildcats missed 10 of their 18 free-throw attempts in their loss to the Lions in the bronze division semifinals.
Xeda Regala, Aria Maigue and Arianna Pinelo each scored seven points to lead Las Vegas.
Jayla Tolliver led Yerington with 11 points.
Contact reporter Sam Gordon at sgordon@reviewjournal.com. Follow @BySamGordon on Twitter.
Box Scores:
San Leandro, 54, Cimarron-Memorial 46
Spring Valley 78, Flagstaff 42
Cimarron-Memorial 67, Moapa Valley 49