GIRLS BASKETBALL: Dre'una Edwards leads Liberty past Desert Oasis at Tarkanian Classic
December 20, 2016 - 12:08 am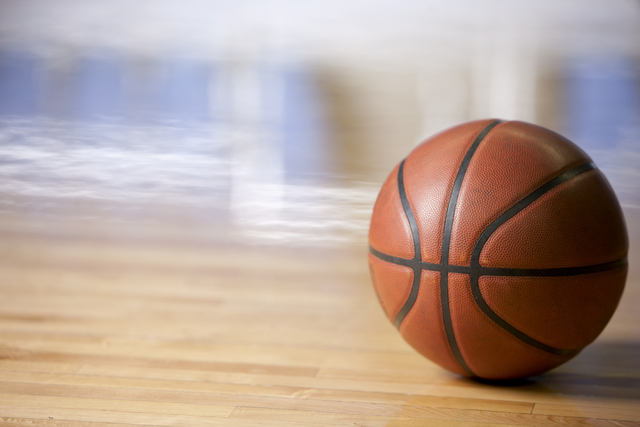 When Dre'una Edwards plays well, Liberty High's girls basketball team usually wins. Fortunately for Patriots coach Chad Kapanui, his standout forward tends to put up big numbers on a consistent basis.
Edwards racked up 21 points, 16 rebounds and four steals Monday to help Liberty defeat Desert Oasis 59-45 in the Tarkanian Classic at Durango.
"She's one of those special kids," Kapanui said. "She's a playmaker. It really helps to have a player like that on the court."
Edwards took control early, nabbing 10 first-half rebounds to help the Patriots make the most of a 28-16 advantage on the boards. Her free throw with 7:53 left in the half started a 21-4 Liberty scoring spurt, and her 3-pointer from the left corner made it 32-17 at the 1:52 mark.
But the Diamondbacks battled back in the second half, controlling the boards early and using a 10-1 run to cut their deficit 37-27 with 13:03 to go. Mikala Kirby's 3-point bank shot from the top of the key helped Desert Oasis cut the margin to 47-38 midway through the half, forcing Liberty to call a series of timeouts.
"The one thing I knew about them is that they were a scrappy team and they stay in games," Kapanui said. "We had a 19-point lead at halftime, but I told my players that Desert Oasis stays in games. They did, but we held our own."
Kapanui's third timeout in the series came at the 5:02 mark and helped ignite a 9-0 run that extended Liberty's lead to 58-40 with 2:29 remaining.
Celine Quintino helped Liberty with 16 points, and teammate Amanda Pemberton added five points, eight rebounds and four steals.
Kirby finished with 16 points, five rebounds and two steals to lead Desert Oasis.
Windward (Calif.) 68, Bishop Gorman 48 — At Orleans Arena, Georgia Ohiaeri and Caira Young each finished with 14 points in the Gaels' loss to the Wildcats in the semifinals of the Tarkanian Classic.
Skylar Jackson added 11 points for Gorman, which lost for the first time after opening the season with 10 consecutive victories.
Gorman will take on Putnam City West (Oklahoma) in the third-place game at 2:20 p.m. Tuesday at Durango.
Charisma Osborne scored 18 of her 28 points in the first half to help Windward take a 36-20 lead at the break. The guard was the California state freshman of the year last season.
Kaiyah Corona had 13 points for the Wildcats, who will meet Campbell County (Wyoming) in the final.
Spring Valley 58, Mount Miguel 56 — At Durango, Alyssa Scott scored 15 points to help the Grizzlies edge the Matadors in the Tarkanian Classic.
Essence Booker added 12 points for Spring Valley.
Camara Douglas led Mount Miguel with 26 points.
Coronado 48, HB Academy (New Zealand) 35 — At Durango, Haley Tyrell had 22 points, four rebounds and five steals to lead the Cougars to victory in the Tarkanian Classic.
Coronado's Talia Sapp added 10 points.
Billie Paramore led HB Academy with 12 points.
Durango 34, Desert Pines 25 — At Durango, Analiyah Matthews scored 19 points to help the Trailblazers roll past the Jaguars in the Tarkanian Classic.
Laila Loring added eight points for Durango, which led 18-7 at halftime.
See'Airrah Evans-Collins scored 13 points to lead Desert Pines.
Western 39, Durango 37 — At Durango, Ja'Moni Brown scored 21 points to help the Warriors hold off the Trailblazers in the Tarkanian Classic.
Americus Normand added 11 points for Western, which led 22-9 at halftime before withstanding a second-half rally by Durango.
Analiyah Matthews scored 11 points for the Trailblazers, and teammate Dar'Juanah Harris added 10 points.
Mullen (Colo.) 54, Green Valley 24 — At Durango, Whitney Jacob scored 22 points to help the Mustangs cruise past the Gators in the Tarkanian Classic.
Julia Clark scored eight points to lead Green Valley, which was held to seven points in the second half.
Calexico (Calif.) 40, Silverado 22 — At Durango, Monique Carrasco scored 12 points, and the Bulldogs used a balanced attack to defeat the Skyhawks in the Tarkanian Classic.
Sidni Wise-Wright scored 12 points to lead Silverado, which trailed 27-10 at halftime.
Silverado 2, South Gate (Calif.) 0 — At Durango, the Skyhawks won by forfeit in the Tarkanian Classic.
Mt. Eden (Calif.) 33, Canyon Springs 22 — At Basic, the Monarchs defeated the Pioneers in the Lady Wolves Holiday Classic.
Yemiyah Morris led Canyon Springs with seven points.
Centennial 73, Riverdale Baptist (Md.) 37 — At Phoenix, the Bulldogs led 32-5 after one quarter and rolled to the win in the Tournament of Champions.
Justice Ethridge led Centennial with 18 points and six rebounds. Eboni Walker added 12 points and 12 rebounds, Aja Phoumiphat had 12 points, and Samantha Thomas scored 10 for Centennial.
The game was played as an exhibition after Riverdale Baptist's opponent was unable to travel to Arizona. Centennial received a bye in the opening round and will take on Clovis West (California) in the winner's bracket on Tuesday.
Shadow Ridge 58, Brethren Christian 13 — At Mountain View, Caitlyn Covington and Amberley Justice led a balanced attack with nine points each as the Mustangs routed the Warriors in the Vegas Invitational.
Mackenzie Swanson and Alexa Martins added eight points apiece for Shadow Ridge, which led 32-9 at the half.
Layton Christian (Utah) 49, Bonanza 21 — At Mountain View, Danyale Thomas had 14 points as the Eagles downed the Bengals in the Vegas Invitational.
Kerianne Reilly and Madie Gonzalez each had six points for Bonanza.
Needles 52, Clark 33 — At Mountain View, Jayne Antone had 17 points to lead the Mustangs by the Chargers in the Vegas Invitational.
Paige Murch added 15 points for Needles, which led 13-1 after one quarter.
Adia Williams paced Clark with 15 points.
El Rancho (Calif.) 62, Agassi Prep 27 — At Mountain View, Brittany Corona scored 16 points as the Dons pulled away from the Stars in the Vegas Invitational.
Sharmayne Finley had nine points for Agassi Prep, which trailed 32-16 at the half.
Selma (Calif.) 60, Mountain View 15 — At Mountain View, Tayah De'Bouck had a team-high nine points in the Saints' loss to the Bears in the Vegas Invitational.
Clarrissa Moreno led Selma with 18 points.
Rachel Vieira added 10 points for the Bears, who extended a 35-10 halftime lead with a 19-1 run in the third quarter.
Box scores:
Calexico (Calif.) 40, Silverado 22
Coronado 48, HB Academy (New Zealand) 35
El Rancho (Calif.) 62, Agassi Prep 27
Layton Christian (Utah) 49, Bonanza 21
Mt. Eden (Calif.) 33, Canyon Springs 22
Mullen (Colo.) 54, Green Valley 24
Selma (Calif.) 60, Mountain View 15
Shadow Ridge 58, Brethren Christian (Calif.) 13
Spring Valley 58, Mount Miguel (Calif.) 56
Windward (Calif.) 68, Bishop Gorman 48