LADY WOLVES TOURNEY: Desert Pines finds way in low-scoring victory
December 23, 2014 - 10:54 pm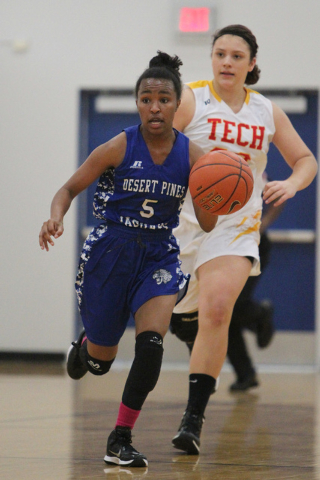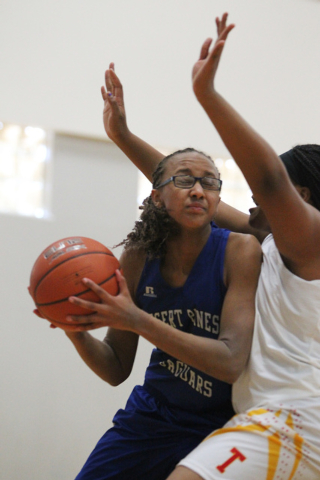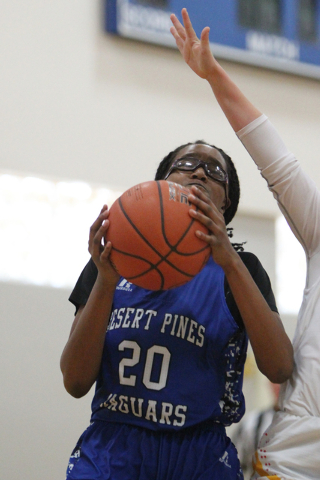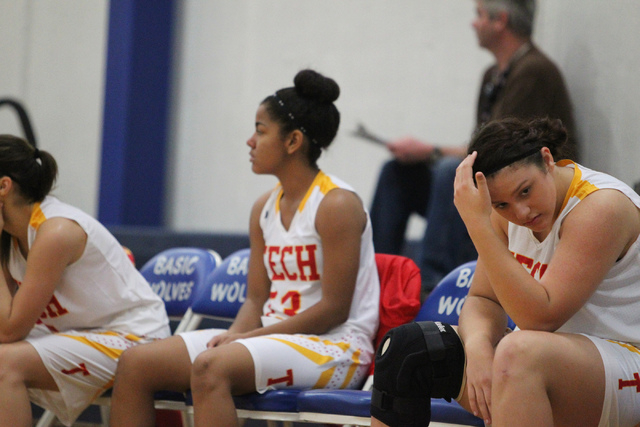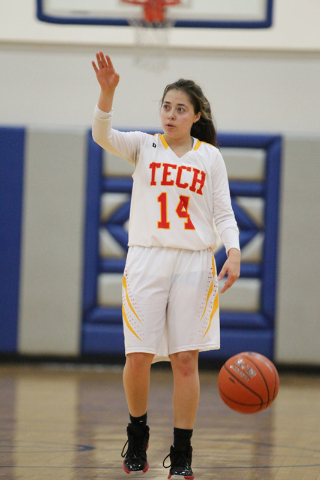 Anyone curious as to how Desert Pines and Tech wound up playing in a consolation game of the Lady Wolves Holiday Tournament on Tuesday needed only to witness the first quarter.
Neither of the young, inexperienced squads managed to score in the quarter, exemplifying the troubles that landed them in the auxiliary gym.
But Chrystian Myles eventually awoke and carried her team with six points, eight rebounds and seven steals to lead the Jaguars to a 20-7 victory over the Roadrunners in the final day of the tournament at Basic.
Desert Pines coach Lonnie Cambell, whose squad finished 1-3 in the tourney, said he wasn't concerned about the final score.
"Winning and losing doesn't matter," said Cambell, who guided the Jaguars to the Division I-A state tournament last year. "This is a learning experience. We came here to play hard and get some experience."
Both teams had countless opportunities to score in the first quarter, but neither did.
Leslie Williams finally made a free throw with 7:46 left in the second quarter to give Tech a 1-0 advantage. It was the Roadrunners' only lead and Williams' only point.
Desert Pines answered with nine consecutive points and led 9-3 at halftime.
"I think there were a lot of nerves in that first quarter," Cambell said. "We just weren't focused mentally. But after that, we relaxed more and started executing."
Brianna Fitzgerald nailed a pair of quick layups to open the third quarter for the Jaguars, and teammate See'Airrah Evans-Collins had a layup and a free throw early in the fourth to help Desert Pines pull away.
"There were positives," said Cambell, whose team finished with 49 rebounds and 16 steals while forcing 26 Roadrunners turnovers. "It was a good job for the girls to pull out a win. I'm focused on making them hungry to win."
Patrice Thomas, one of two Roadrunners to score, put four of her six points on the board in the third quarter. She also finished with seven rebounds for Tech, which again went scoreless in the final period.
Evans-Collins added five points, 12 rebounds and five steals for Desert Pines.
Mt. Eden (Calif.) 45, Legacy 25 — In the third-place game, Aiyanna Gallegos scored 16 points to help the Monarchs defeat the Longhorns.
Dani Livingston scored eight points to lead Legacy, which was unable to overcome a 29-13 halftime deficit.
Arbor View 54, Basic 26 — In the fifth-place game, Ariona Gill had 13 points and 12 rebounds to help the Aggies cruise past the Wolves.
Janae Strode added 13 points, eight rebounds and four steals for Arbor View, which held a 66-36 rebounding edge despite playing the bench throughout most of the second half.
Dana Deloney had 12 points, five rebounds and three steals to lead Basic, which trailed 33-11 at halftime.
Box scores:
Mt. Eden (Calif.) 45, Legacy 25