Las Vegas Holiday Classic: Justice Ethridge steals show to help Centennial win title
December 29, 2017 - 7:17 pm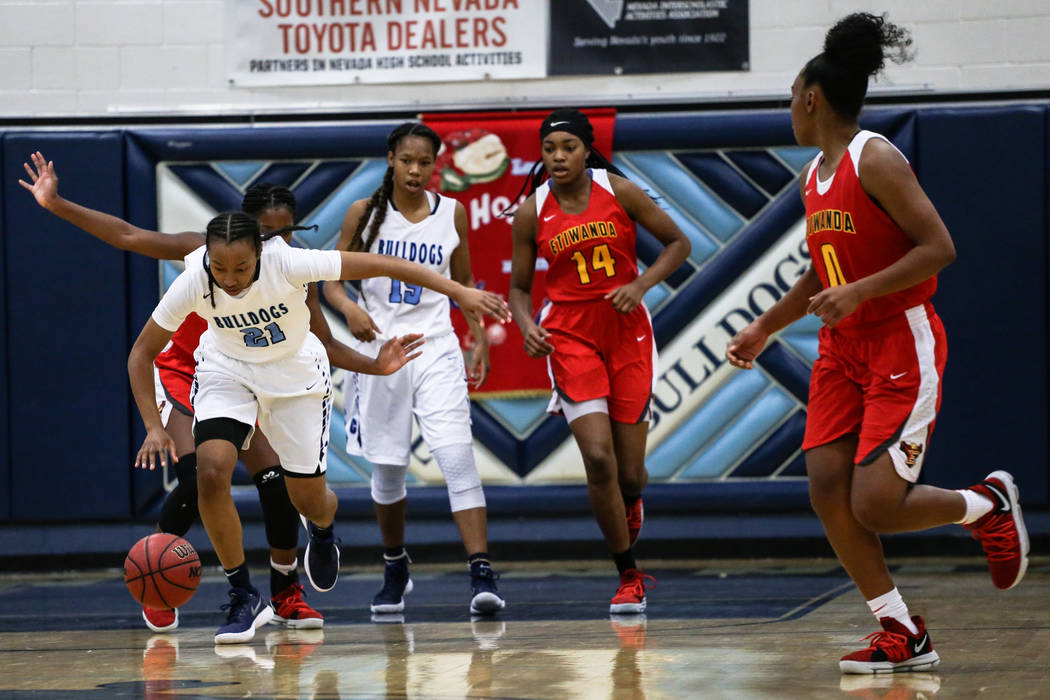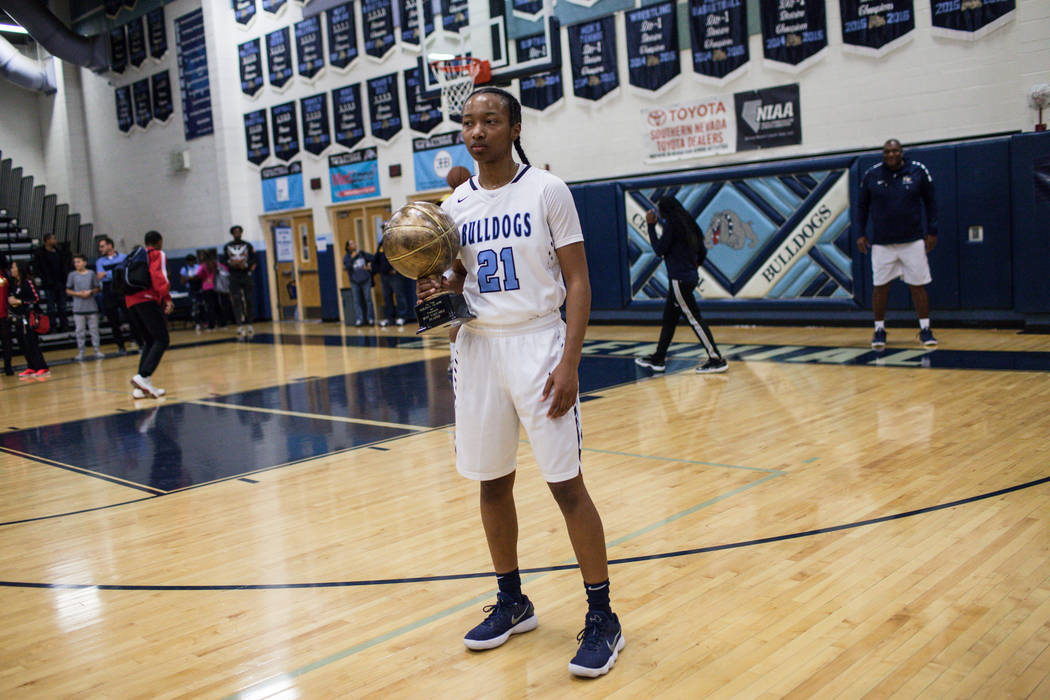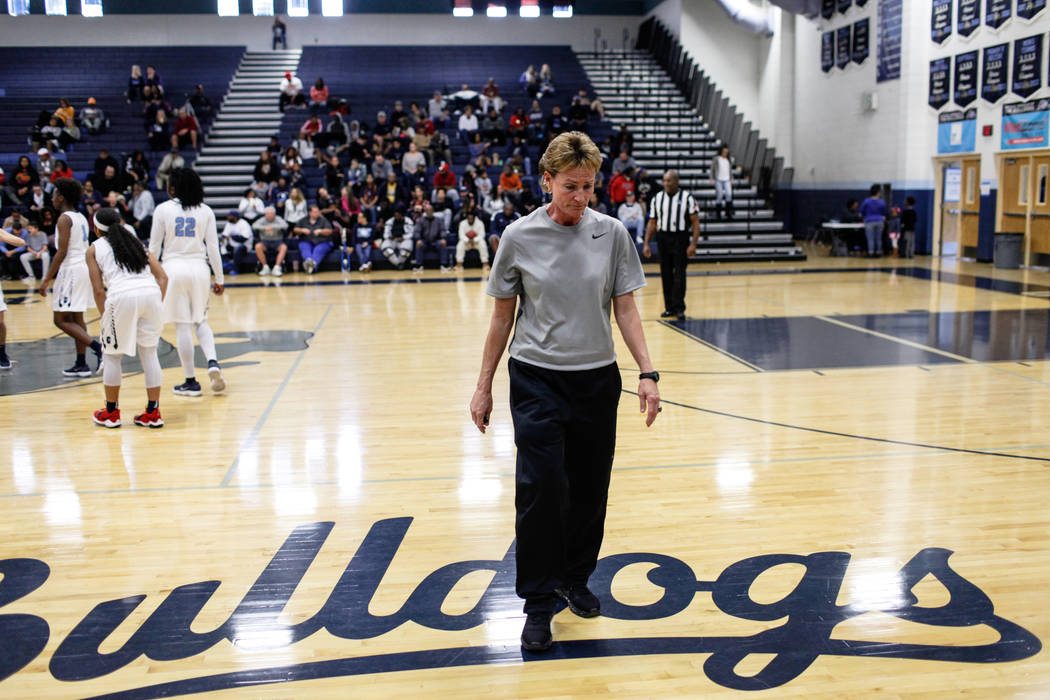 It's been nearly three years since Centennial's girls basketball team lost at home. And in perhaps the biggest threat to that streak,Centennial's best player shined her brightest.
Senior guard and UNLV commit Justice Ethridge scored a season-high 32 points Friday, powering the Bulldogs to a 59-39 victory overEtiwanda (California) in the championship game of the Las Vegas Holiday Classic's platinum bracket at Centennial.
"We had to come out strong and not let them beat us on our home court," Ethridge said. "We try to play every single game like they'rethe same, no matter what the opponent looks like."
Ethridge was the best player, especially in the fourth quarter. She scored 15 points in the period, including a layup-steal-layup stretchthat gave the Bulldogs their biggest lead. She could have scored the Bulldogs' final 17 points but instead dished to Eboni Walker,allowing the junior forward to make the final basket.
Ethridge, who finished with seven rebounds and a pair of assists, was named tournament MVP.
"She can do everything," Centennial coach Karen Weitz said. "She's very, very dangerous because, to me, she will elevate her game forwhat needs to be done.
"When Justice wants to do it, Justice will do whatever she wants to do."
Centennial actually trailed 12-8 after the first quarter, then used a 16-6 second quarter to pull away. The Bulldogs built the lead up to34-18 in the third, only to see Etiwanda rally, trimming its deficit to three entering the final period. Centennial outscored the GoldenEagles 19-8 in the fourth.
Melanie Isbell added eight points and Walker pulled in 10 rebounds for Centennial, whose last home loss was Jan. 5, 2015, to Foothill.Daejah Phillips added nine rebounds, and she and Isbell were named to the all-tournament team.
"Obviously, if you host a tournament, you'd like to win your tournament," Weitz said. "You have some top quality teams here, sowinning it is obviously even bigger when you have those teams participating.
Not only have the Bulldogs not lost at home since Jan. 5, 2015 to Foothill, that was also their last loss to a Nevada team. Thistournament didn't pose too much of a threat to that particular streak. After the tournament ended, the three other local teams —Legacy, Palo Verde and Desert Pines — were a combined 6-32.
Centennial's JV team, which at some points throughout the tournament included varsity players, won the secondary bracket of thetournament, and outscored the three local teams 203-112 in three games.
What made the tournament competitive was the teams from California and Arizona. The field included Clovis West (California), whichsplit its two games with Centennial last year, and Seton Catholic (Arizona), which Centennial beat by just three points last year and inthe semifinals Friday.
"The comment that I get from people when I ask them is that it's gotten 'too competitive,' which is frustrating because I get that fromout-of-town people that used to come as well," Weitz said. "We're going to shoot next year just to keep it competitive because that'swhat we want to do. That's the way I see it, but the truth is the truth."
Contact Justin Emerson at jemerson@reviewjournal.com or (702) 387-2944. Follow @J15Emerson on Twitter.
Centennial 76, Seton Catholic (Ariz.) 46 — Daejah Phillips scored a team-high 13 points to lift the Bulldogs over the Sentinels in a semifinal game.
Eboni Walker had 12 points for the Bulldogs, who jumped out to 35-23 halftime lead.
Sara Pfeiffer scored 14 to lead Seton Catholic.
Clovis West (Calif.) 77, Palo Verde 39 — Alyssa Maillaro poured in a game-high 17 points, but the Panthers fell to the Golden Eagles.
Palo Verde trailed 30-12 after the first quarter.
Champney Pulliam had 14 points to lead the Golden Eagles.
JV Centennial 60, Legacy 25 — The Longhorns were held to single-digit scoring in every quarter as they fell to the Bulldogs' JV squad.
Taeha Pankey led the Longhorns with eight points.
Kalyn Miller's game-high 21 points powered JV Centennial.
Box scores:
Centennial 59, Etiwanda (Calif.) 39
Centennial 76, Seton Catholic (Ariz.) 46
Clovis West (Calif.) 77, Palo Verde 39