Liberty defense clamps down for win
December 11, 2014 - 11:37 pm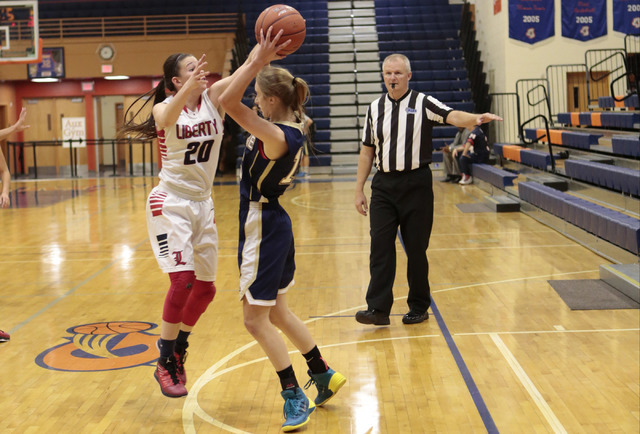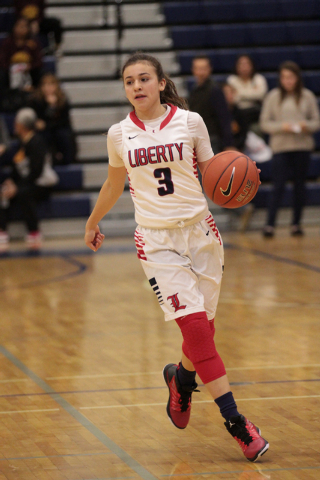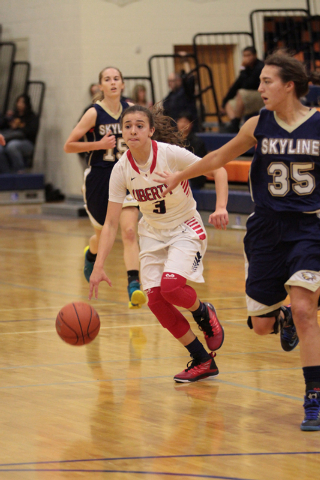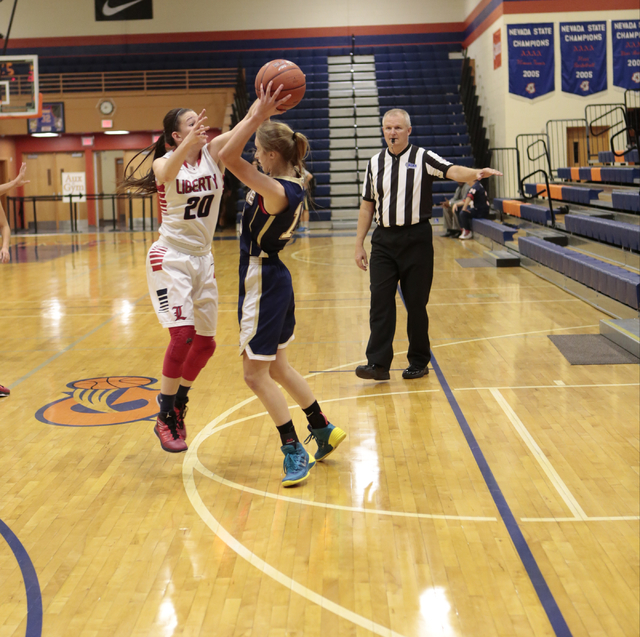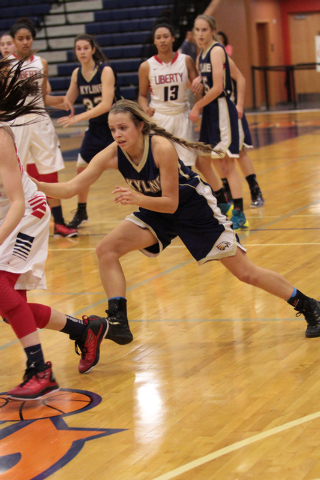 Liberty girls basketball coach Chad Kapanui would have liked to have seen a little more offense out of his team Thursday.
Or at least a little more efficiency.
The Patriots coach had no qualms, though, with his team's defense.
Liberty used a swarming three-quarter court trap to stifle Skyline (Utah) and pull out a 38-37 win in the first round of the Las Vegas Invitational at Bishop Gorman.
The Patriots forced 27 turnovers, including two in the final nine seconds, and held Skyline to 32 field-goal attempts. Paris Strawther's steal of a long inbounds pass with two seconds left sealed the win.
"We've been practicing on this trap defense the past couple of weeks," said Kapanui, an assistant coach with the Patriots last year. "We like to change up our defense a lot. Our defense is pretty good."
No. 2 Liberty, coming off a 59-53 loss to No. 1 Centennial on Tuesday, scored three seconds into the game but made just 5 of its next 20 shots.
Still, Liberty (3-1) led 36-27 after Strawther's basket in the paint off a Skyline turnover with 2:51 to play.
But the Patriots almost got too conservative. Two consecutive steals helped the Eagles use a 5-0 run to trim the lead to 36-32 with 2:05 left.
After Strawther, a UNLV signee, hit another basket in the paint with 1:57 left, Skyline's Hillary Weixler converted a three-point play with 1:38 remaining to cut Liberty's lead to 38-35.
The Patriots tried to dribble away time but turned over the ball again, leading to a layup by Hannah Anderl with 37 seconds to go.
Liberty again tried to kill the clock, but CeCe Quintino was called for a moving screen with nine seconds to go.
The Patriots stole the inbounds pass and drew a foul. Kealy Brown missed the front end of a one-and-one with four seconds left, and Skyline grabbed the rebound and called timeout.
Strawther stole the long inbounds pass about 30 feet from the basket and held the ball until time expired.
"This was good for us," Kapanui said. "It's going to make us better. When you play out-of-state teams like this, you don't know a lot about them and you have to adjust to it during the game. That's what prepares us for February and the playoffs."
Aubre Fortner had 11 points for Liberty, which made just 15 of 40 shots from the field and committed 20 turnovers.
"Our offense just wasn't set quite right," Kapanui said. "We went over the offense before the game, but it just didn't look too good. (Skyline) played tough against us."
Olivia Elliss led Skyline with 10 points.
Contact reporter Bartt Davis at bdavis@reviewjournal.com or 702-387-5230.
Box score: