Liberty stifles Bishop Manogue, advances to championship game
February 28, 2014 - 12:10 am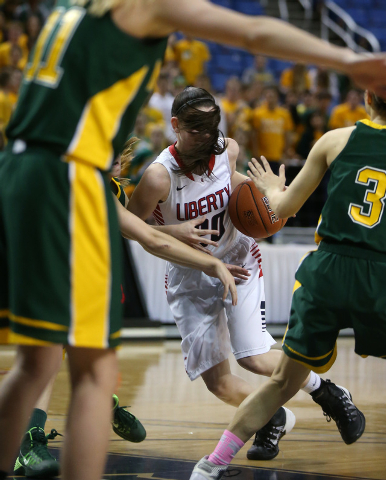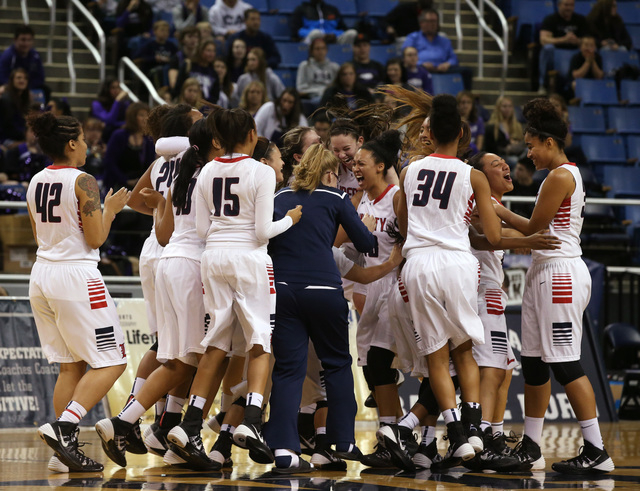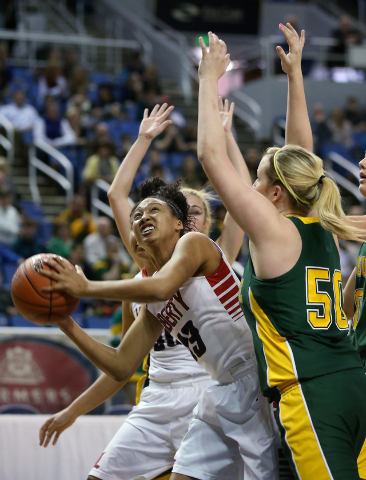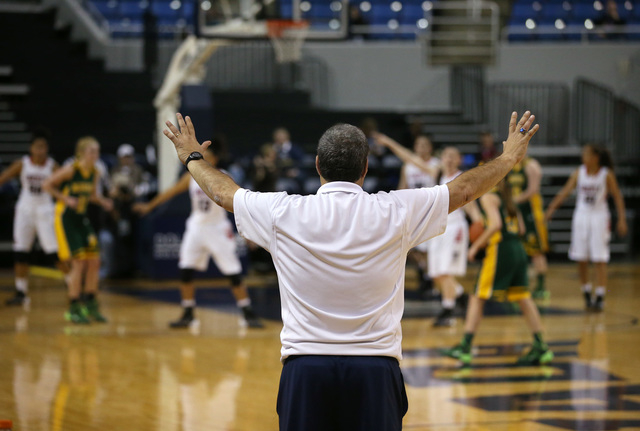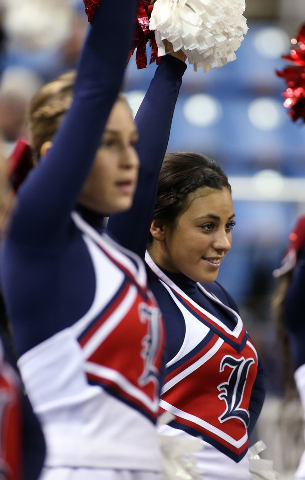 RENO — Liberty girls basketball coach Rich Santigate threw several different defenses at Bishop Manogue on Thursday in an effort to slow down the Miners' 3-point shooters.
It was the Patriots' normal zone defense that finally did the trick.
Liberty held the Miners scoreless for more than eight minutes in the second half and went on to a 43-33 victory in the semifinals of the Division I state tournament at Lawlor Events Center.
Kealy Brown had 14 of her game-high 23 points in the fourth quarter and added five rebounds and three steals for the Patriots (26-4), who advanced to the state final for the first time since 2011. Teammate Paris Strawther supplied 10 points and 12 boards.
"We were trying some different things, gave them different looks, then we just went back to the basics," Santigate said. "We forced them into some low-percentage shots at the end."
Liberty trailed 25-18 with 6:45 remaining in the third but scored the final six points of the quarter. Brown then opened the fourth quarter with back-to-back three-point plays for a 30-25 lead, and the Patriots never trailed again.
"I just think we wanted it so bad, and I don't think we were going to let ourselves lose," Brown said. "We knew we had to kick it up, and that's what we did."
Bishop Manogue (20-6), in the state tournament for the first time since 2005, broke its long second-half scoring drought on a 3-pointer by Katie Turner with 6:10 to play. Manogue closed to within 34-31 on another Turner 3 before the Patriots put the game away at the free-throw line.
Liberty went 9-for-14 on free throws in the final 2:21 and was 11-for-16 from the foul line in the fourth quarter. The Patriots made 18 of 28 free throws overall, and Brown was 10-for-13, including 8 of 9 in the fourth quarter.
Brianna Holt had 12 points for the Miners, but was limited to one point in the second half and missed her final eight shots. Turner also finished with 12 points for Manogue, which hung around thanks to nine 3-pointers despite shooting 31 percent (11-for-36) from the field.
"We figured things out more in the second half," Brown said. "We knew they were a good 3-point (shooting) team. We took that away."
Liberty led 16-10 midway through the second quarter before the Miners closed the half on a 12-2 run. Turner hit a 3-pointer with 56 seconds on the clock, and the Patriots were called for a foul away from the ball, giving Manogue possession.
Hannah Santos knocked down a 3-pointer with 15 seconds left in the half, and after a Liberty turnover, Holt drained a 3 just before the buzzer to give the Miners a 22-18 lead.
"We've been very resilient all year," Santigate said. "We had that little lapse there at the end of the first half that hurt us. But we've always been good coming out at halftime making adjustments, especially defensively."
Box score: