Liberty uses second-quarter surge to stop Spring Valley
February 21, 2017 - 11:59 pm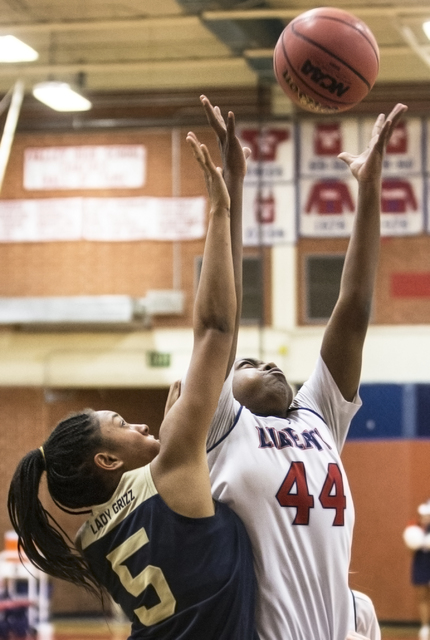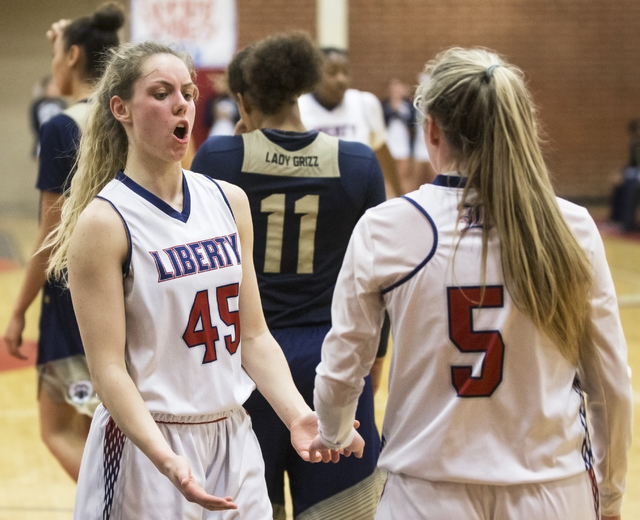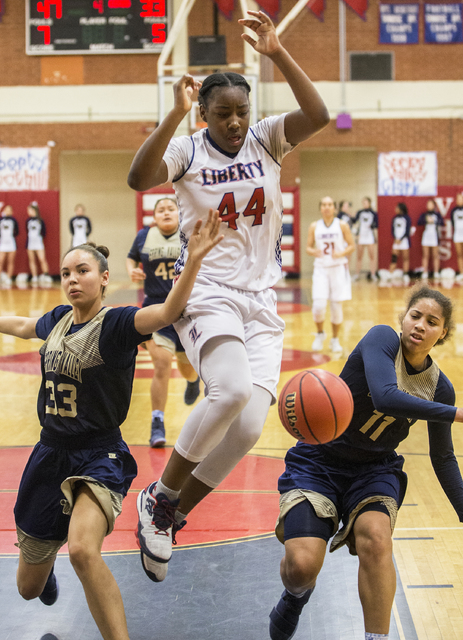 Liberty's girls basketball team spent 1½ quarters Tuesday looking like it wasn't over its loss in the Sunrise Region final three days earlier.
Kaily Kaimikaua snapped the Patriots out of their malaise just in time.
Kaimikaua made a long 3-pointer to ignite a game-changing 18-0 run in the second quarter, and Liberty pulled away for a 60-37 victory over Spring Valley in the Class 4A state play-in game at Valley.
The Patriots (31-2) advance to the state tournament and will face two-time defending champion Centennial (29-2) in the semifinals at 3 p.m. Thursday at Cox Pavilion.
"It's always disappointing when you don't win the Sunrise (Region) — you know you're probably favored to win it — but we just have to take the longer road," Liberty coach Chad Kapanui said. "Our girls came out a little sluggish, but they ended up figuring out a way to step up and make plays."
Dre'una Edwards led Liberty with 19 points and 12 rebounds, and Kaimikaua had 10 of her 13 points in the first half.
Spring Valley led 18-13 midway through the second quarter when Kaimikaua's 3-pointer out of a timeout jump-started the Patriots.
Reserve Janae Nickels made a 3-pointer to put Liberty up 24-18, and Edwards capped the run with a 3-pointer to give the Patriots a 31-18 advantage.
Liberty made four of its five 3-pointers in the second quarter, including two by Kaimikaua.
"We haven't been shooting the ball well, and it just seems like one goes in then all of a sudden it's contagious and everything goes right back to what we've been doing all year," Kapanui said. "Once Kaily hit that 3 and then Dre'una hit a 3, things just kind of fell into place."
Spring Valley (18-13) trailed 31-20 at halftime and went almost the entire third quarter without a field goal. The Grizzlies finished 11-for-50 from the field.
Essence Booker and Kayla Harris each finished with 13 points, and Alexus Quaadman added 13 rebounds to lead the Grizzlies.
"Our defense has been working hard all year. I think they knew that it was one-and-done," Kapanui said. "Defense is all about communication, and they communicated real well. We rotated well, and that's how we got a good lead."
London Pavlica added 11 points, six rebounds and six steals for Liberty. She had seven points in the fourth quarter to help the Patriots close the game on an 8-0 spurt.
Liberty and Centennial had been expected by many to meet in the state final after being ranked Nos. 1 and 2 all season in the Southern Nevada Coaches Poll. Centennial defeated the Patriots 78-62 in last year's state final.
"Everyone hopes they're going to be playing them in the end, but it's just one day earlier," Kapanui said. "If you're trying to win state, it doesn't matter. You've still got to go through Centennial, which is the best team in Nevada right now. Whether it's Thursday or Friday, you've still got to play them. We're just taking the quicker road."
Box score: