Roundup: Teionni McDaniel lifts Cheyenne over Western
January 31, 2018 - 9:50 pm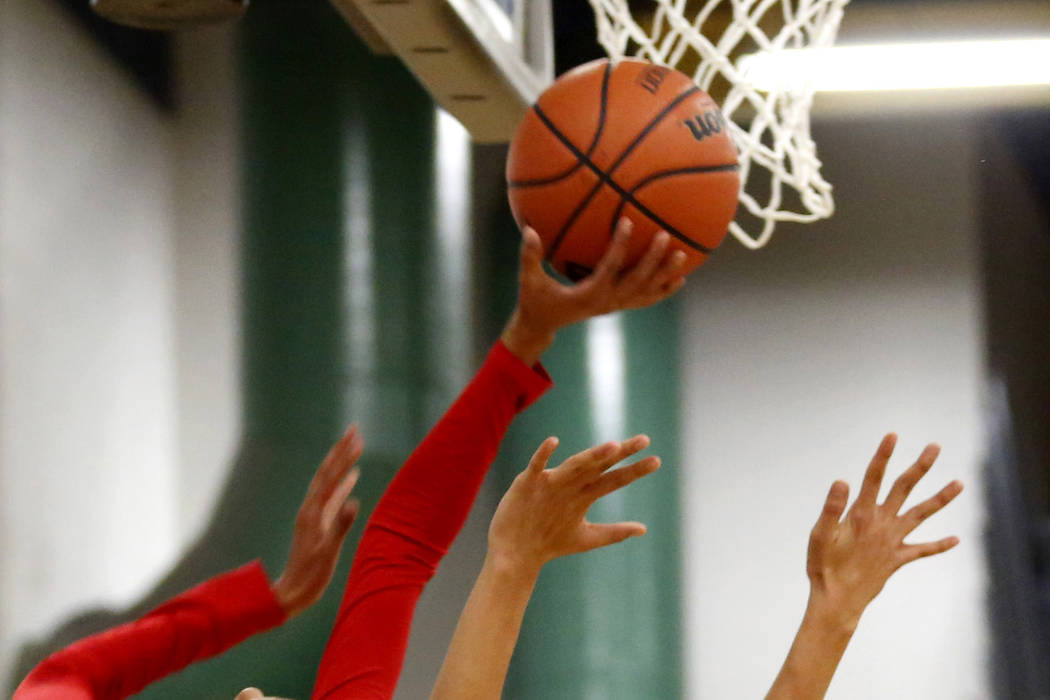 Teionni McDaniel had 19 points Thursday as Cheyenne's girls basketball team held on for a 64-49 road win over Western.
Almond Slayton had 16 points for the Desert Shields, who led 32-23 at the half.
Teresa Chapa, Kamaya Murphy, and Kiara Rinfrow each had nine points for Western.
Pahrump Valley 47, Mojave 39 — At Mojave, Kylie Stritenberger scored a game-high 16 points to lead the Trojans to the victory over the Rattlers.
Samantha Runnion had 10 points, and Alyvia Briscoe scored nine for Pahrump.
Kiara Lemon scored 15, and Alecia Kelly scored nine to lead Mojave.
Faith Lutheran 51, Shadow Ridge 38 — At Shadow Ridge, Madison Bocobo scored a game-high 20 points as the Crusaders rallied to upend the Mustangs.
Kayla Proctor added 11 points, and Kelsey Howryla scored nine for Faith Lutheran, which trailed 13-6 after one quarter and 22-18 at halftime.
Mackenzie Swanson had 15 points to lead Shadow Ridge.
Foothill 63, Silverado 36 — At Foothill, Laurel Rockwood and Aqui Williams each scored 11 points as the Falcons topped the Skyhawks.
Bri Rosales added eight points for Foothill, which led 22-9 after one quarter.
Jessica Guzman and Yasmine Noor each scored 10 for Silverado.
Coronado 40, Basic 25 — At Basic, Haley Tyrell had 12 points and nine rebounds as the Cougars beat the Wolves.
Aeryn Hawkins added 10 points for Coronado, which used an 11-3 third-quarter run to pull away.
Lauren Powell scored nine to lead Basic.
Liberty 62, Green Valley 25 — At Green Valley, Dre'una Edwards had 19 points as the Patriots beat the Gators.
Rae Burrell added 14 points for Liberty, which led 26-6 after one quarter.
Centennial 70, Palo Verde 22 — At Palo Verde, Taylor Bigby and Justice Ethridge each had 10 points as the Bulldogs beat the Panthers.
Eboni Walker and Melanie Isbell each added nine points for Centennial, which outscored Palo Verde 21-3 in the second quarter to take a 46-12 halftime lead.
Maya Bega paced the Panthers with 13 points.
Desert Pines 40, Sunrise Mountain 9 — At Desert Pines, Elasjanae Burns had 18 points and 10 rebounds as the Jaguars routed the Miners.
Trisa butler added 12 points for Desert Pines, which led 23-4 at the half.
Dior Griffith Brown scored six for Sunrise Mountain.
Box scores:
Desert Pines 40, Sunrise Mountain 9
Faith Lutheran 51, Shadow Ridge 38